Bi Gan follows up 'Kali Blues' with another ode to hs hometown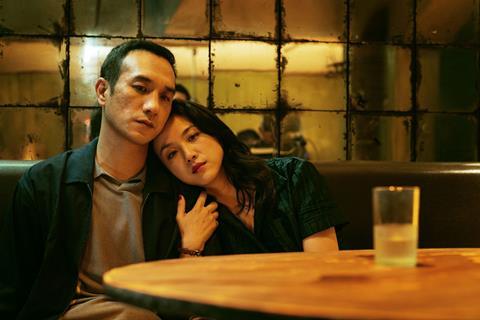 Dir/scr: Bi Gan. China/France. 2018. 130 mins.
There are certain dreams that don't make much sense at the time, but leave a great sense of yearning when they're over. That's true of young Chinese director Bi Gan's remarkable second feature in more ways than one. The sweet ache that comes from trying to hold on to a reverie is both the theme and the effect of a film that is ostensibly about a man's search for his lost love, but gradually casts off the ballast of narrative to become an extended audiovisual poem – in 3D. What keeps it from drifting off into the lyrical fog is the film's deep-rooted sense of place: as in his highly feted debut, Kaili Blues, the director makes gritty and imaginative use of locations in and around his rainy hometown of Kaili in sub-tropical Guizhou province.
It's at root about a man travelling through three different kinds of space – real, dream and memory – to look for a woman he once loved
Those who have the patience to go with its ravishing flow will find ample rewards, as Long Day's Journey is a beautiful, smoulderingly romantic film. Relegated to the runner-up Un Certain Regard section of the 2018 Cannes festival, it will be held back from finding a wide arthouse audience by its willful narrative opaqueness. But critical support and the saleable draw of the film's long final section – a 3D dream sequence shot in a single take – could nevertheless propel the film to international bookings.
Long Day's Journey into Night (which has little to do with the Eugene O'Neill play of the same name) is at root about a man travelling through three different kinds of space – real, dream and memory – to look for a woman he once loved. A former casino owner, Luo Hongwu (played by the ruggedly handsome Huang Jue) has returned to his hometown, Kaili, on the trail of old flame Wan Qiwen (Tang Wei).
He begins the search in a restaurant once owned by Wildcat, his father, who was apparently murdered around ten years earlier. Enlisting the long-distance help of an assistant called Pager, Luo follows the trail to a woman's prison, where an inmate tells him of a green book of folk tales that Wan stole from a house – a book containing certain incantations that filter into the fabric of the story, including a flying charm and a spell that can make a house spin round.
This is just the beginning of a cyclical film that plays out as a long, increasingly oneiric road movie romance with noir genre touches. An initial caption has informed us that this is "not a 3D film", but that we should "join the protagonist in putting the glasses on at the right moment". The opportunity comes around two-thirds of the way in when Luo visits a shabby old movie theatre: donning the goggles with him, we're immediately plunged into a strange, shabby magical realist netherworld, via a seductive single take sequence shot by Mustang DoP David Chizallet.
It's the location, though, that is the most brilliant actor in this final section – a crumbling post-industrial district on the outskirts of Kaili, site of abandoned coal mines and a dilapidated factory built by the Soviets that later became a prison. This talismanic setting also appeared in Bi's debut Kaili Blues – he calls it Dangmai (a fictional name), and it seems to represent a kind of city of lost memories in his work, including national and cultural ones. The latter are reinforced by a few local references that non-Chinese audiences might miss, like the fact that all the characters are named after pop singers, or that they speak in broad Kaili dialect rather than standard Mandarin.
Water, dripping and pooling, is a recurrent motif, as are clocks, timepieces and – in one of the film's more endearingly bizarre scenes – ping pong. A musical score of melodic electronica, lilting acoustic guitar merges with the film's exterior and interior soundscape at certain points, especially in a the final dream sequence as Luo descends from the mine tunnels to the former factory village below in the bucket of a cable tramway.
Production companies: Zhejiang Huace Film & TV Co Ltd, Dangmai Films (Shanghai) Co Ltd, Huace Pictures (Tianjin) Co Ltd
International sales: Wild Bunch, ediederix@wildbunch.eu
Producer: Shan Zuolong
Production design: Liu Qiang
Editing: Qin Yanan
Cinematography: Yao Hung, Dong Jinsong, David Chizallet
Music: Lim Giong, Point Hsu
Main cast: Huang Jue, Tang Wei, Sylvia Chang, Lee Hong-Chi, Chen Yongzhong, Luo Feiyang