A family copes with the fallout of Colombia's conflict in Beatriz Seigner's reverie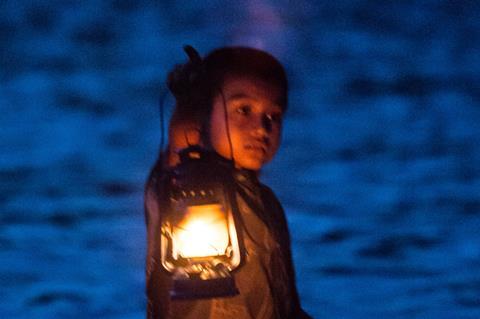 Dir. Beatriz Seigner. Brazil/Colombia/France. 2018. 89 mins
A heady, waking-dream sensibility co-exists with a prosaic naturalism in much the same way that the ghosts of those lost in the conflict in Colombia walk among the living in this gentle but affecting drama from Beatriz Seigner (Bollywood Dream). An understated portrait of a family adjusting to new circumstances after being forced to flee violence in their home town, this is not a film which forcefully makes its points. But although it is in some ways slight, much of Los Silencios' ultimate power is tied to its simplicity.
Muted sadness present throughout the daily grind of carving out a new life gradually rises like floodwater
The second feature from Brazilian director Seigner, this is a tonal departure from the India-set debut Bollywood Dream but there is still a sense that Asian cinema has again provided a touchstone for her approach. The slow-burning spirituality of Apichatpong Weerasethakul's work, specifically Uncle Boonmee Who Can Recall His Past Lives, is an obvious comparison. As such, this is a film which could find a receptive audience within festivals, particularly those which focus on the cinema of South America.
Amparo (Marleyda Soto) and her two children Nuria (Maria Paula Tabares Pena) and Fabio (Adolfo Savinino) arrive by night to an island. Fleeing the violence in their home town, they seek refuge with Amparo's aunt, in a community which has learned to live with the ebb and flow of the Amazon which regularly floods its homes. Amparo's Brazilian husband, Adam (Enrique Diaz) is missing. But then suddenly one day he reappears in the family's new home.
The film notable for its location. The setting is a real island, 'la isla de la fantasia'; many of the supporting cast are non-professional actors and residents of this curious community playing themselves. The village, precariously balanced on stilts, neither in the water or on land, is a neat metaphor for the spirits of the dead who loiter, not alive but not quite ready to pass over. There's a ramshackle beauty to the huts, their optimistically cheerful paintwork diluted in their reflections in the river water which both sustains and threatens to engulf at any moment.
Colour is key elsewhere also. In a simple, but highly effective device, Seigner uses throbbing fluorescent hues to delineate the dead from the living. Death here is not cloaked in smothering black; instead it makes a vivid statement.
The silence of the title is manifested in the unspoken sadness which pervades a community in which many have lost loved ones – the film's strongest scene gives both the survivors and the dead the chance to finally vocalise their experiences. The fact that many of the actors in the scene lived through the Colombian conflict gives the scene an added resonance. There is silence too at the heart of Amparo's family. Her daughter, who clings, watchful and cautious, to her mother's side, never speaks. At first we assume that she has been muted by some unspecified trauma, but then it becomes clear that there is something else at play.
The muted sadness present throughout the daily grind of carving out a new life gradually rises like floodwater, culminating in a lantern-lit canoe procession and memorial for loved ones lost. Like everything in the film, music is used with economy. But the voice of an old woman, raised in a lament, gives this sequence a cathartic potency.
Production companies: Miriade Filmes, Enquadramento Producoes, Ciné-Sud Promotion, Diafragma
International sales: Pyramide International avalent@pyramidfilms.com
Producers: Beatriz Seigner, Leonardo Mecchi, Thierry Lenouvel, Daniel Garcia
Screenplay: Beatriz Seigner
Production design: Marcela Gomez
Editing: Renata Maria, Jacques Comets
Cinematography: Sofia Oggioni
Music: Nascuy Linares
Cast: Marleyda Soto, Enrique Diaz, Maria Paula Tabares Pena, Adolfo Savinino