A grieving Chinese woman attempts to hunt down her mother's hit-and-run killers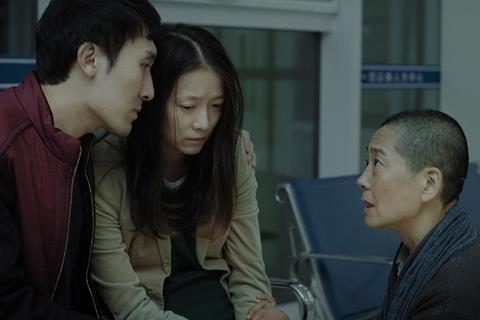 Dir: Liu Shu. Hong Kong, Netherlands. 2019. 82mins
Chinese writer/director Liu Shu's second feature after Lotus, which premiered at Venice Critics Week in 2012, is another indictment of Chinese society; this time focusing on the impunity of the rich and powerful. Winner of the Dutch post-production award at Rotterdam for this project, Liu is regarded as a rising talent in Chinese cinema. Yet despite good intentions and a strong central performance by Canadian-Chinese actress Yan Wensi as a young woman seeking justice after the hit-and-run death of her mother, Lost Lotus ultimately fails to convince.
It can feel as if Liu has given herself too much material here
A film by a well-regarded female filmmaker willing to confront Chinese society head-on ought to secure further festival interest. And, like her first film, Lui's heroine is a school teacher, a normal person living a regular life until she comes face-to-face with the inadequacies of Chinse society.
When we first meet her, Wu Yu (Yan) is conscientiously presiding over her class, showing admirable concern for a gifted student who says he's dropping out to care for his father. At home, she discusses the issue with her husband (Zhao Xuan) who is supportive and offers to help the boy find work. The couple seems grounded and happy.
Then one night, Yu's mother, a charitably minded, ardent Buddhist, is run down and killed at a traffic junction. In the immediate aftermath of her death, Yu is consoled by her mother's Buddhist friends; despite not being a believer herself, she adheres to the Buddhist practice for the funeral (including a speedy cremation), finding some solace in its teachings. Meanwhile, the police seem to be dragging their feet in finding the hit-and-run driver. Yu and her husband make inquiries themselves, eventually obtaining a lead that will take Yu towards her mother's killer.
In the film's early stages, Liu's clean, direct style sets up an interesting, not unlikely, psychological scenario, in which a woman dives headfirst into a religion she's hitherto shown no interest in, in order to overcome her grief (and, in a way, bring her closer to her mother) Yet her attempt at finding closure takes the more secular route, as she and her husband hit the streets in the hope of finding witnesses to the hit and run.
Liu establishes a corrupt social context in which Yu is failing to obtain justice: the driver is eventually disclosed as a powerful man who the police are ignoring and who offers to buy the couple's silence; it also transpires that her pupil's father was beaten and seriously injured when he refused to sell his house to developers, with the authorities again doing very little about it.
It can feel as if Liu has given herself too much material here. The Buddhist and criminal elements of the plot start to increasingly rub against each other, with an attempt to dovetail the two becoming preposterous. It's difficult to truly understand how Yu can go so completely off the rails, given how she started. Tension with her husband begins to feel untethered from any real history together. With some outlandish domestic histrionics (involving a chicken), an abduction and a dramatic move towards vigilantism, the film rather unravels along with its characters.
Production companies: CS Production, Volya Films
International Sales: Asian Shadows (contact@chineseshadows.com)
Producers: Mau Hat, Liu Shu
Screenplay: Liu Shu
Production design: Meng Luyue
Editing: Patrick Minks, Liu Shu
Cinematography: Zheng Yi
Main xast: Yan Wensi, Zhao Xuan