A winsome, big-hearted documentary from Spain which is already a festival favourite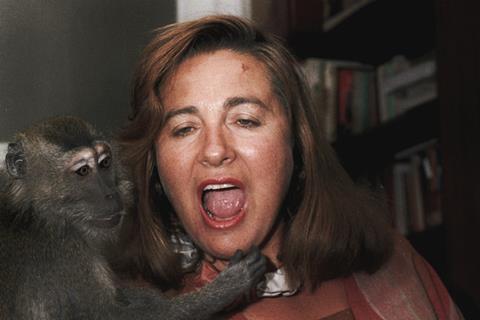 Dir. Gustavo Salmerón. Spain. 2017. 88 min
Far from being a whimsical title, Lots of Kids, A Monkey And A Castle is something of a promise fulfilled. As a young bride, the film#s subject Julita Salmerón wished for all three, and then, to her continued surprise, would be granted each one over the course of her long life. And so this laidback documentary portrait – directed by her son, Spanish actor Gustavo Salmerón – takes on a casual, boisterously wistful air, as the eccentric octogenarian reflects on her many years, while the extended clan buzzes excitedly around.
'A chaotic family making chaotic decisions in a chaotic way'
Having taken top honours in the Karlovy Vary documentary competition in July and then barreled through Toronto in September, and San Sebastian this garrulous crowd-pleaser will also hit the London Film Festival, although its tour need not stop there, seeing how it offers winsome, big-hearted counter-programming to the generally chillier works that make up much of the fall festivals.
Using a variety of home video footage shot over the course of 14 years, the film is very much a portrait of the entire Salmerón brood, "a chaotic family making chaotic decisions in a chaotic way," as one of them puts it. And all are satellites in a familial solar system where their incomparable madre remains the centre of orbit. Charismatic, cantankerous and always compelling, Julita is matriarch as force of nature, alternately calling the shots, running the show and complaining that she's soon going to die.
Still, that's just superficial chatter, because Julita is too consumed by life to give more than a passing thought to death. One of the film's laugh out loud moments finds her breaking some grim lament about her failing health to marvel that "god, this bread is so good!" And that tells you all you need to know about the vivacious lead, who complains about her son's invasive camera and then proceeds to ham it up as only the best scenery chewer could.
With minimal technical embellishment beyond the family's found footage and only a couple of subtle musical cues, Lots of Kids, a Monkey and a Castle is entirely driven by Julita's cheery chatterbox, and that's often enough.
The first the half of the film follows the endearing hoarder as she reminisces about her life journey while shuffling through her sprawling estate, searching for whatever knickknacks she stores in the endless columns of shoeboxes that line the castle from floor to vaunted ceiling. Though always light on its feet, the story skews towards slightly gothic terrain, as one of the many boxes contains Julita's grandparents' vertebrae and another one holds the ashes of her parents, which she dabbles on her skin for good luck.
Real catastrophe strikes about halfway through. The 2008 financial crisis forces the beleaguered clan to pack up and sell the family manse in order to remain solvent, and the film, which up to this point had tread a reminiscing path about how the family acquired all these myriad items, then follows them in real time as they have to divest of it all.
By the end of Lots of Kids, a Monkey and a Castle there is neither a monkey nor a castle to be found, only the strong bonds of family forged and reinforced by decades of shared experience. And after spending ninety minutes in close contact with them, viewers might feel like they're also part of the team.
Production company: Gustavo Salmerón PC
International sales: Dogwoof, global@dogwoof.com
Producer: Gustavo Salmerón
Screenplay: Gustavo Salmerón, Raúl De Torres, Beatriz Montañez
Cinematography: Gustavo Salmerón
Editors: Raúl De Torres, Dani Urdiales
Music: Mastretta
Main Cast: Gustavo Salmerón, Julita Salmerón, Antonio García Cabanes, David García Salmerón, Nacho Salmerón, Paloma García-Cabanes Salmerón, Ramón García Salmerón, Julia Salmerón, Mariam Garcés Correa