Love is a business exchange in Ann Hui's sumptuously detailed period drama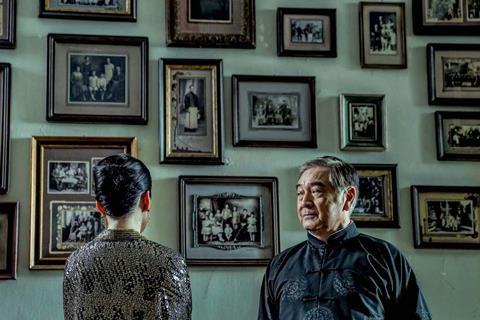 Dir: Ann Hui. China. 2020. 140 mins
Love After Love is Ann Hui's third film to be based on a work by the renowned Chinese writer Eileen Chang following Love In A Fallen City (1984) and Eighteen Springs (1997). A faithful adaption of Chang's short story Aloeswood Incense: The First Brazier, this impeccably crafted affair sees Hui exploring the idea of love as a business exchange within high society Hong Kong prior to World War II. Although rarely as compelling as the estimable director's finest achievements, it certainly merits attention as a sumptuously detailed evocation of a rarefied world defined as much by a unique set of rules as its abundant material comforts.
The female players are gifted some particularly tart dialogue
As Hui is feted on the festival circuit, further prestigious engagements surely await Love After Love following its world premiere at Venice, where the director is the first female filmmaker to receive the Lifetime Achievement Award. While she has yet to gain mainstream recognition, Hui's recent historical piece Our Time Will Come (2017) proved to be a respectable box office performer in Asian markets with Love After Love likely to follow suit. Internationally, the film has considerable specialty appeal considering that it boasts the added allure of cinematography by arthouse legend Christopher Doyle and a score by Ryuichi Sakamoto.
Having moved from Shanghai to Hong Kong to pursue higher education, Ge Weilong (Ma Sichun) visits her wealthy but estranged aunt Mrs. Liang (Faye Yu) to request financial assistance. Despite having reservations about whether this pure-hearted girl can assimilate in her pleasure-seeking social circle, Mrs. Liang agrees to support Weilong. But having a benefactor comes with a catch. Mrs. Liang uses the attractive young women who staff her mansion to lure affluent men in order to support her luxurious lifestyle with Weilong also expected to become such an asset.
Although she is nonplussed by the elite types who swan around her aunt's lavish parties, Weilong falls for George Qiao (Eddie Peng), an errant playboy of mixed heritage who aims to marry into money since he is unlikely to receive a significant inheritance from his father (Paul Chun). A tryst out of wedlock leads to George and Weilong tying the knot, even though he is upfront about not loving her. Nonetheless, she hopes that keeping him in the manner to which he has become accustomed will eventually win his heart.
Love After Love is at its most engaging and sardonically amusing in the first half which focuses on Weilong's induction to Mrs. Liang's schemes. Soirées and garden parties, at which bodily exchanges are not so subtly negotiated over gourmet meals, are ravishingly shot by Doyle while meticulously stage-managed comings and goings are captured with smoothly flowing camerawork that reveals the mansion as a hive of semi-discreet activity.
This is also where Wang Anyi's screenplay is at its most barbed as she critiques the social conditions of a period which offered relatively limited opportunities for women regardless of their education. The female players are gifted some particularly tart dialogue with Mrs. Liang's indiscretions essentially an open secret that brings little shame in a world where the nature of relationships is so plainly stated. Yet while the ever poised and entirely practical Mrs. Liang may hardly take umbrage with the frequent accusation that she is running a de facto brothel, all this matter-of-factness leaves an innocent like Weilong yearning to hear a comforting lie.
However, the film falters in the not-quite love story between Weilong and George since Ma is an underwhelming presence who struggles to enliven her heroine's plight, causing the second half to drag as erotic games give way to emotional inertia. Reuniting with Hui after playing an intrepid resistance fighter in Our Time Will Come, Peng has George's preening narcissism down pat ("I like my face"), but gets few qualities to convey aside from a penchant for unvarnished honesty, rendering Weilong's complete devotion rather mystifying. This invites the delectable Yu to dominate the proceedings in playfully elegant fashion. It's a complex role that provokes a myriad of reactions since Mrs. Liang is at once an arch manipulator and a fierce protector, seemingly contradictory facets that are adroitly balanced by Yu's immaculate performance.
Dramatic flaws aside, the film is unimpeachable in terms of heightened aesthetics and tropical opulence. Emi Wada's splendid costumes vividly illustrate Weilong's class transformation and other examples of social hierarchy while Zhao Hai's production design strikingly contrasts the coolly modern, western-style décor of Mrs. Liang's mansion with the more traditionally fitted residences of her acquaintances. Appropriately for a portrait of a world where emotional fulfilment is deemed a secondary concern, Sakamoto's score is amongst his most exquisitely restrained and lends the closing expression of regret a poignancy that the leads can't quite muster.
Production companies: Alibaba Pictures, Blue Bird Film, HeHe Pictures
International sales: Fortissimo Films, info@fortissimofilms.com
Producers: Yang Wei, Danny Liu
Screenplay: Wang Anyi
Production design: Zhao Hai
Editing: Mary Stephen with Kwong Chi-leung
Cinematography: Christopher Doyle
Music: Ryuichi Sakamoto
Main cast: Ma Sichun, Faye Yu, Eddie Peng, Ning Chang, Wei Fan, Isabella Leong