Rodrigo Cortes triumphant play-within-a-film is set in real-time in the Warsaw ghetto of 1942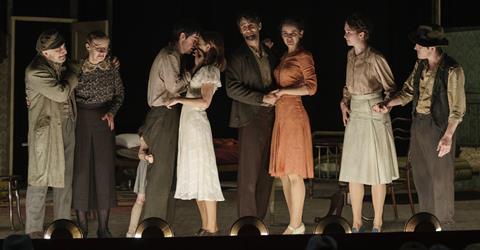 Dir: Rodrigo Cortés. Spain. 2021. 103 mins
In the breathless, intense English-language drama Love Gets a Room, Spanish director Rodrigo Cortés juxtaposes a musical comedy performance in 1942 in the Warsaw ghetto with the sadly desperate offstage lives and loves of that play's largely youthful cast. The result, which unfolds ambitiously over 103 minutes in real time, is a fine technical achievement, a moving enquiry into what young love can mean under such conditions, and Cortés' strongest film since 2010's Buried.
Technically, Love Gets A Room is a tour-de-force in several ways
Following its quiet Spanish premiere at the Seville festival, an early December domestic release has met with positive word-of-mouth and critical buzz at home: unlike Cortés's other work in recent years, the film was financed entirely from Spain and has a mainly Spanish crew. But Love Gets a Room has a clearly international vocation, and when the offshore deals are in place, it will hopefully come to find the broader audience it deserves.
It is one of history's ironies that theatres flourished in the Warsaw ghetto, so that, perhaps surprisingly, Cortés's film is grounded in reality. The lengthy opening tracking shot follows Stefcia (a wonderful Clara Rugaard) down the ghetto's desolate, wintry streets and into the theatre where she's about to perform 'Love Looks For An Apartment', the 1940 Jerzy Jurandot musical comedy from which the film's perhaps somewhat misleading title derives.
Amongst Stefcia's fellow actors are boyfriend Edmund (Ferdia Walsh-Peelo), whose little sister Sarah (Dalit Streett Tejeda) sits offstage, nervously rehearsing the song that will later become the film's big set-piece. Stefcia's ex Patrik (Mark Ryder) arrives late to the function with the news that he has bribed a Nazi officer so that he and Stefcia can escape from the ghetto together. Under these circumstances choosing not to leave effectively means choosing death, which raises the stakes of this romance somewhat higher than the norm.
The action shuttles between the play itself, an inevitably amateurish, semi-improvised farce performed before an audience of a couple of hundred downtrodden souls who are forbidden from clapping but must instead drum their feet on the floor, and the frenetic action in the wings as Stefcia runs about in anguish trying to figure out what to do following Patrik's news. Various fellow actors offer her advice, including the older Irene (Anastasia Hille) and the aging Zylberman (Henry Goodman), but ultimately all the weight falls on the shoulders of Stefcia.
Events will reach a new pitch of intensity with the arrival in the theatre of rifle-wielding Sergeant Szkop (Magnus Krepper). His self-satisfied speech, in one of the films' few false steps, could have been shorter, but it paves the way nicely for the cathartic and emotional finale.
Technically, Love Gets A Room is a tour-de-force in several ways: Cortés is a director who likes to set himself challenges and then see whether he can meet them. Rafa Garcia's camera is rarely motionless, a constant reminder of the nervous urgency of life under such extreme conditions, exploiting the shadowy, electricity-free backstage areas to ominous effect — where a dark reality underpins all the on-stage optimism and defiance. Victor Reyes's score and mostly jaunty songs, set to lyrics by Jurandot, are key, encompassing a range of period musical styles, while Cortés' editing is precision-tooled, brilliantly maintaining the emotional momentum beneath the breakneck pace of the action while never submitting to the merely sentimental.
But occasionally, the action moves outside the theatre, the music stops, and there's time for a little reflection as the forlorn characters sit beneath the gently falling snow and ask themselves the film's key question: whether it is better to love or be loved. "Do you believe in life after death?" one character wonders, and the answer comes: "I'd rather have life before death."
Amongst all this highly controlled chaos, character development is perhaps inevitably sketchy. There is little, for example, to distinguish Edmund from Patrik, and there is probably a troupe member too many. But the final impression, in a homage to the transformative power of theatre, is of a gang of vibrant young actors determined to focus all their energies on bringing some joy into the desperate lives of others. It is testament to Cortés's skill that by the time we reach the end of Love Gets A Room, both the joy and the desperation are tumbling off the screen in equal measure, each intensified by our knowledge of what is to come.
Production company: Nostromo Pictures
International sales: Lionsgate International InternationalSales@lionsgate.com; CAA Filmsales@caa.com (US)
Producers: Adrián Guerra, Núria Valls
Screenplay: Rodrigo Cortés, David Safier
Art direction: Laia Colet
Editing: Rodrigo Cortés
Cinematography: Rafa García
Music: Víctor Reyes
Main cast: Ferdia Walsh-Peelo, Clara Rugaard, Mark Ryder, Anastasia Hille, Henry Goodman, Dalit Streett Tejeda, Magnus Krepper