Dir: Brandon Camp. US. 2009. 109 mins.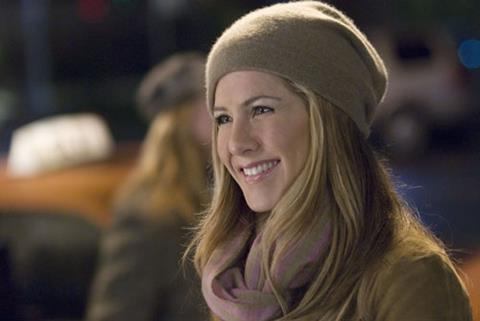 Thetitle conjures up images of frothy romcom banter, or at least swooning courtship, but the leaden Love Happens, starring Aaron Eckhart and Jennifer Aniston, is a largely spark-free romance, and devoid of laughs to boot. Attractively shot but dramatically inert, this isn't persuasive enough to qualify as a tearjerker, and neither does it work as a substantive comedy.
Love Happens doesn't quite connect as a romance, in part because its courtship is so fitful
The lack of a big hook and poor word of mouth make Love Happens less than a surefire bet in the commercial marketplace: though a fine actor, Eckhart has not yet opened a film and while Aniston has had a string of wide-release hits over the last several years, Love Happens lacks the overt family-friendliness of Marley & Me or the laughs of The Break-Up. There's always room for a Jennifer Aniston film at the multiplex, however, and there's no other adult romantic competition in the US at the moment.
Three years after the death of his wife in a car accident, psychologist turned bestselling self-help author Burke Ryan (Eckhart) returns to his hometown of Seattle. As his friend and manager Lane (Dan Fogler) tries to put together a big-money, multi-platform business deal that will turn Burke into a brand-name juggernaut, he headlines a week-long seminar of chats and intensive therapy, working to help a bereaved Montana dad (John Carroll Lynch) and others.
The stress of being back in Seattle, though, including a run-in with his former father-in-law (Martin Sheen), weighs heavily upon Burke. During his trip he meets flower shop owner Eloise (Aniston, leaning heavily on all her familiar mannerisms), who has just split from her cheating rocker boyfriend. Spending time with her, Burke begins to slowly awaken to the fact that perhaps he's not been practicing what he's been preaching.
Working with cinematographer Eric Edwards, debut director Brandon Camp makes nice use of Seattle's cityscape, and seeds the movie with a couple of colourful if odd local touches, like a concert by indie rock band Rogue Wave and a scene set at the graves of Bruce and Brandon Lee. But the screenplay, co-written by Camp and Mike Thompson (Dragonfly) never finds a convincing tone.
Love Happens doesn't quite connect as a romance, in part because its courtship is so fitful — Eloise drops out of the movie for a bit while Burke works through issues with his seminar participants — and also because the requisite third act argument that finally, if momentarily, pushes the pair apart feels jarring and contrived. Meanwhile, the movie's scant attempts at overt comedy come across as tacked-on.
There is a basic framework here for an interesting and perhaps more independent-minded ensemble exploration of the varied forms of grief, particularly in the work of Lynch and Sheen, who each give strong performances. But the writing isn't nuanced or sustainedly engaging enough and Burke but especially Eloise are under-drawn.
Similarly, Eckhart and Aniston never evidence a particularly strong chemistry, the likes of which could sustain strong viewer interest despite of the narrative deficiencies.
To sign up for Screen's weekly Reviews Newsletter with all the week's new releases, international openings and full festival reviews delivered free to your mailbox every Friday, please click HERE
Production companies
Universal Pictures
Relativity Media
Camp/Thompson Pictures
Worldwide distribution
Universal Pictures/UPI
Producers
Scott Stuber
Mike Thompson
Screenplay
Brandon Camp & Mike Thompson
Cinematography
Eric Edwards
Production designer
Sharon Seymour
Art director
Kendelle Elliott
Editor
Dana Glauberman
Music
Christopher Young
Main cast
Aaron Eckhart
Jennifer Aniston
Dan Fogler
Judy Greer
John Carroll Lynch
Martin Sheen