Naomi Watts and Tim Roth navigate a racial, and marital, minefield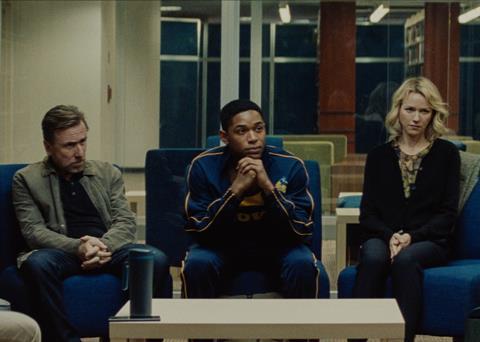 Dir: Julius Onah. US. 2019. 103 mins.
"We need to talk." That message is delivered frequently in Luce – usually by cool, clipped text. But it's not always listened to. And when people do talk, it's rarely honestly – and almost never in time. It's that inability to say what we mean – and our desire to see only what we want – that leads to disaster in this tricky drama, premiering at Sundance. Anchored by standout performances by Naomi Watts, Octavia Spencer and young Kelvin Harrison Jr., it's a strong indie film about race, family and trust that should connect with fans of smart, provocative cinema.
What's most surprising about the film may be how it addresses all kinds of prejudice – and the way some people too quickly congratulate themselves on having risen above it
The film stars Watts and Harrison – co-stars in a current, very different Sundance entry, The Wolf Hour – as mother and son. Watts is Amy, a wealthy pediatrician married to no-nonsense financier Tim Roth; Harrison is Luce, the child they adopted out of war-torn Eritrea a decade ago, now grown into suburban high-school track-star and valedictorian. But Luce's history teacher, Harriet, played by Spencer, worries that Luce may not be as perfect as he appears. One of his recent papers contained some fairly fringe political opinions. There's been gossip about drugs – and worse – at a teen party. And then there was that bag of firecrackers – "illegal" firecrackers, Harriet keeps emphasising – that she found in his locker. Clearly, battle lines are about to be drawn.
Except who is standing where? Luce may be facing accusations, but this isn't the usual story of white racists looking for a black scapegoat. Luce's loving parents – and his mother is fiercely protective – are Caucasian. His accuser is African-American. And Luce – well he's charting his own path. "You're black," a white friend tells him, "but you're not black black." The kid means it as a compliment. Luce greets it, as he greets almost everything, with the same impenetrable calm.
Although a number of American films looked at race last year, Luce takes a more nuanced view than most. Amy, determined to give Luce every advantage, will only believe the best of him; Harriet, determined to hold him to the highest possible standard, seems too ready to believe the worst. But where does the truth lie? Only Luce knows for sure – and he's not telling.
Luce began as a play by J.C. Lee – and it can still be a bit talky at times – but director Julius Onah, who co-wrote the adaptation, has worked hard at opening it up, adding new characters and doubling-down on the thriller aspects. Texts bring secretive, urgent requests for meetings. Conspiracies slowly, sneakily, take root. Anger flares up, then gets quickly smothered in mutters, or that third glass of merlot.
There are ambiguities here to be sure, yet the cast adds just the right amount of focus. Roth catches the impatience of a man growing tired of his wife's perpetually "woke" politics; Watts, the rawness of a mother who sees any questioning of her son as an attack on her parenting. Spencer is weary but resolute, aggrieved but hopeful. Harrison – excellent in a difficult part – keeps you guessing at his own feelings until the final scene.
What's most surprising about the film, though, may be how it addresses all kinds of prejudice – and the way some people too quickly congratulate themselves on having risen above it. The entire community may be deeply invested in Luce, but only because his success proves their tolerance. It allows them to believe that race doesn't matter anymore. That the old hatreds are gone. As African-Americans, though, Luce and Harriet know that's not true, and it's why their pained, powerful scenes are the angry core of this movie. What's the best response to racism and stereotypes? Who are our real allies, and enemies, in the battle against bias? Luce and Wilson don't agree on the answers.
But they know many of the best questions still haven't been asked.
Production companies: Dream Factory Group, Altona Filmhaus
Sales: Endeavour Content
Producers: John Baker, Julius Onah, Andrew Yang
Screenplay: J.C. Lee, Julius Onah, based on the play by J.C. Lee
Production design: Lisa Myers
Editing: Madeleine Gavin
Cinematography: Larkin Seiple
Music: Geoff Barrow, Ben Salisbury
Main cast: Naomi Watts, Octavia Spencer, Kelvin Harrison Jr., Tim Roth