Global word-of-mouth lands Bhutanese debut a coveted spot on the Oscar shortlist for international feature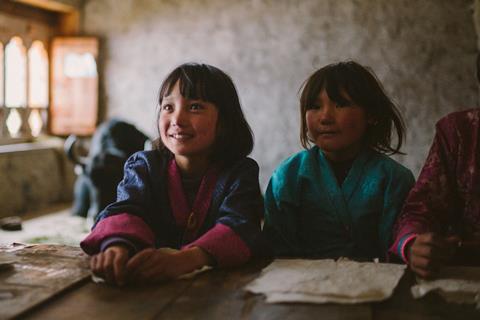 Dir/scr: Pawo Choyning Dorji. Kingdom Of Bhutan. 2019. 109 mins
Happiness lies where you least expect it in Lunana - A Yak In The Classroom, Pawo Choyning Dorji's feelgood debut feature, which follows a discontented teacher assigned to the most remote school in Bhutan. High in the mountains, he discovers a sense of community and connection that has been singularly absent from his life in Thimphu . As warming as hot soup on a frosty winter's day, Lunana has enjoyed a lengthy festival journey that has culminated in a recent US distribution deal with Samuel Goldwyn Films and a place on the Oscar shortlist for best international feature film.
A timely tale for pandemic-weary audiences who should embrace a film that explores a longing for a more authentic, meaningful existence
Lunana feels like a timely tale for pandemic-weary audiences, who should embrace a film that explores a longing for a more authentic, meaningful existence. That universal appeal is wrapped within a contemplation of the conundrum of why so many Bhutan citizens feel the need to look abroad for fulfilment when the country prides itself on being one of the happiest in the world.
Ugyen (Sherab Dorji) is one of those who suspect the grass is greener elsewhere. In the fourth year of his mandatory five-year government service, he has set his sights on a new life in Australia as a professional singer. An official tells him that she has never seen a less-motivated teacher. The policy of providing an education for every child in the land is the justification for a rap across the knuckles and his posting to Lunana.
The trip there is an adventure in itself. An eight-day hike exposes Ugyen's city-slicker softness but constantly confirms the cheerful resolve of his guides Michen (Ugyen Norbu Lhendup) and Signye (Tshering Dorji). Writer/director Dorji marks key points along the way with titles that detail the changes from Thimphu (population 101,238, altitude 2,201 metres) to Lunana (population 56, altitude 4,800 metres). On the route, Ugyen is met with unconditional hospitality, often from those with little to share. The journey also allows Dorji to beguile the viewer with images of misty mornings, flowing rivers and - eventually - snow-capped mountains. Anyone expecting to soak up some of Bhutan's natural beauty will not be disappointed.
The intense anticipation of Ugyen's arrival is shown by chief Asha (Kunzang Wangdi) and the whole village turning out to bid him welcome at a point two hours removed from his final destination. Despite their enthusiasm, he has already decided that he does not intend to stay. His spartan quarters, the unreliable electricity supply and the lack of phone reception are just some of the drawbacks. When he meets his eager, bright-eyed students, especially class captain Pem Zam (Zam), you suspect his resistance will crumble.
Tales of inspirational teachers from Dead Poets Society to Mr Bachmann And His Class generally focus on the impact the teacher has on the pupils. Lunana is equally about the imprint this experience leaves on Ugyen. Everything that he takes for granted is regarded as a privilege in Lunana. A teacher is such a rare and valuable asset to this community that he is treated with a respect he has never known before. "A teacher touches the future," explains Pem Zam.
The story arc of Lunana may offer few surprises but Dorji handles it with confidence and buckets of charm. There is a simplicity to the storytelling that is highly appealing but the journey towards a sense of happiness also manages to touch on issues of identity, connectivity, climate change and the possibility of romance between Ugyen and yak herder/songstress Saldon (Kelden Lhamo Gurung). Newcomer Sherab Dorji's nicely understated performance as Ugyen sets the tone for a film notable for its refusal to milk every teardrop of sentimentality from the story. Instead, Dorji displays a sure touch and a well-judged restraint, especially in the closing scenes.
The decision to shoot on location using solar-powered batteries and employ the villagers as actors gives the film a refreshing sense of authenticity. The beautiful mountain landscapes and the naturalistic performances, especially from scene-stealer Pam Zam, all contribute to its ready appeal. True to the title, there is indeed a yak in the classroom that goes by the name of Norbu, a nod perhaps to Dorji's time as an assistant on director Khyentse Norbu's Vara: A Blessing (2013).
Production company: Dangphu Dingphu: a 3 pigs production, Huanxi Media Group Limited
International sales: Films Boutique: contact@filmsboutique.com
Producers: Pawo Choyning Dorji, Steven Xiang, Stephanie Lai, Jia Honglin
Cinematography: Jigme T. Tenzing
Editing: Ku Hsiao Yun
Production design: Tshering Dorji
Music: Hu Shuai
Main cast: Sherab Dorji, Ugyen Norbu Lhendup, Kelden Lhamo Gurung, Pem Zam.