A member of the Dutch resistance investigates stolen art in World War II Amsterdam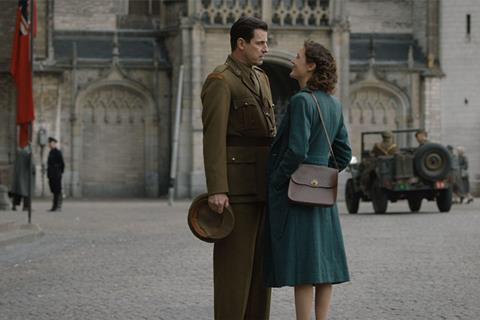 Dir. Dan Friedkin. US. 2019. 117 mins.
Claes Bang and Guy Pearce headline a Nazi art thriller set in post-war Holland, executive produced by Ridley Scott: that's enough to move the dial on an international streamer's algorhythm, even if Lyrebird comes across as the type of stodgy Euro-pudding which has traditionally found it problematic to scale up to a bigger screen. Known as a producer, first-time director Dan Friedkin follows in the footsteps of The Monuments Men, Woman In Gold andThe Counterfeiters with this real-life tale set in Amsterdam shortly after the fall of Hitler.
Lyrebird is at its most engaging when it addresses the sins of the war and the price of atonement
One wonders what Dutch audiences will make of this American film about their notorious wartime Vermeer dealer Han van Meegeren (Pearce). Set in the city of Amsterdam after the Canadian-led troops of the Allied forces forced the German occupiers out, Lyrebird (named after a mimic) deals in an often unsubtle way with a very nuanced time in the country's history. Some observations ring true; others come across more clumsily. The story of a courtroom battle over the authenticity of a work sold by a dodgy rich man to the bad guys may have enthralled the country at the time, but struggles to find the same relevancy today.
Denmark's Claes Bang is a great help, though. Solid in the frame, like an old-style Cary Grant, he plays Captain Joseph Piller, a self-described "Dutch Jew in a Canadian uniform" who has been tasked with rooting out collaborators in the mass Nazi ransacking of art before the compromised Dutch Ministry of Justice can take over and provide cover for some of the collaborators. His investigations lead him to a Vermeer bought by Hermann Goring for a record price and the slippery van Meegeren, who may or may not have brokered the deal.
It's a difficult time in Holland – Joe travels to a devastated Rotterdam, while in the streets of Amsterdam the vengeful mob rules and summary executions are the order of the day. A wartime resistance member, he is also struggling to reconnect with a wife who passed secrets from the Nazi HQ where she worked to the Allies at a personal price he doesn't care to know any more about. (This element of Lyrebird – the most intriguing part of it in fact – has been far better covered in Plenty and The Good German, amongst others).
Lyrebird is at its most engaging when it addresses the sins of the war and the price of atonement – but suddenly decides it can wrap these most complex of moral issues into a classic court case, complete with a last-minute denouement worthy of a Sunday night episode of TV's Poirot. All the lavish sets and gorgeous costumes in the world – and they are here – can't quite cover over the cracks in Friedkin's canvas, constructed by three writers from a non-fiction book.
Pearce, all whiskers and eyebrows, enjoys himself opposite straight man Bang, while Vicky Krieps (from Luxembourg), Olivia Grant (the UK) and Susannah Doyle (UK) all show up as token female support acts who get lost along the way. August Diehl (Germany) plays Piller's MoJ nemesis, although why they are quite so virulently pitted against each other is never made clear. Perhaps a Dutch member of the billed cast might have been able to explain, if only there was one.
Production company: Imperative Entertainment
International sales: 30West info@30west.com
Producers: Ryan Friedkin, Danny Friedkin, Danny Thomas
Screenplay: James McGee, Mark Fergus, Hawk Ostby, from the book by Jonathan Lopez
Cinematography: Remi Adefarasin
Editor: Victoria Boydell
Music: Johan Soderqvist
Main cast: Claes Bang, Guy Pearce, Vicky Krieps, Roland Moller, August Diehl, Marie Bach Hansen, Karl JohnsonA