Gerard Depardieu leads an excellent ensemble cast in Patrice Leconte's take on the classic French detective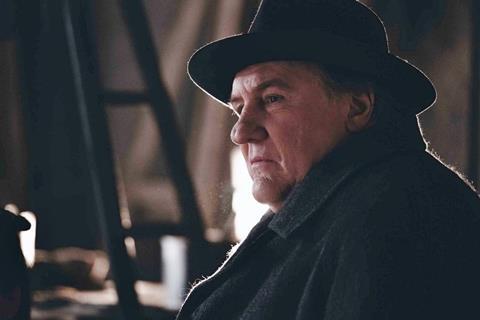 Dir: Patrice Leconte. France-Belgium. 2022. 86mins
In Maigret, Patrice Leconte delivers a wonderfully atmospheric, delectably melancholy portrait of the titular police inspector as he attempts to identify a young murder victim in 1950s Paris. In search of a possible motive, Maigret endeavours to put a name on a "barely" 20 year-old provincial orphan found dead in a designer dress which five knife wounds have turned from silvery shimmers to blood-soaked red. The ensemble cast is excellent across the board with Gerard Depardieu the methodical, ever-observant centre of gravity in a tentacular case that seems to mean more to the chief inspector than is customary for a man in his line of work.
What's on screen is old-fashioned storytelling in the best possible tradition
Depardieu joins an impressive list of French and British stars in taking on the role, beginning with the character's busy first year on film in 1932, where Pierre Renoir starred in his brother Jean's Night At The Crossroads, the same year as Abel Tarride starred in his son Jean's The Yellow Dog. Albert Préjean, Jean Gabin, Heinz Rühmann, Charles Laughton as the first English language Maigret in The Man On The Eiffel Tower (1950), Michael Gambon in the 1990s and Rowan Atkinson, in the 2016 British television series, have also donned the iconic hat and trenchcoat. Depardieu's Maigret is solid in every sense of the word. He gets to the bottom of things, even when the bottom is pretty far down.
Leconte's attention to detail is perfectly attuned to Maigret's investigative style. The veteran director's motive is to entertain, which he assuredly does, with empathy and flair, in under 90 minutes. SND releases the famed inspector's latest adventure in France on February 23, and it has already secured distribution in several European territories including Switzerland, Austria, Spain and Germany among others, as well as further afield in Australia and New Zealand.
The film starts at the office of Maigret's physician. Maigret is tired — bone weary — and has lost his appetite. The doc says he should consider taking a rest or even early retirement. And he must give up smoking. Maigret continues to carry an empty pipe, which leads to the film's only overt, laugh-out-loud gag. There's a stoic beauty to Maigret's methods. He doesn't judge as he goes along — he stays attuned, does the legwork. (Will he make it up 6 flights of stairs to the spot the victim may have inhabited?) Ingenuity, experience, powers of observation and deduction slowly yield paydirt. For subtle reasons, this particular case revives the detective's taste for life.
We get vintage garret rooms, the morgue and an autopsy, a vivid account of how cruelty to ducks makes them much tastier to eat, a concierge who surveys her domain while knowing that naive young women who arrive friendless in Paris are interchangeable. Some find work or husbands; others find that coming to the capital was a lethal mistake. Much of the tale hinges on the fact that there was a time when the way an individual dressed could be as telling as modern DNA samples. Maigret platonically befriends one of them, a self-aware young woman, Betty (Jade Labeste). Aurore Clement is spot-on as an aristocratic widow who dotes on her son, Laurent (Pierre Moure) who is engaged to be married to Jeanine (Mélanie Bernier), a vivacious young actress several social stations below him. The matter-of-fact entitlement of some likely suspects is timeless. The sexual overtones range from clandestine to semi-brazen.
Leconte, who started out as a comics artist and illustrator, is fond of tight close-ups but offers wider framing with quietly thrilling assurance. Master DoP Yves Angelo sculpts the light and Bruno Coulais has conjured a just-slightly-unnerving score.
There will certainly be viewers who yawn at the old-fashioned amber-hued craftsmanship on display in Maigret. But what's on screen is old-fashioned storytelling in the best possible tradition, made relevant by themes of privilege, class, power, aspiration and tenacious loyalty that aren't going away anytime soon.
Belgian author Georges Simenon, who dropped out of school at age 15, got a lot accomplished. His phenomenal literary output totalling hundreds of volumes includes 75 novels and 28 short stories featuring Maigret. (Leconte himself has adapted a Simenon work before in 1989's Monsieur Hire.) Let's hope this is the start of an MCU — Maigret Cinematic Undertaking — for viewers in search of human motivations simmering in a recognizable world.
Production Companies: F Comme Film, Ciné-@, SND, Scope Pictures
International Sales: SND, ramy.nahas@snd-films.fr
Producer: Jean-Louis Livi, Philippe Carcassonne
Screenplay: Jérome Tonnerre, Patrice Leconte, based on "Maigret et la Jeune Morte" by Georges Simenon
Production Design: Loïc Chavanon
Editor: Joëlle Hache
Cinematography: Yves Angelo
Music: Bruno Coulais
Main cast: Gérard Depardieu, Jade Labeste, Mélanie Bernier, Aurore Clément, André Wilms, Pierre Moure, Anne Loiret, Clara Antoons