A free-spirited seamstress navigates poverty and patriarchy in the Cameroonian city of Douala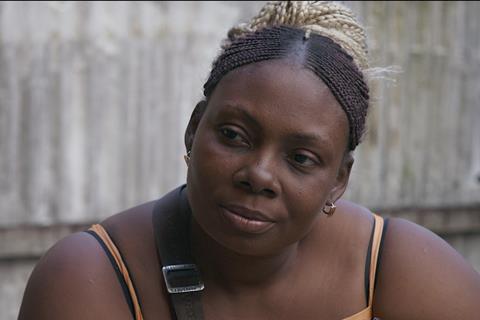 Dir: Rosine Mbakam. 2023. Belgium. 93mins
Rosine Mbakam makes her assured feature debut with Mambar Pierrette, a smartly spun tapestry of everyday life in the city of Douala in Cameroon. Here, well-woven communal bonds hold fast against a backdrop of social and political instability for a single mother and seamstress trying to make ends meet. Anchored by the reserved yet commanding performance of non-professional actor (and Mbakam's cousin) Pierrette Aboheu Njeuthat, this gentle, observational drama speaks to the filmmaker's background in documentary, witnessing rather than plotting one woman's routine to show the frayed ends of daily life in post-colonial Cameroon.
Mbakam has brought the patience of a documentarian to this character study
After making four documentaries in Belgium, Mbakam returned to Cameroon to direct this dramatised portrait of her cousin, which was written following discussions with her family and friends. Following the limited US release of two of her documentaries —The Two Faces of a Bamiléké Woman, a portrait of her mother and repression by the French, and Chez jolie coiffure, which explores the African diaspora via a hair salon in Brussels' African Matonage district — Mbakam's dramatic debut hopes to show what life is like for women of her generation in Cameroon.
Focusing squarely on her protagonist, Mbakam sticks to her subject like an ally, exploring Douala through Mambar's challenges rather than widening the lens. The narrative beats slowly along, but Pierrette Aboheu Njeuthat's quiet stoicism is captivating. It is her performance that will resonate with audiences, and should ensure further festival play and potential arthouse distribution following the film's premiere in Director's Fortnight at Cannes.
Mambar raises three children, cares for her elderly mother and runs her own business but she is also the voice of a generation; resigned to hardship but unwilling to accept the patriarchal oppressions of her elders. She makes ends meet without the financial support of a man. The film is set at the start of the school year, with Mambar hoping to make enough money from sewing school uniforms to pay for her own children's school supplies. Fortune does not favour her, though, and she is robbed shortly before heavy rains flood her home and workplace, soaking both school notebooks and garments for her clients. Rather than despair, she takes the setback in her stride and leans on the bonds she has sewn with the women in her community.
Having put money into tontines – a collective fund for mutual aid – she asks a client and friend for a loan, and to act as guarantor. There is a sense of community even within the most capitalist of exchanges: "You like money!" she is often told, yet she almost always compromises on price. Aside from a few sighing asides, Mambar remains level-headed and listens more often than she speaks.
Mambar may be resigned to adversity but she also takes action. Against the advice of her mother, she complains to the authorities about her children's absent father, meaning he will be summonsed. Later, after refusing 2500 francs to attend the president's rally, she further scolds the man doing the recruiting. Finally, she takes a recently dumped client and friend out dancing, espousing feminist values: "A woman has to be enterprising, a fighter."
Using only direct sound and allowing the pace of each interaction to set the rhythm for Geoffroy Cernaix's spacious edit, Mbakam has brought the patience of a documentarian to a character study that lets the details create an accumulative affect. DoP Fiona Braillon homes in on Mambar's hands – missing and re-threading a needle, chalking up or cutting fabric, taking money or paying for materials – highlighting the personal and physical nature of women's work.
Only occasionally leaving Mambar's side to follow her gaze, Fiona Braillon's camera reveals flooding rains on poorly concreted streets, cables hanging precariously off a corrugated roof, and the haunting glare of a bald, white mannequin looming just outside of Mambar's workshop like a post-colonial spectre as her old sewing machine whirrs on. Mambar weathers it all, living by her own softly spoken truth, "Life is hard and you have to keep going."
Production company: Tandor Productions
International sales: The Party Films Sales, samuel.blanc@thepartysales.com
Producers: Geoffroy Cernaix, Rosine Mbakam
Cinematography: Fiona Braillon
Editing: Geoffroy Cernaix
Script: Mireille Grace Ambang
Main cast: Pierrette Aboheu Njeuthat, Nancy Karelle Kenmogne Fondjo, Cécile Tchana, Fabrice Ndjeutha