Winning slacker comedy set on the Cote D'Azur in which a fly strays very far from the wall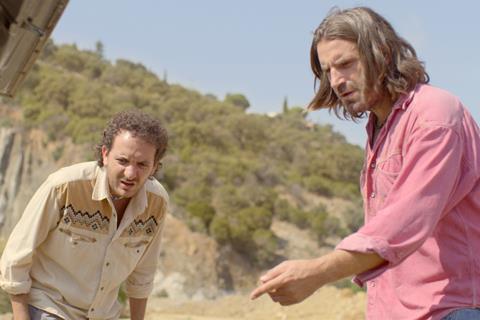 Dir/scr. Quentin Dupieux. France-Belgium. 2020. 77mins.
Not a minute too short or too long, this appetising 77-minute comic buddy-film from Quentin Dupieux shows the talented French musician and director abandoning the wilful Mondo Bizzarro surrealism and fourth-wall metacinema trickery of his early films and maturing into a seasoned, audience pleasing maverick. However, not all is lost for those who come to Dupieux for feature-length servings of weirdness. One of Mandibles' three main characters is a giant fly.
One of the joys of Mandibles is its skewed view of a part of France more commonly associated with monied glamour
The other two, a pair of hapless, genial slackers played by popular French TV comedy duo Gregoire Ludig and David Marsais, a.k.a. 'Palmashow', are, in a nutshell, Dumb and Dumber on the Cote d'Azur. But Mandibles is far from derivative, and Dupieux goes beyond the usual "Love you bro!" buddy-film clichés to draw something genuine, even heartwarming, out of the friendship between these two idiots.
That's a new note for the director, and will help this off-kilter comedy reach an even wider audience than his last, the brilliant but dark Jean Dujardin vehicle Deerskin, which was due to be released theatrically in the US just when the Covid-19 pandemic hit. French-speaking territories where Ludig and Marsais are already household names will be easy oysters to crack, but the film's rousing reception at its first Venice press screening presages upbeat results elsewhere too – possibly via streaming services, which are always looking for smart, offbeat comedy content.
One of the joys of Mandibles is its skewed view of a part of France more commonly associated with monied glamour – a view reinforced by the film's washed-out, sun-bleached colour palette. The beach near St Tropez where we first see Manu (Ludig) may be full of perfect tanned bodies in season, but right now it's empty and he's sleeping on it. A louche acquaintance wakes him up and engages him for an odd, well-paid mission involving the transportation of a suitcase. So Manu steals a battered Mercedes and stops off to pick up his pal Jean-Gab (Marsais) at the gas station where he works. Hearing a strange noise in the trunk, the two skint chancers stop in a desolate lay-by to investigate – and discover that giant fly, rendered in crunchy CGI as a kind of articulated louse (its wings are gaffer-taped back for most of the film) with huge orange-visor eyes.
Somehow, the idea of laboriously training this repulsive mega-insect to rob banks for them comes to seem more sensible, to Manu and Jean-Gab, than picking up easy money for delivering a suitcase from A to B. Part road movie, part comedy Western, Mandibles is fuelled by its heroes' strange view of what a good idea is, and by the dynamic between skinny thinker and fly-trainer Jean-Gab and his Dude-like friend, whose reaction to having set the mobile home they're living in on fire is a resigned shrug. They have a buddy handshake shtick that steals up on us unobtrusively but becomes genuinely, rib-shakingly funny in a scene set at the villa in the pine- and maquis-covered hills just back from the coast, where the two are invited to stay by the vivacious Cecile (India Hair). It's also inhabited by her willowy drip of a brother (Belgian rapper Romeo Elvis) and strange, cerebrally challenged friend Agnes – a tasty comic turn by Adele Exarchopolous in a role that pushes the bounds of taste and political correctness.
Music is important to a director more famous in the early part of his career for his alter ego, 'Flat Beat' musician Mr Oizo. But here he takes a less is more approach, using a piece by British electronic group Metronomy only at the droll beginning and exhilarating end of Mandibles. It sounds like the kind of piece that might have accompanied a toddlers' afternoon TV show in the 1980s. As such, it's a perfect frame for a film which hides a certain nostalgia for a simpler world, one in which two childlike dimwits like Manu and Jean-Gab might just stand a chance.
Production company: Chi-Fou-Mi Productions
International sales: Wild Bunch, ediederix@wildbunch.eu
Producers: Hugo Selignac, Vincent Mazel
Production design: Joan Le Boru
Editing: Quentin Dupieux
Cinematography: Quentin Dupieux
Music: Metronomy
Main cast: Gregoire Ludig, David Marsais, Adele Exarchopoulos, India Hair, Romeo Elvis, Coralie Russier, Bruno Lochet