Breezy, handsomely mounted fun that shows John Woo has lost neither his mojo nor his sense of poetry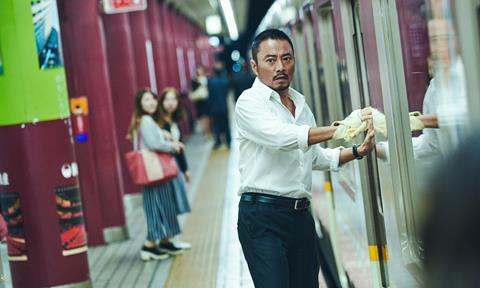 Dir: John Woo. China/Hong Kong. 2017. 106 mins
Intrepid cops, flying glass, mid-air shootouts in balletic slo-mo – not to mention a fair few of the director's trademark white doves… Manhunt is a John Woo movie like he used to make 'em, before his US period including Face/Off and Mission Impossible 2, and recent Asian historical diptychs Red Cliff and The Crossing. In fact, Manhunt is Woo's first Asian police thriller since 1992's Hard Boiled, the film that consolidated his international auteur status.
A thoroughly enjoyable full-tilt action lark, which should introduce a new generation to Woo's patented style
Things may not be radically different since the old days; notwithstanding the fact that the setting is Japan rather than Hong Kong, the approach is much the same. Indeed, bar some 21st-century digital trimmings, the film feels very much like Woo's own knowing pastiche of his innovative 80s-90s period, to which he throws in some jokey, fairly overt nods. Familiar and perhaps even retro though it is, Manhunt is a thoroughly enjoyable full-tilt action lark, which should introduce a new generation to Woo's patented style.
The film starts briskly with a melancholy type, lawyer Du Qiu (Zhang Hanyu, recently seen in Zhang Yimou's The Great Wall) drifting into a quiet seaside bar where he narrowly misses two seemingly placid women, Dawn and Rain (the latter played by Ha Ji-won) slaughtering a convention of hoods. These hit women later turn out to be working for Du Qiu's own employer, pharma company boss Sakai (veteran Jun Kunimura, also seen in Hard Boiled).
Sakai isn't happy about Du Qiu leaving his employ and heading for New York – which may be why the lawyer finds himself framed for the murder of a woman sent by Sakai to dissuade him. Du Qiu has Asano, a crooked police officer, gunning for him, but he has more to fear from honourable and tenacious cop Yamura (Masaharu Fukuyama, currently seen in Hirokazu Koreeda's The Third Murder).
Very soon, cop and quarry find themselves reluctant allies on the run, along with Mayumi (Qi Wei), a young woman who blames Du Qiu for the death of her fiancé. Eventually the allies get to the heart of a fiendish, slightly Marvel Comics-style 'human superweapon' project, with the aid of Rika (Nanami Sakuraba), an ingénue female copper who starts off as goofy comic relief, then proves as tough as the rest.
You can tell that Woo is sending himself up from the start, partly because of the droll meet-cute between Du Qiu and Rain – she falls for him because of their backchat about old films – and partly from the almost farcically generic comic-book style passages of English dialogue (the script is otherwise in Japanese and Mandarin). Zhang and Fukuyama vie to out-butch each other with their terse B-movie delivery of lines like, "There's only one end for a fugitive – a dead end," and "I will be back – with the truth."
If the script defies you to take it seriously, there's no messing about with the superbly choreographed action, which takes in a motorbike raid on a country mansion, a speedboat chase through Osaka, a clifftop collision with - what else? - a dovecot and a climactic showdown in a pharmaceutical lab that's this film's equivalent of the traditional Bond villain lair. Younger fans of the modern actioner may find Manhunt a little old-school, especially in its unabashed romantic heart and flag-waving for the square-jawed good guys. But it's breezy, handsomely mounted fun that shows that Woo has lost neither his mojo nor his sense of poetry.
Production companies: Media Asia Film Production Ltd.,China Film Media Asia Audio Video Distribution Co., Ltd, Shenzhen Murmur Culture Communications Co., Ltd.

International sales: Media Asia Film Distribution HK Limited, frederick_tsui@mediaasia.com
Producers: Gordon Chan, John Woo, Zhang Hanyu Jiwon,Jun Kunimura, Chan Hing Kai
Executive producers: Peter Lam, La Peikang

Screenplay: Nip Wan Fung, Gordon Chan, James Yuen,
Itaru Era, Ku Zoi Lam, Maria Wong, Sophia Yeh
Based on a novel by Juko Nishimura

Cinematography: Takuro Ishizaka
Production designer: Yohei Taneda

Editors: Wong Hoi, Lee Ka Wah
Music: Taro Iwashiro
Main cast: Zhang Hanyu, Masaharu Fukuyama, Qi Wei, Ha Jiwon, Jun Kunimura