In this emotional, understated drama, a middle-aged wife finds liberation in an affair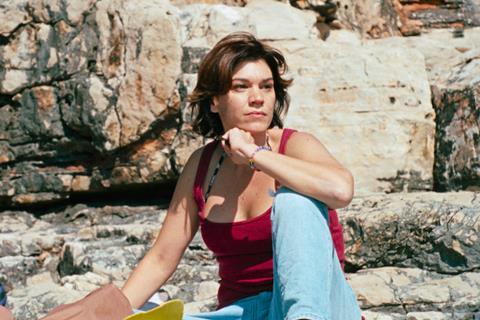 Dir/scr: Andrea Staka. Switzerland/Croatia. 2020. 84 mins
A different life beckons like a mirage on the horizon in Mare. The third feature from writer/director Andrea Staka (Fraulein, Cure: The Life Of Another) paints a plaintive portrait of a middle-aged woman's longing for something beyond the drudgery of her daily existence. Modest in scope and understated in execution, it still strikes an emotional chord and should continue to travel the festival circuit following its berth in Sarajevo's main competition (having screened earlier this year in Berlin's Panorama).
The film almost feels like a social realist Shirley Valentine
Mare (Marija Skaricic) lives in Dubrovnik, on the edge of an airport where her husband Djuro (Goran Navojec) works as a security guard. Escape is right on her doorstep as she wistfully observes planes soaring into the sky. The irony is that she never goes anywhere. Her reality is a feeling of being trapped by the relentless demands of being a wife, homemaker and mother to three children.
Shot on Super 16mm, Erol Zubcevic's initimate camerawork boxes Mare in, caging her within the gloomy confines of the rented family home. He follows her as she walks through a cramped, oppressive space like a confined animal. The focus is often on the back of her neck as she stops to contemplate her surroundings like a curious observer of what her life has become.
Mare's days are spent cooking and cleaning, packing the kids off to school and shopping for groceries. The film almost feels like a social realist Shirley Valentine. The suggestion of a family trip to the cinema is deemed to be too expensive. The hope that she might go back to work is dismissed by her husband. His one concession is to allow her to sell bunches of herbs to supplement the family coffers. Sex is more pain than pleasure as a hefty, overweight spouse bears down on her. There is no outright hostility between husband and wife, just a sense of separate lives with moments of overlap. There is a similar understanding of relationships - of children that can test your patience one moment and break your heart the next, parents who inspire filial love but also a desire never to settle for what they have.
Change arrives in the shape of handsome Polish worker Piotr (Mateusz Kosciukiewicz). Younger and fitter than her husband, he is even able to fix her washing machine. A brief encounter develops into a passionate affair.
Marija Skaricic is entirely believable as Mare. There is an emotional authenticity to her performance and the way she conveys how Mare glows in the thrill of this clandestine romance. She becomes more playful with her family, joking and bantering. She devises more ways to spend time with her lover. Piotr brings light to her life and the look of the film reflects the contrast in her emotions as it shifts from darkness to daylight.
Mare's hopes of what could be lend a poignancy to the final third of a film that suggests further ways in which her and all those around her are trapped. Her oldest son Gabriel (Gabrijel Vidak) finds nothing to nurture him in this glum backwater and has grown indifferent to whether or not he completes his education. "Have you ever wanted to just get out of here?," he asks his mother. It is a question that echoes throughout this bittersweet tale.
Production companies: Okofilm Productions, Dinardi
International sales: Be For Films info@beforfilms.com
Producers: Thomas Imbach, Andrea Staka
Editing: Redzinald Simek, Thomas Imbach
Cinematography: Erol Zubcevic
Production design: Jana Plecas
Music: Ephrem Luchinger
Main cast:Marija Skaricic, Goran Navojec, Mateusz Kosciukiewicz, Mirjana Karanovic