Big-screen treatment of a controversial Finnish preacher who claimed she could communicate with the dead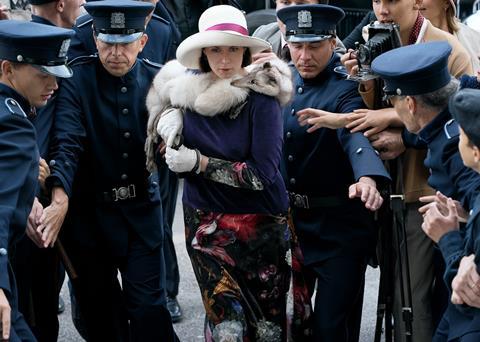 Dir: Zaida Begroth. Finland, Estonia. 2019. 110 mins
True events are smoothly shaped into an intriguing, well-heeled period drama in Maria's Paradise (Marian paratiisi). The story of charismatic Finnish cult leader, the "sleeping preacher" Maria Åkerblom, and one of her admirers is the springboard for an engrossing exploration of the tensions between blind faith and the hunger for independence. The confident storytelling and polished craftsmanship should ensure a welcome at festivals and markets where Åkerblom's story is known, although it may prove a little too languid and measured to make its presence felt in a wider theatrical arena.
A fictional imagining of real events
Topped and tailed by blurry black and white images of the real Åkerblom, who died in 1981, Maria's Paradise points out that it is a fictional imagining of real events. Dubbed the "Angel Of Heaven", Akerblom (Pihla Viitala) gained renown as someone who could communicate with the dead and receive messages from God in her sleep. By 1927, she has moved to a vast country estate in Kokkola, Finland were she presides over a community of followers. There are echoes of The Handmaid's Tale or Midsommar in a rural retreat with its own rules and rituals. Initially, it seems as if director Zaida Begroth is intent on immersing us in the gothic trappings of the location. The shadowy corridors, glowing candlelight and eerie silences all add to the sense of an old dark house where anything could happen. The ominous throb of Timo Kaukolpami and Tuomo Puranen's score encourages us to anticipate trouble in paradise.
Instead, Bergroth and screenwriters Anna Viitala and Jan Forsström place the emphasis on the changing dynamic between two women. The orphaned teenager Salome (Satu-Tuuli Karhu) is one of Maria's most fervent admirers. She worships Maria as a surrogate mother and alluringly bohemian figure who looks like "some foreign movie star". Maria's extravagant wardrobe, Louise Brooks-style bob and cigarette holder make her seem like the embodiment of Jazz Age glamour. By contrast, Salome is a sheltered, innocent, who dresses plainly and never questions the world around her. Satu-Tuuli Karhu plays her with a wide-eyed look of unconditional devotion. The mere fact of bring chosen to brush Maria's hair is enough to make her beam with pleasure.
Throughout the film, we learn of the life that Maria had built for herself with partner Eino (Tommi Korpela) and how it is based on foundations that are only likely to crumble. There seems little doubt that Maria is a charlatan but she seems able to fool most of her followers most of the time. She merely has to mention the inconvenience of her detractors to spark events that lead to a trial for attempted murder.
Maria's fall is witnessed most acutely through the disillusion of Salome who finds a friend in 17 year-old streetwalker Marin (Saga Sarkola). When Marin is attacked she comes to Salome for help and is accepted by the community. It is Marin's fresh perspective, affection and companionship that slowly open Salome's eyes to how deluded she may have been.
Sensitively handled in the way it avoids sensationalism or melodrama, Maria's Paradise never allows us to fully understand who Maria was or why she did what she did. Salome is a more fully realised, sympathetic figure and that creates a sense of imbalance in a story that is well-crafted and well-rounded without becoming entirely satisfying.
Production Companies: Komeetta, Stellar Film , Kaiho Republic
International sales: Level K lauren@levelk.dk
Producers: Daniel Kuitunen, Kaisla Viitala
Screenplay: Anna Viitala, Jan Forsström
Production design: Jaagup Roomet
Editing: Samu Heikkila
Cinematography: Hena Blomberg
Music: Timo Kaukolpami, Tuomo Puranen
Main cast: Phila Viitala, Satu-Tuuli Karhu, Saga Sarkola, Tommi Korpela
Comp:
The Laundromat Dir. Steven Soderbergh
Joker Dir. Todd Phillips
Marriage Story Dir. Noah Baumbach
Martin Eden - Dir. Pietro Marcello (I guess Lee and I will be arm-wrestling over this)
Ema - Dir. Pablo Larraín
Waiting For The Barbarians - Dir. Ciro Guerra
Gloria Mundi - Dir. Robert Guéndiguian - NB Have seen, and it's good
Guest Of Honour - Dir. Atom Egoyan - Have also seen, and liked it - but I've been Atom apologist for you over last few films that no-one else liked, so you may want to go with s'one else
About Endlessness - Dir. Roy Andersson
The Truth (JAP/FRA) - world premiere - OPENING FILM - Dir. Hirokazu Kore-eda
Out Of Competition (fiction)
Seberg - Dir. Benedict Andrews
Adults In The Room - Dir. Costa-Gavras - PLEASE NO, have seen and it's dreadful
Tutto Il Mio Folle Amore Dir. Gabriele Salvatores
Out of Competition (non-fiction)
State Funeral - Dir. Sergei Loznitsa
Horizons
My Days Of Glory - Dir. Antoine de Bary - Not a top priority for me, but have seen, it's fun
Moffie - Dir. Olivier Hermanus
VENICE DAYS
Only The Animals - Dir: Dominik Moll - Also seen, it's great, his best in ages