Adam Driver and Scarlett Johansson play a couple whose relationship is on the rocks in Noah Baumbach's Netflix drama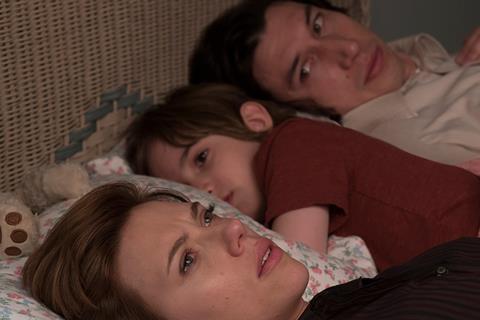 Dir/scr: Noah Baumbach. US. 2019. 135mins
Noah Baumbach takes a baby step outside his East Coast comfort zone in Netflix's Marriage Story, swapping wry situational comedy/drama for a close-up portrait of a dissolving relationship as a deteriorating and dangerous combat zone. Moving the action between New York and a sunny Los Angeles, he looks again at the subject of divorce – a return to the terrain of his first screenplay success, 2005's The Squid And The Whale. Baumbach's Marriage Story touches off being a more even-handed Kramer Vs Kramer, or a two-handed Husbands And Wives, but really wears Scenes From A Marriage on its sleeve, another made-for-TV affair.
Marriage Story can be a tough watch, thanks to outstanding, stripped-raw performances by leads Adam Driver and Scarlett Johansson
Marriage Story can be a tough watch, thanks to outstanding, stripped-raw performances by leads Adam Driver and Scarlett Johansson and some excellent support (from Alan Alda and Laura Dern, on a run of good form after TV's Big Little Lies). With a sharp, intelligent script and Baumbach's usual visual timidity, this is a very particular film, set for awards attention for its performances and a global viewership through Netflix. Its cosy milieu of New York theatreland and a family of Los Angeles actors may narrow the film's appeal, however, and the going is solid if unsurprising until Baumbach finally takes a risk in his closing scenes which lift the film out of its day-to-day reality and into something more singular.
Much like Scenes From A Marriage, Baumbach starts his film with the main actors rhapsodising over the qualities of their partner. Nicole (Johannsson) is a "good citizen" says her husband, Charlie (Driver), while he's "neat and self-sufficient", she says. With praise like that, no wonder their marriage is on the rocks, and these are words they have prepared for a counselling session. For unexplained reasons, Nicole, a frustrated actress, has decided she no longer wants to continue with the mediation and Charlie and Nicole head for divorce. They have a young boy, Henry (Azhy Robertson).
Charlie is a talented young theatre-director and Nicole gave up her career to be part of his troupe, moving from her acting clan in Los Angeles to New York and the comfort of Charlie's avant garde troupe, a second family to them both (Wallace Shawn plays one cameo among many). Those who find themselves impatient with Baumbach's cozy self-reflective world of pampered middle-class intellectuals will not take any comfort here. When she is offered a role in a TV series in LA, Nicole makes the break from Charlie and takes Henry along to stay with her mother (an over-mannered Julie Hegerty) and sister (Merritt Wever, good). The problem is, she doesn't want to go back to New York. She meets with a lawyer (Laura Dern) and suddenly all bets are off, with Charlie hiring his own representatives (Alan Alda initially, followed by a brass-knuckle fighter played by Ray Liotta).
Both leads impress: Johannson expands on the range she has previously shown to portray a woman who may be likeable but isn't always sympathetic. Driver gives a bold performance with just the right observations of the unconscious control his character has exerted over his partner. His choices add great depth to the role as written: he would seem a natural for awards attention here. As their attorneys, Dern is rangy and has been given some of the best lines; and the honest Alan Alda is out-ranked in a world where the sharks always swim at each other.
Marriage Story is very finely observed, very true to itself and its teeming cast of characters. While it searches for realism, and stakes its claim on that credibility, the film can sometimes manipulate events into scenarios which aren't entirely convincing given earlier established circumstances or declarations. One argument, a terrific showdown for its two lead actors, is fantastic spectacle while also being quite fantastical. That niggles, and it's only when Baumbach surrenders to the inherent theatricality of what he is creating, that Marriage Story finally takes wing and flies.
Shot by Robbie Ryan, Baumbach's film visually makes much play of its smaller New York interiors set against the light and sunny Los Angeles, but it's in Charlie's unfurnished apartment in LA, which he has rented in an attempt to secure joint custody, that the real stage is set. Against this anodyne background, all beige carpet and white walls and dated kitchen appliances, the actors can pull themselves up to full height and deliver to the back of the auditorium. And for an industry that makes much of adapting – plays or novels – for the big screen, Marriage Story is a film that could be easily reversed and turned into a play. Like Baumbach's production, it won't make comfortable viewing, but it will be reassuringly good.
Production companies: Heyday Films, Netflix
International sales: Netflix karyne@netflix.com
Producers: Noah Baumbach, David Heyman
Production design: Jade Healy
Editing: Jennifer Lame
Cinematography: Robbie Ryan
Music: Randy Newman
Main cast: Adam Driver, Scarlett Johansson, Alan Alda, Laura Dern