Vivid, Black working-class drama from Brazil has niche breakout appeal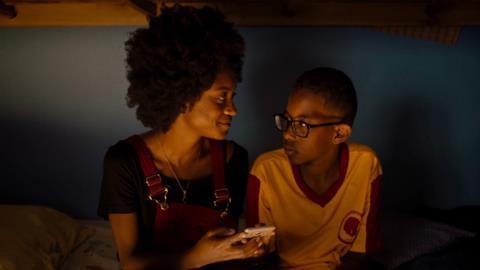 Dir. Gabriel Martins. Brazil. 2022. 115 mins.

Brazilian drama Mars One begins in 2018, with a young Black boy gazing upwards while cheers and fireworks in the distance greet the election of far-right president Jair Bolsonaro. Is the boy staring into the abyss, as if in foreknowledge of all that is in store for his nation? Or is he, despite everything, looking to the stars and a brighter future? Gabriel Martins's film very much suggests the latter. Mars One, shot in 2018 and now having its world premiere in Sundance's World Cinema Competition, is a vivid, winningly acted ensemble piece which stands to appeal in niche markets, broadening the scope of representation of Brazilian Black culture in that sector where international arthouse dovetails comfortably with mainstream storytelling.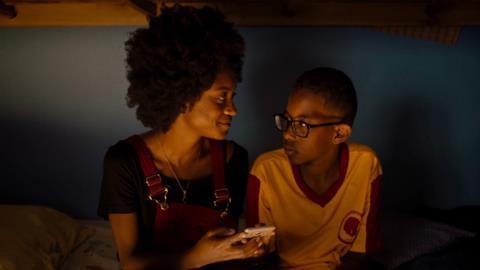 The film makes a point of showing Black working-class Brazilians in everyday, undramatic situations
Mars One is written and directed by Gabriel Martins, who co-directed 2019's Rotterdam-premiered In The Heart Of The World with (non-related) Maurilio Martins, who is one of this film's producers. Set in the city of Contagem, near Belo Horizonte in Brazil's southeastern state of Minas Gerais, Mars One focuses on one Black working-class family. Late middle-aged dad Wellington (Bacurau cast member Carlos Francisco), a recovering alcoholic four years clean, works as a caretaker at an upmarket condo development, alongside new recruit and fervent leftist Flávio (Russo Apr). A passionate fan of local football team Cruzeiro, Wellington cherishes the dream that his early-teens son Deivinho (affectingly solemn newcomer Cícero Lucas) will deliver on his sporting promise and pass a tryout as a young Cruzeiro recruit; encouragement is offered by real-life team stalwart, Argentinian player Juan Pablo Sorín, in an affable cameo role.
The boy has other dreams, however; a fan of US astrophysicist Neil deGrasse Tyson, he has his imagination sparked by news of the Mars One project to colonise the Red Planet, and suddenly an earthly football pitch doesn't sound so exciting.
Meanwhile, Deivinho's law student sister Eunice, or Nina (Camilla Damião), has fallen in love with Joana (Ana Hilario), a young woman from a more moneyed background; Nina plans to move in with her, but hasn't yet come out to her parents. As for mother Tércia (Rejane Faria, seen in Martin's In The Heart Of The World), who works as a cleaner, everything seems to be going smoothly in her life, and the family's, until a chance encounter with a TV prankster – an incident so traumatic that Tércia becomes convinced she is afflicted by a hex that will affect all those close to her.
Working in an unshowy mode of everyday realism, and generating brisk but relaxed and natural interplay from his cast, Martins gives all the family members more or less equal weight, taking us in turn into each one's experience between sequences that show them as a unit. They're a very functional unit too: despite the problems, and the tensions and unspoken differences that eventually come to a stormy head, what's manifest throughout is a sense of mutual support and solidarity. This emerges not least thanks to strong performances, the young duo of Damião and Lucas interacting with particular warmth – all the more so because their scenes together are pitched with such canny understatement.
Martins mixes elements of borderline melodrama – Wellington's crisis at work, the triggering of Tercia's meltdown – with relaxed humour and scenes of intense emotional intimacy, not least between the two young female lovers. The film makes a point of showing Black working-class Brazilians in everyday, undramatic situations – something that hasn't always been the case in screen depictions of Brazilian life. As well as promoting the liberating effects of education and intellectual ambition, Martins stresses diversity - for example, featuring a very impassioned love scene between Nina and Joana, and showing Tércia's friendship with her client Tokinho, a real-life gay social media star with dwarfism, who contributes a lively cameo. All this flies with aplomb in the face of the repressive racial and sexual codes that Bolsonaro has attempted to impose on Brazilian cinema.
That doesn't make Mars One a stiff manifesto piece: working within the codes of accessible family narrative, it has a low-key touch of kitchen-sink drama (emphasised by Daniel Simitan's mainstream-friendly score), with somewhat Loachian emphasis on the stresses of the working life. The film builds to a surprising resolution in which providence seems to show its hand, allowing the family to reassess its differences and ties, and face the future with philosophical resolve. That future, as we now know, would involve Brazil's gruelling experience of Covid-19, which gives the film all the more poignant – yet, paradoxically affirmative – meaning as it premieres four years after it was shot.
Production company: Filmes de Plástico, prod@filmesdeplastico.com.br
International sales: Magnolia Pictures International, international@magpictures.com
Producers: Thiago Macêdo Correia, André Novais Oliveira, Gabriel Martins, Maurilio Martins
Screenplay: Gabriel Martins
Production design: Rimenna Procópio
Music: Daniel Simitan
Main cast: Rejane Faria, Carlos Francisco, Camilla Damião, Cícero Lucas