A menopausal Polish virgin lets loose in Daria Woszek's heightened cultish comedy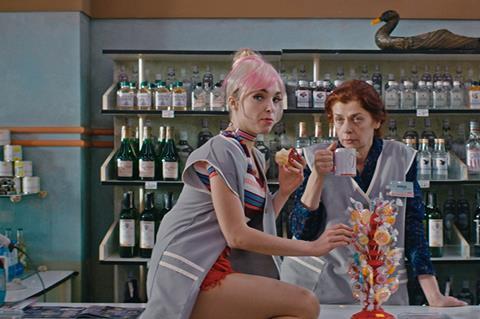 Dir/scr. Daria Woszek. Poland. 2020. 80 mins.
Opening in a stylised grocery store, awash in candy-coloured hues, and saturated with neon pink and blue lighting, Marygoround instantly makes a visual impression. Narratively, too, this lively black comedy is not easily forgotten. Originally slated for this year's cancelled SXSW and now playing Fantasia's online festival, Daria Woszek's vivid feature follows a 50-year-old virgin named Mary, who has a fixation with religious statues of her namesake. She is also overwhelmed by menopause-induced hot flushes and, thanks to her newly acquired hormone patches, subject to strong lustful urges that she is ill-equipped to handle or control.
With its constantly put-upon protagonist, Marygoround paints a pointed portrait of society's willingness to ignore middle-aged women.
Firmly marching to its own distinctive beat, Marygoround seems destined for cult status. Further genre festivals should follow, and word-of-mouth on streaming services seems guaranteed. Audiences who praised 2015's The Lure should easily warm to this fellow offbeat, vibrant and often-funny female-led Polish movie. Woszek has delivered a no-holds-barred, purposefully exaggerated and absurdist, but still shrewd and sensitive exploration of a woman who has spent her entire life accustomed to being overlooked. In its constantly put-upon protagonist, Marygoround paints a pointed portrait of society's willingness to ignore middle-aged women.
At work, Mary's (Grazyna Misiorowska) constantly gossiping colleagues barely pay her any notice as she mans the checkout and stocks the shelves, a fate that is not afforded the supermarket's younger workers. When Mary visits a gynaecologist seeking help with flushes that even cradling frozen goods to her chest cannot temporarily alleviate, she is similarly disregarded. The male doctor goes through the motions, asks the necessary questions with a judgemental sneer, conducts an invasive physical examination and dutifully dispenses a prescription, but he could not be less interested.
Misiorowska keeps her features still and stoic, as though Mary's face has already been fixed in place by decades of disappointment. But as estrogen seeps through Mary's skin, she soon becomes more confident, sensual and willing to pursue what she wants, such as a dinner date with a younger fashion-store employee (Pawel Smagala). In fact, her swift personality change kicks in to a gleefully outlandish degree, as evocatively conveyed in creatively staged, fantastical and hallucinatory sequences that dance fluidly across the screen.
Still, as spirited as it is both aesthetically and thematically, Marygoround might have threatened to play as one-note if it was not so invested in Mary's pain as well as her newly discovered passion, and if it did not also examine the experiences of her free-spirited, twenty-something niece Helena (Helena Sujecka). Camping out on her aunt's couch after ending the latest in a long line of doomed relationships, the younger woman first appears to be everything that Mary is not. But Marygoround teases out their similarities, including their shared need to redefine and take charge of their respective paths.
Michal Pukowiec's roving imagery finds much to notice in Alicja Kazimierczak's striking production design — Mary's sapphire-toned apartment is a particular feast for the eyes — with Marygoround's technical credits not just solid, but impressive. And, when paired with the film's narrative, they help make a statement that really shouldn't be as revolutionary or necessary as it is: that all women, regardless of age or sexual experience (or, in Mary's case, lack thereof), are radiant, multi-faceted and arresting.
Production company: All Muses, Solopan, Studio Jutrzenka
International sales: Media Luna New Films, idamartins@medialuna.biz
Producer: Marcin Lech, Dagmara Molga
Production design: Alicja Kazimierczak
Screenwriter: Sylwester Piechura, Aleksandra Swierk, Daria Woszek
Editing: Agnieszka Glinska, Agata Marciniak
Cinematography: Michal Pukowiec
Main cast: Grazyna Misiorowska, Helena Sujecka, Janusz Chabior, Magdalena Kolesnik, Barbara Kurzaj, Agnieszka Wosinska, Sylwester Piechura