Nicolas Bedos' mystery thriller has the suspense and sardonic wit of the Hollywood classics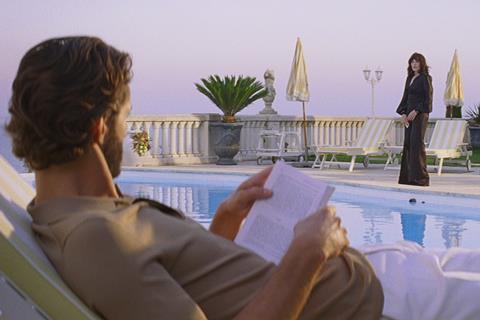 Dir/scr: Nicolas Bedos. France. 2022. 142mins
Loves makes fools of everyone in Masquerade (Mascarade). Nicolas Bedos' elaborate, spider's web of intrigue and betrayal trails a twisty, double-dealing thriller around the tangled emotions of a tragic romance. Set among the dreamers and schemers of the French Riviera it is a much darker prospect than the heart-warming charmer La Belle Époque (2019) but the satisfyingly slippery storytelling played to the hilt by an all-star cast promises a similar commercial success when it is released in France on November 1st.
Bedos has created an elegant, lush looking mystery
Based on Bedos' unpublished novel and some personal experiences, Masquerade takes a good deal of its inspiration from Hollywood classics. The sardonic wit of Billy Wilder's Double Indemnity (1944) and Sunset Blvd. (1950) blends with the suspense in Hitchcock's Riviera-set To Catch A Thief (1955). Even the one-word title evokes comparisons with lush 1960s capers like Charade (1963) and Arabesque (1966).
Bedos begins by reminding us of the Somerset Maugham quote that the French Riviera is a "sunny place for shady people". We then meet Adrien (Pierre Niney) and Margot (Marine Vacth) as they don disguises and embark on a convoluted scheme. Suddenly, an enraged Simon (François Cluzet) appears at their hotel suite, pulls a gun and shoots Margot
The rest is a trial that allows for ample amounts of flashbacks, explanations, motivations and double-crossing. Adrien is a former dancer, seriously injured in an accident and now terminally adrift, idling away his days as the booze-sodden plaything of high-strung, high maintenance diva Martha Duval, played by Isabelle Adjani in delicious Norma Desmond mode. The sight of her floating face down in a swimming pool or watching her old films only encourages the comparison. There is little sign of love between them; she is a meal ticket, and he is a handsome appendage.
Things change when he meets Margot, a beautiful, headstrong young woman who seems as much of a lost soul as he is. Her reckless thrill-seeking behaviour beguiles him and seems to wake him from his slumbers. Lust turns to a love that flourishes despite all their individual failings and previous heartbreaks. A scheme is hatched with real estate boss Simon identified as the perfect mark for a lucrative scam.
Masquerade spins a dizzying amount of plot in which genuine emotions and clever deceits are hard to separate. Adrien is supposed to woo Martha with renewed vigour, but could there be something genuine there? Margot works her wiles on Simon but he is so smitten that she can't be entirely impervious to what he is feeling or the marriage he is risking? The way Adrien and Margot are prepared to play God with people's lives makes them unsympathetic and yet their hunger for a happy ending together is persuasive.
Reunited with some of the creative team from La Belle Époque, including production designer Stéphane Rozenbaum, Bedos has created an elegant, lush looking mystery with such a strong cast that the secondary characters risk being more sympathetic, more appealingly vulnerable than the central couple. François Cluzet beautifully captures the delight of an old fool charmed by the flattering attention of a younger woman. Laura Morante is captivating as Giulia, a bruised, cynical hotel owner who relishes a chance for revenge. Emmanuel Devos makes the most of her moments as Simon's distraught wife Carole and Charles Berling has some of the funniest one-liners as Martha's waspish assistant Jean-Charles.
Bedos writes great roles for actors and Marine Vacth has the most demanding of them all as Margot, dazzling in a tour de force that runs the gamut of accents, emotions, fragility and cold calculation.
Production companies: Les Films Du Kiosque, Pathé Films
International sales: Pathé International sales@pathe.com, Orange Studio, ines.papo@orange.com
Producers: François Kraus, Denis Pineau-Valencienne
Production design: Stéphane Rozenbaum
Cinematography: Laurent Tangy
Editing: Anny Danché, Clément Selitzki
Music: Anne-Sophie Versnaeyen
Main cast: Pierre Niney, Isabelle Adjani, François Cluzet , Marine Vacth