Can sins be forgiven in Fran Kranz's accomplished debut?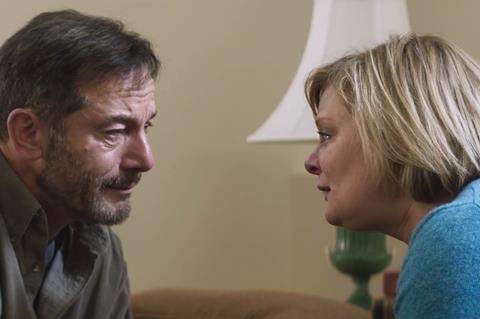 Dir/scr. Fran Kranz. US. 2020. 110 mins
There's a strong sense of renewal to Mass. Clearly, the push of this wrenching film is towards cleansing and forgiveness, but that a debut film-maker could write and direct such an accomplished work, with performances by four actors in such finely-tuned harmony, says much about the renewal — and purpose — of cinema itself as the industry moves forward. With rigour and clarity of purpose, actor/director Fran Kranz holds the audience in his hands, probing at the unthinkable and daring to keep the faith.

Mass bravely immerses the viewer in a real world where awful events make no sense and arguments bounce painfully against familiar walls
A forensic, unsparing examination of a mass shooting event and its direct repercussions, which spares nothing and nobody on its way to the truth, Mass is cathartic viewing which is destined to become widely known, both in the US and internationally, and elevated enough to make its means of delivery to the audience a secondary consideration — it's one of those rare films which will get there, no matter how. Its religious themes and setting may even widen its appeal in the heartland. Front and centre of this is the exceptional writing and performances. Jason Isaacs, Martha Plimpton, Reed Birney and Ann Dowd: it's an ensemble piece, although Dowd in particular is enormously affecting, while Isaacs delivers a career-best.
Best seen without too much advance knowledge of the plot, Mass brings two couples together into a carefully staged mediation. The title refers to the mass shooting that has destroyed their lives, or perhaps the reference is wider, but Kranz leaves that tantalisingly open. They have survived — barely survived — the unthinkable, and now they want to find answers and understanding where there may be none. Isaacs, Plimpton, Birney and Dowd each give a powerful account of their character to the point where Mass feels like the adaptation of a real-life encounter, or at the very least, a stage play based on one. This is an original work of fiction, however. It's as if We Need To Talk About Kevin, also fiction but patently so, has been pushed into properly confronting its premise.
Isaacs and Plimpton are Jay and Gail; Birney and Dowd play the older couple Richard and Linda. The film takes its time on the way to meeting them. Mass starts with the anxious, fluttering, Judy (Breeda Wool) arriving late to the Emmanuel Episcopal Church in Hailey, Idaho, with her paper bags full of shopping. She is tasked with setting up a room for this encounter as a safe space. She's young, well-meaning, full of Christian goodness, but also vaguely inept and very anxious.
This pivotal meeting in a nowhere town ("most people drive through to St Thomas these days, but we find plenty to do!") has been arranged through the absent pastor and the business-like Kendra (Michelle N. Carter), an unspecified facilitator, after six years of working with the families involved. Stress seeps through every chord played askance in a piano lesson downstairs in the church. There shouldn't be any noise. Children's art on the window could prove to be a mistake. With a crucifix watching over proceedings, Judy and the church's young helper Anthony (Kagen Albright) move the table, set the chairs, put her purchases on the trestle table: are they in the right place? Is it too much food?
Demonstrating a rare and justified confidence when it comes to pacing, Kranz holds the tension as the couples slowly arrive in the room. Jay and Gail get there early and turn around in a panic: can she face this meeting? Linda comes into the room with a flower arrangement: flurries of apologies and nice-to-meet-yous and half-hearted politeness and platitudes follow, and Mass embarks on its agonisingly slow journey towards mercy. "We regret some of the things we've said," says Jay. "We want to listen and we want to heal". Later, he adds: "Just because we didn't litigate doesn't mean to say we don't want to see you in pain".
Kranz and DoP Ryan Jackson-Healy shoot in extreme close-up, an unsparing, tight view of every line and delivery. It's a small room, but Mass bravely immerses the viewer in a real world where awful events make no sense and arguments bounce against familiar walls. It emerges with the sense of human truth which, as the closing sequence emphasises, goes very deep. In a difficult, fractured time for the United States, Mass reinforces the power of open debate and how hard that can be, as well as rewarding.
Production company: 7 Eccles Street
International sales: CAA/Gersh
Producers: Fran Kranz, Dylan Matlock, Casey Wilder Mott, JP Ouellette
Cinematography: Ryan Jackson-Healy
Production design: Lindsey Moran
Editing: Yang-Hua Hu
Music: Darren Morze
Main cast: Jason Isaacs, Ann Dowd, Martha Plimpton, Reed Birney, Breeda Wool, Michelle N. Carter, Kagen Albright