Affectionate biopic of the late Italian comedian and star of 'Il Postino', Massimo Troisi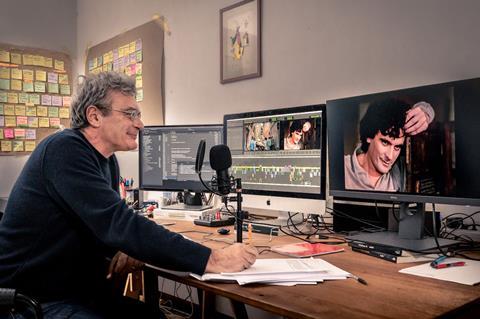 Dir: Mario Martone. Italy. 2023. 128mins
When edgy, groundbreaking comedians die young, they often achieve a sort of posthumous sainthood. Think of John Belushi or Andy Kaufman in the US, Tony Hancock in Britain, Coluche in France. Or Neapolitan actor-director Massimo Troisi, who died in 1994 aged 41 – one day after shooting wrapped on the film that gave him what is his best-known role outside of Italy, Michael Radford's Il Postino. The difference vis a vis some of those others is that Troisi was, by all accounts, a genuinely nice guy. That's certainly how he comes across in this affectionate two-hour documentary portrait by fellow Neapolitan director Mario Martone (Nostalgia).
Along the way, this tender documentary biopic makes some claims for Troisi's lasting cultural importance
Fairly conventional in form, it runs through the salient moments of Troisi's short but full life and career using a mix of archive material and talking heads interviews, glued together by Martone's own affable voice-over narration. Premiering at this year's Berlinale, it makes a good Troisi primer for anyone curious about the comedian and his role first in the Italian alt-cabaret scene of the 1970s and later as one of the most successful comedy actor-directors of the 1980s. Niche subject? Not for Italians of a certain age, who will embrace a warm, nostalgic film about a comic genius whose career began almost exactly fifty years ago.
Squarely aimed at this local market, Somebody Down There Like Me underplays a few things that Italians will take for granted – like the extent of the north-south divide that still existed in 1981, when Troisi made his directorial debut with Ricomincio da tre (I'm Starting from Three). A comedy with dialogue largely in Troisi's own Neapolitan dialect, it nevertheless became the box office smash of the season and still holds the Italian record for longest ever domestic theatrical run, at 43 weeks. But the core of Martone's documentary is more universal, the portrait of a man whose congenital heart condition made his career a tightrope walk and gave the character he always worked variations on – a hesitant, insecure, stuttering, emotionally fragile dreamer – added piquancy.
Troisi fan Paolo Sorrentino is one of the film's most illuminating interviewees, probing the internal comic mechanisms of the actor-director while commenting on a series of clips from his films and revealing that Troisi was a major influence on his 2021 feature The Hand Of God. There are also several appearances by Troisi's former partner and co-scriptwriter Anna Pavignano, whose role as another of Martone's interviewees sits rather oddly with the fact that she also gets a co-writing credit here. The horde of Troisi diaries and working notes she hung onto, and at one point somewhat stagily 'reveals' to Martone, provide some extra insights as well as some great gags.
Along the way, this tender documentary biopic makes some claims for Troisi's lasting cultural importance. The least convincing is a parallel the narrator-director and another interviewee, novelist and screenwriter Francesco Piccolo, attempt to draw between the work of the Neapolitan comic and the films of the French New Wave. More cogent is an argument developed by Martone and Pavignano about Troisi's role as an introverted, androgynous post-Feminist new Italian cinema hero after decades dominated by macho lotharios.
The documentary also reminds us of Troisi's social and political activism, his run-ins with Vatican-piloted censorship of his 1970s cabaret troupe's 'blasphemous' sketches, his walk-out as co-host of the San Remo music festival in 1981 in protest against state broadcaster RAI's attempt to screen and censor his material.
But the most moving section is the finale, dedicated to Il Postino. Interviews with that film's director Michael Radford and editor Roberto Perpignani are interleaved with behind-the-scenes footage shot on set that shows Troisi as a gaunt, wan figure who puts all the little energy he has left into his performance. It's left to Martone's voice over to inform us that Troisi postponed a scheduled transplant to appear in Il Postino, "because he didn't want to make the film with someone else's heart".
Production companies: Indiana Production, Medusa Film, Vision Distribution
International sales: Vision Distribution, info@visiondistribution.it
Producers: Fabrizio Donvito, Mauro Berardi, Benedetto Habib, Marco Cohen, Daniel Campos Pavoncelli, Giampaolo Letta, Massimiliano Orfei
Screenplay: Anna Pavignano, Mario Martone
Production design: Carmine Guarino
Editing: Jacopo Quadri
Cinematography: Paolo Carnera