Nikolaus Geyrhalter returns with a sober, engrossing study of the waste society creates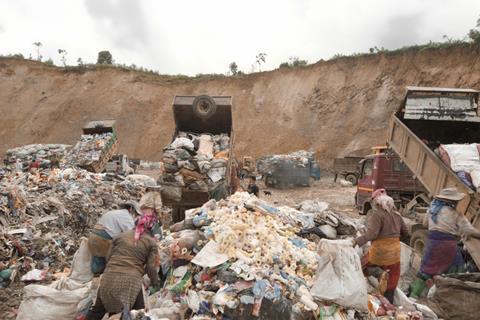 Dir/scr: Nikolaus Geyrhalter. Austria. 2022. 105 mins.
A ten-part study of how mankind around the world deals with its waste, Matter Out Of Place is a typically sober, observational and engrossing work of ecological-anthropological documentary from Austrian maestro Nikolaus Geyrhalter. His 16th feature-length outing in the 30 years since his 1992 debut Eisenerz, it mainly focuses on Europe but also includes globetrotting segments shot in Nepal, the Maldives and — last and far from least — the Burning Man festival in the Nevada desert.
His camera remains fixed in place, scrutinising human phenomena with mute detachment
While the film could perhaps have benefited from a more obviously rigorous editorial structure, Matter Out Of Place — the title (sometimes acronymised as "Moop") taken from how the Burning Man organisers refer to the garbage micro-scrupulously collected after each of their annual shindigs — is another reliably solid outing for the prolific and notably consistent Geyrhalter. Here is a director quite easy to take for granted, but who is painstakingly assembling an impressive cinematic corpus, intelligently engaged with some of the most pressing issues of our times.
Premiering in the main Golden Leopard competition at Locarno, his latest can expect the usual run of festival bookings enjoyed by the Viennese writer-director since his international breakthrough back in 2005 with Our Daily Bread (still perhaps his best-known project). Documentary-oriented and ecologically-minded events/platforms are the logical home for this ruminative affair which, while avoiding overt didacticism, will likely cause most of its viewers to give greater consideration to the waste they generate.
As usual, Geyrhalter presents his work without voiceover, music or explanatory captions. The locations shown are only identified in the closing credits; in each, the way rubbish is treated serves as a microcosm of wider cultural traits. With few exceptions (including when we follow a Kathmandu garbage collector's rudimentary cart on its rickety rounds), his camera remains fixed in place, scrutinising human phenomena with mute detachment. This has become a well-worn technique of documentary cinema, and while Geyrhalter is capable of crafting striking images — such as the very first here, depicting a snowy valley — his approach is more a matter of function than flourish.
Editor Samira Ghahremani graduates to the top job after working under chief cutter Niki Mossboeck on Geyrhalter's previous outing Earth; Ghahremani herself is assisted here by Michael Palm, himself a filmmaker of considerable note (2016's Cinema Futures), and with whom Geyrhalter previously collaborated on Homo Sapiens. These experienced hands craft a work with occasional extended shots, the most effective of which chronicles from overhead the process by which refuse of all types and various sizes is ground up by huge, revolving mechanical "teeth" at a disposal plant.
Geyrhalter and company wisely keep their strongest material until last; indeed, the Burning Man footage would seem sufficiently rich to warrant its own stand-alone feature-length study. Several vistas here achieve a kind of lo-fi trippy grandeur — including a spectacular aerial shot of the neon-illuminated site after dark, and a dusty cavalcade of bicyclists that plays amusingly like an ecologically-responsible parody of the iconic multi-vehicle pursuit from Mad Max: Fury Road.
Production company: Nikolaus Geyrhalter Filmproduktion

International sales: Autlook Filmsales, welcome@autlookfilms.com
Producers: Nikolaus Geyrhalter, Michael Kitzberger, Wolfgang Widerhofer, Markus Glaser

Cinematography: Nikolaus Geyrhalter

Editing: Samira Ghahremani