Taut, pensive western pits a farmer against wolves, family and mankind's animalistic nature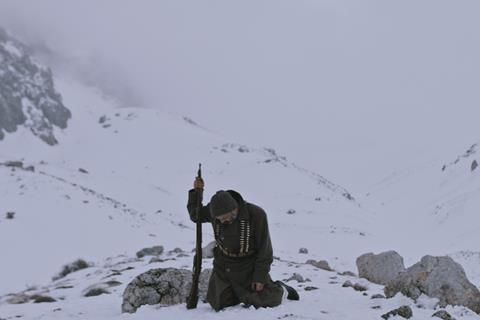 Dir/scr. Fatih Ozcan. Turkey. 2020. 86 mins.
Humanity's animalistic capacity for savagery, especially against itself, has hardly escaped notice in cinema. In the Anatolian-set Mavzer, it fuels a compelling snow-capped western about a farmer and family man's quest to eke out a living. Alternating between frosty plains that stretch captivatingly across the screen, and heated arguments exploding in claustrophobic interiors, this is a straightforward but tautly made and pensively paced feature from writer/director Fatih Ozcan. Premiering in competition in Sarajevo, it is also a worthy candidate for further festival berths — at physical events, its wintry visuals will look particularly striking on a big screen.
Kilic segues easily and convincingly from powerful to preyed-upon and back again.
Ozcan plots out a svelte story that could have been borrowed from many an oater. Feuds with both a growling wolf pack and an envious brother trouble the world-weary but hard-working protagonist Veysi (Serhat Kilic). Orcun Ozkilinc's expansive cinematography and its numerous standout images give the story a firm sense of place. And while Mavzer's themes are as noticeably well-worn as its story — the Latin proverb "homo homini lupus" aka "a man is a wolf to another man" is uttered aloud and given clear and telling reverence — this is always a resonant and moving feature.
Veysi's struggles begin when, while tending to his flock with his pre-teen son one morning, wolves start circling on the rocky cliffs above his barn. He attempts to fend them off, but they descend and decimate the herd. Returning home, Veysi's family are quick to call out his missteps, although he's convinced that buying a new gun — a Mauser, "the king of rifles" — is the solution to his canine problem. He's so intent on the idea and exacting revenge that he ignores his sickly father's words of warning about the consequences of turning the wild predator into an enemy.
Veysi's dad also offers his thoughts on mankind's similarities with the animals; unsurprisingly, Mavzer doesn't waste any time demonstrating the veracity of that statement. As Veysi butts heads with his younger brother Bekir (Ozan Celik) over the division of their father's estate, and Veysi's wife (Seda Turkmen) worries in his ear that Bekir and his pregnant but mute bride (Burcak Dilekli) are actually being favoured, the movie's human characters may as well be snarling at each other.
Ozcan doesn't shy away from dialogue, or from stressing the feature's point vocally and often; however Mavzer is still a patiently unfolding drama that places much of its emotional heft and weight on its star's shoulders. A veteran of Nuri Bilge Ceylan's Winter Sleep and Can Evrenol's Baskin, Kilic segues easily and convincingly from powerful to preyed-upon and back again, and makes Veysi's single-minded determination to prevail and his eventual, inevitable realisation of his follies feel like two stops on the same journey.
Ample credit is due the wolf training team, too, with Mavzer's man-versus-canine face-off lifted by its naturalism. Thankfully, while portrayed with smarts and cunning, the film's animal characters don't mimick human mannerisms Call Of The Wild-style. Nor are they merely menacing foes, as seen in The Grey. Instead, Ozcan and his crew clearly appreciate how effective a long glimpse into a wolf's eyes can be at communicating both its tenacious nature and its intelligence — and, how that glaring stare can speak volumes in a movie about humanity's proclivity to lash out fiercely, then navigate the repercussions later.
Production company: Teferruat Film, Rafadan Hayat Film
International sales: Teferruat Film, enes@teferruatfilm.com
Producers: Ortak Yapimci, Enes Erbay, Fatih Ozcan
Editing: Naim Kanat
Cinematography: Orcun Ozkilinc
Music: Mine Pakel
Main cast: Serhat Kilic, Ozan Celik, Seda Turkmen, Burcak Dilekli