A French war journalist struggles to adjust after being released from captivity in Syria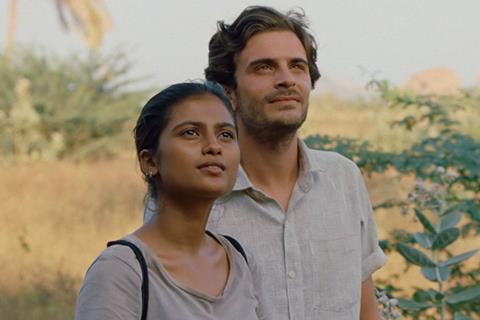 Dir/scr: Mia Hansen-Løve. France. 2018. 107mins
Mia Hansen-Løve's characters often wrestle with an inner turmoil that imprisons them — a condition that's certainly evident in Maya's protagonist, a war correspondent who survives being held hostage, only to discover that he can't shake his captivity. As is often the case with her intimate, affecting dramas, Maya features no grand catharsis, no moment of profound emotional revelation, but this tentative love story is quite content to embed itself with a taciturn young man who returns home, unsure if home is a concept he can ever again embrace.
What's seductive about Maya is trying to determine precisely how Gabriel is reacting to the aftermath of his imprisonment
Premiering in Toronto, Hansen-Løve's film will be a draw for those who have enjoyed her superb recent work, such as Eden and Things To Come. Strictly an art-house proposition, Maya will need strong reviews to build buzz, although its romance narrative might make it more accessible than some of her earlier efforts.
Maya takes place in 2012 as 32-year-old Gabriel (Hansen-Løve regular Roman Kolinka) returns to Paris after four months as a hostage in war-torn Syria. This experienced combat journalist insists he's fine after the ordeal but finds that he can't return to civilian life, impulsively choosing to fly to India, where he grew up, so he can see his godfather Monty (Pathy Aiyar) and estranged mother. But once he arrives, he gravitates to Monty's college-age daughter Maya (first-timer Aarshi Banerjee), who seems to be the one person capable of drawing him out.
In keeping with previous Hansen-Løve characters, Gabriel doesn't share much of what he's thinking; what's seductive about Maya is trying to determine precisely how he's reacting to the aftermath of his imprisonment and his new surroundings. As compared to the urban bustle of Paris, the languid, untamed jungles of the Indian countryside trigger a pensive stirring within this young man, who feels that his work as a war correspondent is valuable but can't quite comprehend what he endured in Syria. Gabriel tries to find a routine in his homeland, but Kolinka consistently hints at the character's uneasiness — on some level, Gabriel is more at peace in a war zone.
Banerjee plays Maya as shy and smart, attracted to this good-looking outsider whom she hasn't seen since she was a child. (Like him, Maya is something of a lost soul seeking sanctuary, unsure if her future will keep her in India or lead her to Europe.) Gabriel is hesitant because of their age difference and the family connection, but Maya believably illustrates why they court one another — but also what the repercussions might be if they do. Gabriel has come into her life at a moment of great uncertainty, and Hansen-Løve underlines how his cautious pursuit of this younger woman is akin to his anxious re-entry into everyday life.
While the characters' growing attraction becomes Maya's main enticement, the movie's depth of feeling doesn't always distract from the generally sluggish pace. Hansen-Løve is often excellent at wielding lethargy, letting a slower narrative engine reflect the anomie riddling her protagonists often to heart-breaking effect.
But although Gabriel is a sympathetic figure realizing that his life away from the battlefield is fraught with its own metaphorical landmines, we're not gripped with the same sense of tragedy or disillusionment that underscores Hansen-Løve's finest work. As much as her camera patiently and sensitively observes Gabriel and Maya, they still feel a bit distant, their unspoken hopes and fears just out of reach — for us and perhaps for them, too.
Production companies: Les Films Pelléas, Razor Film, Arte France Cinéma, ZDF/Arte, Orange Studio, Sofinergie 5 FCM, Dauphin Films, Pio & Co.
International sales: Orange Studio, contact.orangestudio@orange.com
Producers: Philippe Martin, David Thion
Screenplay: Mia Hansen-Løve
Editing: Marion Monnier
Cinematography: Hélène Louvart
Main cast: Roman Kolinka, Aarshi Banerjee, Alex Descas, Pathy Aiyar, Suzan Anbeh, Judith Chemla