Brazillian filmmaker Anita Rocha da Silveria cements her reputation with this stylish satire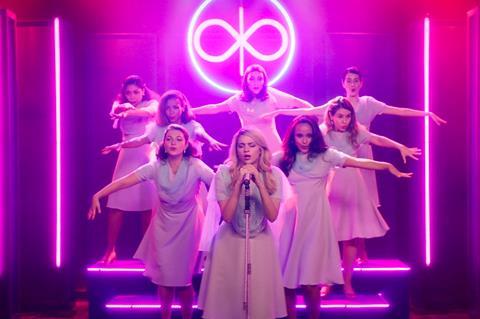 Dir/scr: Anita Rocha da Silveira. Brazil. 2021. 127mins
Anita Rocha da Silveira's second feature might be seen as an extension of her first, Kill Me Please. While that film concerned schoolgirls experiencing life through the prism of social media who become morbidly obsessed with a series of murders, Medusa features a girl band who hunt and assault other women in the name of a vicious evangelicalism – mean girls who have graduated to religion, still lording it over those they deem unworthy.
Da Silveira sets a tone that nimbly flows between comedy, mystery and discomforting satire
Da Silveira has alluded to the disturbing social trends in her native Brazil that have informed her themes. Here she challenges them in a way that is satirical, amusing, stylish and strange; perhaps even controversial for her native audience. She returns to Directors' Fortnight nine years after her short film The Living Dead was presented there, and should be leaving with a cemented reputation as an original, provocative voice in Brazilian cinema.
She's not sheepish about her influences, and a terrific opening feels like a nod to Kubrick, Argento and John Carpenter, all at once. Starting with a close-up of an eye, the camera circles outwards to reveal a woman's face, then further to see her on her back in a contorted, writhing dance, accompanied by driving, portentous electronic music.
The dancer is actually in a video, viewed by a young woman on her cell phone, the performance just a titillating teaser for what follows. The woman, alone on the streets at night, is chased down by a female gang wearing white masks. They accuse her of being a ' jezebel', 'sinner', 'homewrecker' and give her an almighty beating. When asked, "Do you accept Jesus into your heart?" her assent will, of course, be posted online.
By day, these attackers are Michele and the Treasures of the Lord, the alpha-females of an evangelical church community, led by the creepily commanding Pastor Guilherme (Thiago Fragoso), whose aim is to "light the path of the deviants" and at whose sermons they perform inane religious pop. Their male counterparts are the fearsome Watchmen of Sion – the football jocks, if this were a high school comedy, but here more akin to buff paramilitaries.
The prevailing message of the pastor and his acolytes is ultra-conservative, body fascistic, puritan and aimed predominantly at keeping women on a leash. Michele (Lara Tremouroux), her best friend Mari (Mariana Oliveira) and their troupe buy into the message completely, their only aspirations being perfect lip gloss and marriage to one of the Watchmen. Self-styled influencer Michele's videos include '10 ways to take a selfie for the glory of God'.
The film's focus is Mari who, when an intended victim fights back, is left scarred, her self-esteem destroyed. Sacked from her job in plastic surgery (for oozing over the patients), she needs purpose and finds it in her plan to search for a former actress who, years before, disappeared after being disfigured by a zealot for her supposedly wicked ways. Mari's investigation leads her to a clinic for comatose patients, where she is employed as a nurse.
Designer Dina Salem Levy's pop pastel aesthetic gives way to a calm, swimming pool green inside the hospice, lit with increasing eeriness by João Atala. And it's here that Mari's quest will have unexpected consequences; not least the awakening of her own sexual desires.
Da Silveira sets a tone that nimbly flows between comedy, mystery and discomforting satire (the Pastor generally makes the skin crawl), though her occasional wink towards horror offers fun rather than frights, to the film's detriment. She constantly has a trick up her sleeve: a shot of Mari's green moisturiser washing down the sink later revisited, this time with the blood from her face wound; an intimation of sex between two nurses cutting to the rubbing down of a naked, but comatose body. And the director constantly breaks the fourth wall, as the expressive Oliveira's silent stares into the camera essay a journey from smug assurance, to uncertainty and fear, then a new self-awareness and empowerment that – as in Carol Morley's The Falling – could become contagious.
Production company: Bananeira Filmes
International Sales: Best Friend Forever. martin@bffsales.eu
Producer: Vania Catani
Production design: Dina Salem Levy
Editing: Marilia Moraes
Cinematography: João Atala
Music: Bernardo Uzeda and Anita Rocha da Silveira
Main cast: Mari Oliveira, Lara Tremouroux, Joana Medeiros, Felipe Frazão, Thiago Fragoso, Bruna G, Bruna LinzmeyerB