Kim Quy Bui's beautifully composed sophomore feature explores attitudes about death in Vietnam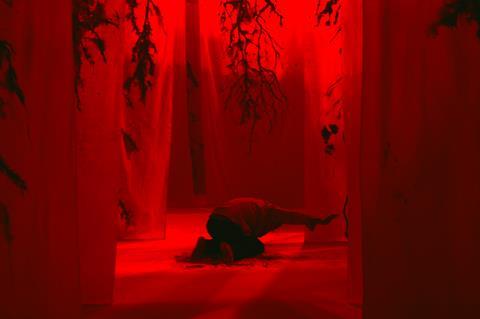 Dir/scr: Kim Quy Bui. Vietnam/Germany. 2021. 99 mins.
Death is the great leveller in Memoryland. The second feature from writer/director Kim Quy Bui (The Inseminator) uses a chain of interrelated stories to explore attitudes about death in Vietnam. Ritual and practicality, harmony and discord, fond wishes and hard choices all compete in the struggle to achieve a lasting peace for the dear departed. Beautifully composed but veering towards the impenetrable in places, it should find a modest festival welcome.
The film's clarity, focus and eloquence come from poetic images of decay
Bui divides the film into three sections: Send Off, Nether World and This World. She begins in 2017 with the death of an old woman called Me. A voiceover relays her wishes for a simple funeral and burial in land that allows her to look after her house. A neighbour, Le Van Tho (Van Thai Nguyen), respects those wishes by hacking out a grave from the waterlogged clay soil nearby. But her cash-strapped family have other ideas, exploring the option of cremation. "In the city everyone gets cremated," argues her son. "Your mother didn't live in the city — only the soil can nurture the human soul," explains Tho.
A second story tells of the death of construction worker Doan in 2014 and the obligations that fall to his young widow Moc Mien (Thi Thu Trang Nguyen). The loneliness of her constant vigil at her husband's grave eventually prompts her to leave. She moves in with elderly painter Tuong (Mong Giao Vu) as a lodger and muse.
The rituals of death and the cost of modern funerals are recurring themes in the film. Rice and coins are placed in Me's mouth to ward off evil spirits. Moc Mien pays tribute to her husband as she burns a paper house, a cardboard car and a doll that represents a wife to care for him in the afterlife. We learn that everything has a price in the funeral industry, from caskets to coffin bearers and the storage of ashes at $2 a day.
The fracturing of time and the indistinct ties between these individuals create some narrative confusion that eventually clears. We only gradually come to learn what connects the stories and time periods. The film's clarity, focus and eloquence come from poetic images of decay, crisply captured by cinematographer Xuan Truong Dang. Rotted fruit, fallen leaves, a bowl of rice swarming with ants, broken pots, empty buildings, fading portraits on a weathered wall, collapsed roofs and abandoned villages all speak to the absence of something that was once vital and alive.
There is also a strain of social commentary, including consideration of the status of women whose wishes are seldom respected. "A married woman is like a valued weapon," declares an older woman. "A single woman is just dirt and trash."
Bui's melancholy lament for modern Vietnam also finds focus in the visual contrast between the serenity and empty spaces of the countryside and the bustling activity of the city. Hanoi is is a clutter of construction sites, traffic jams and looming apartment blocks that crowd the sky and choke the roots of what once was there. In the end, perhaps Vietnam itself has become a memoryland.
Production companies: Purin Pictures, Whitelight, Kantana, CineHanoi, Scarlet Vision, Scarab Film
International sales: Cine Hanoi, memoryland.vietnam@gmail.com
Producers: Xuan Truong Dang, Nguyen Mai
Cinematography: Xuan Truong Dang
Editing: Kim Quy Bui, Huytao Do
Production design: Xuan Truong Dang
Music: Arnaud Soulier
Main cast: Mong Giao Vu, Thi Thu Trang Nguyen, Van Thai Nguyen, Phuong Bui Thi Minh, Thanh Dao Du