Alexandru Belc's Un Certain Regard debut plays out in the harsh glare of Communist-controlled Romania of the 1970s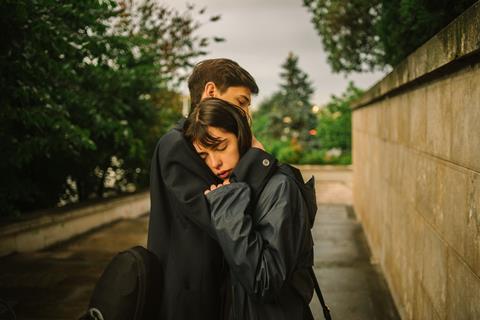 Dir/scr: Alexandru Belc. Romania/France. 2022. 102mins
Two infatuated teens find the path of true love never runs smoothy; not least if your romance is flourishing in the harsh environment of 1970s communist Romania (then called the Romanian People's Republic). For his feature debut, writer/director Alexandru Belc has distilled the political and cultural stranglehold of the county's brutalist regime into a compelling snapshot of adolescents on the cusp of adulthood, whose struggle to find their voice is made impossible by the authorities — everyone from concerned parents to the secret police — breathing down their neck.
It is a quiet, contemplative study of the insidious effects of oppression, rather than a dynamic call to arms
Belc, who worked as an assistant director and script supervisor for Romanian filmmakers Corneliu Porumboiu and Cristian Mungiu, has previously blended the socio-political and the cinematic with shorts and documentaries like 8th of March (2012) and Cinema, Mon Amour (2015), and here adds some well-observed human drama. The result is a quiet, contemplative study of the insidious effects of oppression, rather than a dynamic call to arms, which should attract further festival attention; particularly from those events which highlight the human rights themes on display. While it may be too muted to find widespread theatrical play, his film could find an appreciative audience on an arthouse streamer.
When we meet 17-year-old Ana (impressive newcomer Mara Bugarin), she is standing alone in the middle of a rainy Bucharest square, tiny against the massive, weather-stained bas relief of a heroic battle scene. Finally, across the concrete comes Sorin (Serban Lazarovici), walking through a misty haze created by the rain and some extreme lens flare; the affect gives him the appearance of a celestial being, descending through cloud. And by the passionate embrace they share, it's clear that Ana holds him in distinctly high regard.
The news that he is leaving with his family, for a new life in Germany, sees her distraught. Like much in the film, this dramatic moment of revelation is played in silence, her tears mingling with the rain; it is only later that we find out about his departure, in an angry exchange at a party thrown later that night by Ana's friend Roxana (Mara Vicol). The normally strait-laced Ana has defied her mother's orders to stay at home and is wearing Roxana's mother's purple dress in an effort to either seduce Sorin or to proclaim her love. She isn't sure which approach will best convince him to stay.
At Roxana's party the film comes alive, the friends talking, drinking, dancing and playing records; first, swaying to traditional Romanian fare then, later, gyrating to the extended, frenzied strains of The Doors' 'Light My Fire', one of very few times we hear any music throughout the film. Upbeat, carefree and full of optimism — the teens' colourful clothes are a world away from the drab, dull 1970s colour palette used elsewhere — this extended sequence is the beating heart of Metronom. That's fitting, given that it takes its name from the popular radio show hosted by Cornel Chiriac, firstly on Radio Romania and then, when he was forced to flee the country due to his playing and promoting of banned music, on Radio Free Europe. (Chiriac was eventually murdered in Munich in 1975, aged just 33).
Ana and her friends are avid listeners of Metronom and decide to write a letter of thanks to Chiriac for giving them an alternative, more libertarian view of the world. This proves catastrophic. When the Secret Police gets wind of the letter, the kids are accused of colluding with foreign powers to smear the Romanian state, they face jail time and an uncertain future unless they write statements about what happened and who is responsible – and promise to toe state-mandated lines for the rest of their lives. Out of loyalty to her friends and a burgeoning sense of injustice, Ana refuses.
Sequences in which Ana attempts to stand firm against the might of the Secret Police, who threaten beatings, rape and harm to her family, are difficult to watch. Still in her purple dress, which draws the eye from the shabby beige interior of police headquarters, she looks increasingly tiny in her chair as she attempts to hold her nerve against the far older, far bigger all-male "comrades". Belc's point here is that not all political protest is high-volume and that small acts of individual defiance can have their own power, even if they can't bring about immediate results.
Throughout, Bugarin gives a measured performance as a vulnerable young woman, still learning who she is yet compelled to take a stand. As Tudor Vladimir Panduru's searching camera remains on her for most of the film, fixed on her face as she hesitates at the edge of her dancing friends or absorbs police threats with barely concealed anguish, we see that the collision of the personal and the political is, for her, a confusion, rather than a calling. Nevertheless, through her small actions (and, one hopes, awakening) the film pulses with the quiet, steady beat of change.
Production companies: Strada Film, Midralgar, Chainsaw Europe
International sales: Pyramide International sales@pyramidefilms.com
Producers: Catalin Mitulescu, Ruxandra Slotea, Viorel Chesarua, Martine Vidalenc, Emmanuel Quillet
Cinematography: Tudor Vladimir Panduru
Production design: Bogdan Ionescu
Editing: Patricia Chelaru
Main cast: Mara Bugarin, Serban Lazarovici, Mara Vicol, Vlad Ivanov, Mihai Calin