A remarkable achievement from the Fazili family as they catalogue their flight from persecution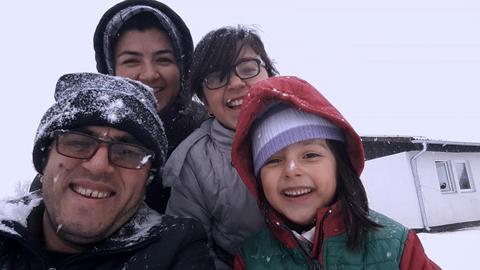 Dir Hassan Fazili. U.S.A., Qatar, UK, Canada. 2018. 87 mins
An Afghan filmmaker with a Taliban bounty placed on his head is forced to flee his home country, with his wife, also a filmmaker, and their two young daughters. This affecting, essential documentary, shot entirely on three phones by all four members of the Fazili family, charts a journey which spans several years and numerous dispiriting detention centres. But the suffering, fear and humiliation that they experience is balanced by moments of warmth and an artist's magpie eye for unexpected glimpses of beauty. It's a remarkable achievement.
Particularly given the rise in ignorance about and animosity towards refugees, it's a film which deserves to be as widely seen as possible
Any hint of migrant story fatigue in audiences is likely to dissolve in the face of the disarming appeal of this family. And while there have been numerous documentaries which deal with the plight of asylum seekers, there have been few which have shown, with this level of intimacy, the journey of a family from certain danger to an uncertain fate. Particularly given the rise in ignorance about and animosity towards refugees, it's a film which deserves to be as widely seen as possible, both in the festival slots which will undoubtedly follow and in theatrical distribution or via VOD platforms. The film, which was supported by, among others, the Sundance Film Institute, the Doha Film Institue and Tribeca All Access, is the result of a collaboration between Hassan Fazili and filmmaker Emelie Mahdavian.
We get a hint of the life of the family before Fazili fell foul of extremists when he made a film about a Taliban commander. Husband and wife worked together to create a bubble of art and laughter – in addition to their filmmaking enterprises, they ran an Art Cafe. Hassan gestures to a newspaper cutting which forms part of their case for asylum. A photograph shows a row of turbaned men glowering outside the cafe, "These are the idiots who would pray for it to close." The children, Nargis and Zahra, are insulated from the very real threat to their safety when, after 15 months in Tajikistan waiting for their asylum case to be heard, they are sent back to Afghanistan. They squeal with hilarity when Hassan wraps a scarf around his head, Talib-style. "Daddy, if you tie that on your head, I am going to eat you," says Zahra, the youngest.
But it's the older girl, Nargis, a fizzing, happy child who has been coached by her parents to notice all that is good and beautiful around her who becomes a key figure in this account of the 3,500 mile journey that the family must undertake. As they covertly cross the border between Iran and Turkey, she points to the horizon. "Dad look! That mountain looks like a painting!". She takes delight in the waves of the sea she sees for the first time: "It's like the water is angry". But she also witnesses her mother, Fatima, weeping from fear when a trafficker tries to extort more money with threats of kidnap. And she is caught in midst of a throng of far right protesters in Bulgaria, who, in a chilling sequence, lay siege to the building where the refugees are held.
Given the limitations of filming just on phones, the look of the film is frequently striking – there's a lyricism to shots of clouds and birds which is a counterpoint to the fact that the family so often find themselves involuntarily rooted, unable to take flight because of the razor wire and locked gates. The rudimentary sound is augmented with recorded voice overs from Hassan, Fatima and Nargis, offering insight both into their story and their motives for telling it. Because the situation remains open-ended – they have been granted political asylum but do not yet know where they will end up living – the final shot that Hassan envisaged for the film remains in his mind alone. He describes it instead. "For us," he adds, "these dreams have become mirages."
Production company: Old Chilly Pictures LLC
International Sales: Doc & Film International d.elstner@docandfilm.com
Producer: Emelie Mahdavian, Su Kim
Screenplay: Emelie Mahdavian
Editor:
Cinematography: Fatima Hussaini, Hassan Fazili, Nargis Fazili, Zahra Fazili
Music: Gretchen Jude
Featuring: Fatima Hussaini, Hassan Fazili, Nargis Fazili, Zahra Fazili