A surprisingly old-fashioned war epic from director Roland Emmerich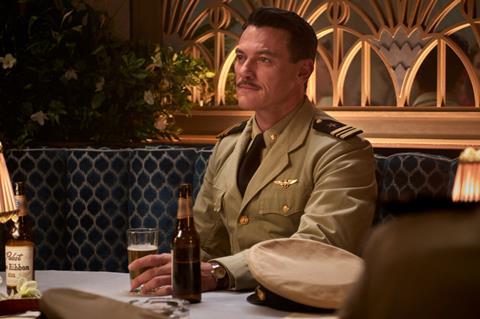 Dir: Roland Emmerich. US. 2019. 138mins
Roland Emmerich's heroes usually battle aliens, global catastrophes or Godzilla, so perhaps it's not surprising that his stuffy depiction of the 1942 Battle Of Midway feels hemmed in by a rare desire on his part to show reverence to real-life events. Midway, which chronicles America's desperate showdown with the Japanese Navy in the aftermath of the Pearl Harbor bombing (much like the 1976 Charlton Heston feature of the same name), features some rousing aerial combat, but from the cardboard characters to the subpar special effects, the film lacks the excitement of the director's best (and most shamelessly entertaining) work.
Midway proves to be an oddly polite war film, afraid to be too exciting lest it interfere with the solemn tone
A tribute to individual bravery and war-movie clichés, Midway opens on November 8 in the UK and US through Lionsgate, coinciding with Remembrance/Veterans Day. This fact-based action film should appeal to genre fans, and a cast that includes Ed Skrein, Patrick Wilson, Dennis Quaid and Woody Harrelson could draw older viewers. But the movie's earnestness, coupled with unenthusiastic reviews, won't help commercial prospects.
Midway pivots around the Pearl Harbor attack, after which the United States enters the Second World War and aims to protect its position in the Pacific by confronting the superior Japanese military forces head-on. Cocky pilot Dick Best (Skrein), intelligence officer Edwin Layton (Wilson), aircraft carrier commander William "Bull" Halsey (Quaid) and Pacific theatre commander Chester W. Nimitz (Harrelson) must work together if the US is to win The Battle Of Midway — if they fail, the Japanese could strike the West Coast of America next.
Emmerich is an unapologetic popcorn filmmaker, delivering pure escapism in films like Independence Day. Not since The Patriot has he used American history as his backdrop, but unlike that overblown Mel Gibson action-thriller, Midway has a reverential stuffiness that can prove draining. The Battle Of Midway was a brutal altercation, with many American and Japanese soldiers losing their lives. But sombre memorialising isn't Emmerich's strong suit, and so his attempt to produce a crosscutting, character-driven ensemble drama — one that focuses on strategy, random moments of selfless heroism, and sober real-world consequences —falls flat.
Not helping matters is that, although the leads are based on actual people, the characters are mostly generic. Skrein's Best is a one-dimensional hotshot who must learn to become a leader in the face of massive casualties, but the actor lacks the depth to sell this pilot's growing maturity. Likewise, Quaid is almost comically growly as a beleaguered commander, while other performers pop up in the narrative, barely leave an impression, and then quickly depart.
When Midway switches to war sequences, Emmerich finds his footing, although even here he avoids the kinetic élan that has super-charged his previous films. Ordinarily, the director revels in large-scale destruction — blowing up famous landmarks or levelling entire cities — but even when he stages the Pearl Harbor attack, there's not enough enthusiasm to the visuals. Wanting to honour history, Midway proves to be an oddly polite war film, afraid to be too exciting lest it interfere with the solemn tone.
Wes Tooke's screenplay spends a little time with the Japanese side, but the movie primarily celebrates the Americans, who are predictably portrayed as noble and plucky, willing to do anything to vanquish evil. (It's a superficial depiction, although sure to stir the emotions of patriotic viewers.) Not only is Midway set in the past — it feels like a throwback to a certain kind of conventional, square-jawed war film. The female characters, such as Mandy Moore as Best's loyal wife, are purely decorative, and the plot twists are groaningly cheesy. (When a character coughs loudly into his hand, you can be sure he'll discover blood on it — a clear indication in a movie like this that he's in serious trouble.)
The unsubtle score, by Thomas Wander and Harald Kloser, telegraphs every big moment, while the effects work is uninspired — an indication, perhaps, that Emmerich didn't quite have the budget necessary to carry off such an epic wartime spectacle. Midway may educate some viewers about a crucial battle, but by straining to be respectful, it fails to be particularly stirring.
Production company: Centropolis Entertainment
International sales: AGC Studios
Producers: Harald Kloser, Roland Emmerich
Screenplay: Wes Tooke
Production design: Kirk M. Petruccelli
Editing: Adam Wolfe
Cinematography: Robby Baumgartner
Music: Thomas Wander & Harald Kloser
Main cast: Ed Skrein, Patrick Wilson, Luke Evans, Aaron Eckhart, Nick Jonas, Etsushi Toyokawa, Tadanobu Asano, Luke Kleintank, Jun Kunimura, Darren Criss, Keean Johnson, Mandy Moore, Dennis Quaid, Woody Harrelson