Tom Cruise is on fighting form in this 4.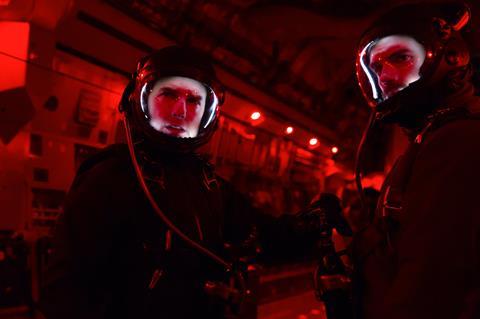 Dir: Christopher McQuarrie. US. 2018. 147mins.
Ageless, riveting and seemingly unstoppable, Tom Cruise remains a force of nature — at least when he's attached to his equally arresting Mission: Impossible franchise. The sixth film in the series is among the most outstanding, delivering a near-exhausting amount of stupendous action sequences paired with deft character drama and the requisite life-or-death stakes. Fallout is a testament to writer-director Christopher McQuarrie, who gives the proceedings a witty, sophisticated grandeur, and yet the film belongs to Cruise and his seemingly limitless passion for putting himself and his audience through the wringer.
At nearly two-and-a-half hours, Fallout has ambitions as vast as its running time
Hitting UK theatres July 25 and US screens two days later, this Paramount release looks to top the grosses of 2011's Ghost Protocol ($695m worldwide) and 2015's Rogue Nation ($683m), bringing back much of the franchise's ensemble, notably Rebecca Ferguson and Simon Pegg, while introducing Henry Cavill to the mix.
Cruise plays Ethan Hunt, the leader of the Impossible Missions Force (IMF) working alongside his redoubtable cohorts Benji (Pegg) and Luther (Ving Rhames). After an operation to apprehend black-market nuclear weapons backfires, Hunt's team must go undercover to determine their whereabouts — but they're assigned a watchdog CIA agent, August Walker (Cavill), to accompany them to ensure they don't fail again.
McQuarrie, who also directed Rogue Nation, fashions Fallout as a continuation of sorts. Hunt remains a divisive figure in the American intelligence community whose loyalty and methods are questioned by superiors, and again his mission puts him in conflict with Ilsa (Ferguson), a beautiful former MI6 agent who can't reveal why she is shadowing Hunt.
Fallout sports a number of clever twists without getting too convoluted, and McQuarrie does fine work juggling a sizable amount of characters, including Alec Baldwin's IMF liaison Alan and Sean Harris' icily evil terrorist Solomon Lane, who was Rogue Nation's chief nemesis and returns to further torment Hunt. But this sequel is more than confident narrative sleight-of-hand. To explain precisely how Fallout explores and enriches character dynamics and emotional themes from earlier instalments would spoil the surprises, but McQuarrie illustrates the sacrifices his main character has made to live the life he's chosen — and what the toll has been on Hunt and those around him.
Not surprisingly, then, a sense of melancholy tempers Fallout's many thrilling action sequences. In Hunt's chase scenes, he commandeers motorcycles and helicopters — and because this is a Cruise vehicle, of course the actor engages in a lengthy, electrifying sprint at one point — but McQuarrie's preference for practical stunts ensures the action has real weight and gravity to it. Like most blockbusters, Fallout puts its protagonist in harrowing sequences that would kill most people several times over, but whether it's the unrequited feelings between Hunt and Ilsa or the moral choices the character sometimes faces, the filmmaker crafts an urgent, flesh-and-blood realism that underpins all the fantastic escapism.
Ferguson isn't quite as striking as she was in Rogue Nation, but she remains a formidable presence — not to mention bringing out Cruise's vulnerable side. As an agent critical of Hunt's techniques, Cavill projects a clean-cut menace that makes it hard to know if his character has ulterior motives for tagging along. And Harris provides Fallout with the same sort of controlled chaos with which he imbued the previous movie.
At nearly two-and-a-half hours, Fallout has ambitions as vast as its running time. McQuarrie weaves elements of tragedy and political commentary into the mix, envisioning his story as an epic crime thriller with many players — some of whom will switch allegiances or lose their lives. Additionally, McQuarrie must contend with the logistical framework of franchise maintenance, which requires reintroducing or resolving past plot points in order to extend the series for future editions. That's its own kind of impossible mission, but like Ethan Hunt, the writer-director displays an impressive resourcefulness, managing to make so many disparate components cohere into an exciting whole.
Cruise turned 56 earlier this month, and while he's had his commercial slipups, such as last year's The Mummy, the Mission: Impossible movies remain a stirring illustration of what a sterling action star he is. Doing many of his own stunts, he loves to challenge himself physically — and because Fallout is so masterfully constructed, his devotion to putting on a show is entrancing rather than self-aggrandising. Someday, Hunt will have to leave the spycraft to someone younger, but Cruise shows no signs of slowing down.
Production company: Skydance, Tom Cruise Productions, Bad Robot, Alibaba Pictures
Worldwide distribution: Paramount Pictures
Producers: Tom Cruise, Christopher McQuarrie, Jake Myers, J.J. Abrams
Screenplay: Christopher McQuarrie, based on the television series created by Bruce Geller
Production design: Peter Wenham
Editing: Eddie Hamilton
Cinematography: Rob Hardy
Music: Lorne Balfe
Main cast: Tom Cruise, Henry Cavill, Ving Rhames, Simon Pegg, Rebecca Ferguson, Sean Harris, Angela Bassett, Vanessa Kirby, Michelle Monaghan, Wes Bentley, Frederick Schmidt, Alec Baldwin