Riz Ahmed plays a first generation rap artist, at odds with his world - and eventually his body.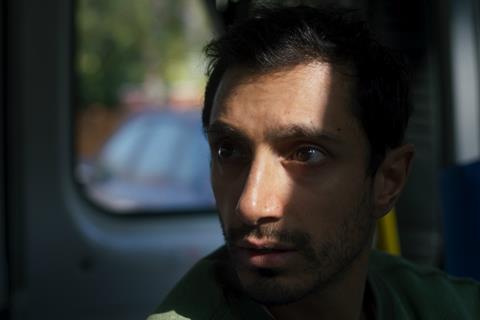 Dir. Bassam Tariq. UK. 2020. 89 mins
Riz Ahmed co-wrote as well as stars in this abrasive drama which uses the degenerative disease of a rising British-Pakistani rapper as a device to explore family ties, cultural identity, shared experience versus kinship and the continued fall out from Partition. Like the central character, the film confronts its audience, spitting out its ideas and influences, which range from spoken word poetry to the writing of Saadat Hasan Manto; exploring the tussle between individual expression versus cultural representation. And while the picture doesn't quite maintain its vigorous energy through to the very end, it is still a satisfyingly knotty exploration of the bi-cultural experience.
The use of spoken word verse is an effective device
There's a level of intensity in the extraordinary central performance from Ahmed which gives his words a serrated edge, that draws the eye to him even when he is barely visible within the frame. On the strength of that performance alone, this film should grab the attention of festival programmers and arthouse distributors. The first feature drama from director and co-writer Bassam Tariq, who won multiple awards for his documentary debut These Birds Walk (2013), Mogul Mowgli is sharp-witted and slippery, a film which forcefully wields its themes and ideas, but might be a little too unconventional in its approach to break out.
Before we get to meet the central character, nicknamed Zed (an Anglicised abbreviation of Zaheer), the film opens with disorientating footage shot inside the cluttered carriage of a steam train. Here, as elsewhere, Annika Summerson's cinematography is tactile and textured. It's a motif which recurs throughout the film and one, we learn, which harks back to the childhood experiences of Zed's father (Alyy Khan) fleeing the violence which erupted as a result of Partition. It's a seismic moment which is still keenly felt, generations later. But Zed has tuned out his family's history along with elements of his cultural heritage which don't chime with his view of himself as a rap artist about to break into the big time. Based in America and about to embark on a world tour, Zed hasn't visited his family in Wembley for two years. He has, as his jaded soon-to-be-ex-girlfriend Bina (Aiysha Hart) points out, become disengaged from the very world and experience that he raps about.
But when he returns home for a flying visit before the tour commences, Zed is struck down by a debilitating auto-immune disease which causes muscle wastage and lack of mobility. It's an inherited condition, one which can be treated with an experimental technique which will leave him infertile. "I tried to stand up for my blood, but my blood won't let me stand up," he muses, in one of the spoken word segments which punctuate the story.
The use of spoken word verse, depicted off stage as well on stage in an approach reminiscent of Carlos López Estrada's Blindspotting, is an effective device, particularly given that in the performance footage, it's not always easy to catch every line. And this writing, delivered with soul-searching fervour by Ahmed (himself a rapper), has real force. The words are the key to unravelling the conflict between Zed the rapper, and Zaheer, the Muslim son of a Pakistani immigrant.
Robbed of his tour, haunted by hallucinations and a half-remembered figure from the past – a fat man whose face is covered with flowers and whose significance is not entirely clear – Zed moves forward with a new track. It's a verse which acknowledges his cultural history by referencing Toba Tek Singh, a story by Manto about the forced migration of mental asylum patients in the aftermath of Partition. And while the track is given away, to a rival rapper who claims to speak from the same page as Zed but who can barely string together a sentence, the words provide a link with his father which has long been missing.
Production company: Pulse films, Silvertown Films, Left Handed Films
International Sales: Charades sales@charades.eu
Producers: Thomas Benksi, Bennett McGhee, Riz Ahmed, Michael Peay
Screenplay: Bassam Tariq, Riz Ahmed
Editing: Adam Biskupski, Hazel Baillie
Cinematography: Annika Summerson
Production Design: Francesca Massariol
Music: Paul Corley
Main cast: Riz Ahmed, Alyy Khan, Sudha Bhuchar, Nabhaan Rizwan, Anjana Vasan, Aiysha Hart, Hussain Manawer, Kiran Sonia Sawar, Jeff Mirza