Dir. Frederic Mermoud. France/Switzerland. 2016. 89 mins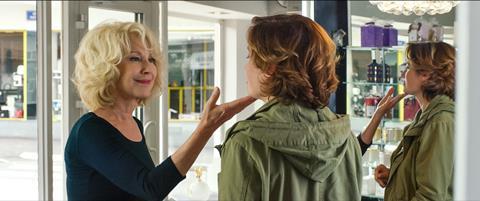 A mother's haunting grief propels her on an obsessive quest for answers and possible revenge in Moka, a mournful, slow-burning psychological thriller adapted from the 2006 novel by Tatiana de Rosnay. Frederic Mermoud's return to feature films after directing episodes of the television series The Returned (Les Revenants), has a strong affinity with the writing of Patricia Highsmith and the films of Claude Chabrol and should appeal to an audience seeking moral complexity in their thrillers rather than the simpler pleasures of a more traditional whodunnit.
Fascinating in the way it explores the inner lives of these two women, Moka is never quite as tense or compelling on the level of a thriller
Opening in France on August 17 following its world premiere at Locarno, Moka reunites Mermoud with Emmanuelle Devos, the star of his debut feature Accomplices (2009), and it is the tension and energy in her scenes with co-star Nathalie Baye that provide the film with some of its strongest moments. Devos plays Diane Kramer, a woman in Lausanne cut adrift from all the certainties of her life after her son is killed in a hit-and-run car accident.
Her husband urges her to remain patient and let the police investigation proceed but, desperate to do something, she uses a private detective and an eye-witness statement to narrow down the vehicle responsible to something large and coffee-coloured, hence the title of the film. Convinced that a similarly-coloured 1972 Mercedes is the car she has been seeking, Diane doesn't immediately confront the owners but slowly insinuates herself into their lives.
Marlene (Nathalie Baye) runs a beauty salon and her partner Michel (David Clavel) is a fitness instructor. As she edges closer to the truth, Diane also starts to see Marlene as a human being with problems of her own rather than as an easy object of vengeance. The film's best scene is when the two women embark on a mountain hike and Marlene decides to unburden herself of the worries of being an older women with a younger partner and her fears that he may be seeing someone else. Diane is visibly distressed at knowing too much information about the woman she believes killed her son.
Moka makes atmospheric use of its lakeside settings as Diane journeys from Lausanne to Evian, and is more focused and linear than the novel, which flitted between past and present. There is evident intelligence in Mermoud's direction in the way Diane contrives situations that invite a dangerous physical intimacy with her prey, whether it is having Marlene painting her toe nails or Michel obliged to hold her during a swimming lesson. Throughout, there is a strong sense of Diane acting completely out of character as she spies on the couple, breaks into their house and forms an alliance of sorts with brashly charming young drug dealer Vincent (Olivier Chanteau) who supplies her with a gun.
There is also a striking use of colour throughout with the vivacious Marlene in a succession of blood red blouses, leopardskin outfits and coffee-coloured jackets. There is also good use made of the contrast between the lead actresses. A blonde, bubbly Nathalie Baye looks as young as the character feels but captures a sense of the insecurities beneath her confident facade. "I might not be as nice as I seem," she confides, fuelling Diane's suspicion that she has found her guilty party. The parry and thrust between the pair reveals a good deal about their characters but also borders on a flirtation or the hint of a friendship that might have been.
Fascinating in the way it explores the inner lives of these two women, Moka is never quite as tense or compelling on the level of a thriller. There is a twist to the tale and Mermoud does manage to confound our expectations that a gun will be fired in anger once Diane is armed and dangerous. The ending feels rushed and overly tidy with credibility stretched to such an extent that you are relieved when Marlene finally questions Diane's motives for becoming such a presence in their lives.
Production Companies: Diligence Films, Band A Part Films, Tabo Tabo Films, Smapek Productions
International sales: Pyramide International, sales@pyramidefilms.com, avalentin@pyramidefilms.com
Producers Damien Couvreur, Julien Rouch, Tonie Marshall, Jean-Stephane Bron
Screenplay Frederic Mermoud, Antonin Martin-Hilbert based on the novel by Tatiana de Rosnay
Cinemtaography: Irina Lubtchansky
Editor Sarah Anderson
Production design Ivan Niclass
Music Christian Garcia, Gregoire Hetzel
Main cast Emmanuelle Devos, Nathalie Baye, David Clavel, Diane Rouxel