Aaron Sorkin powers through his directorial debut, set in the world of high-stakes poker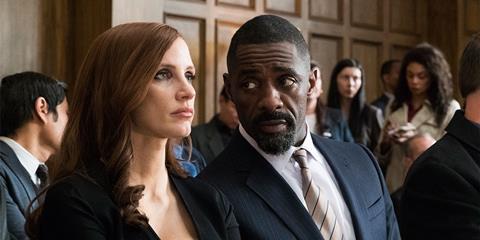 Dir. Aaron Sorkin. USA. 2017. 140 mins
Aaron Sorkin makes his directorial debut with a film which is a pretty much distillation of the key themes and trademarks of his writing up until now. Ferociously eloquent, densely packed with ideas, immensely entertaining, Molly's Game is a film which fetishes power and success, while also serving as a cautionary tale. It's an unapologetically showy piece of work but, as a directorial calling card, it will take some beating. Like the film's hard as nails but highly principled protagonist, Sorkin is playing to win.
The scenes that Chastain and Elba share are enormously enjoyable: there's a crackling, almost screwball quality to their rapid-fire banter
A slightly overlong running time is perhaps the main obstacle which could limit the film's success, but the rattling pace of the edit means that the film never feels baggy or loses momentum. It seems certain to be a significant awards season player, with Jessica Chastain in particular a near certainty for a clutch of nominations.
It's a role which is familiar territory for Chastain: like her ruthless lobbyist in Miss Sloane, Molly Bloom is a woman used to running intellectual rings around the smartest guys in the room. Her addiction, according to her analyst father (Kevin Costner), is having power over powerful men.
Adapted from the tell (almost) all autobiography Molly's Game: From Hollywood's Elite to Wall Street's Billionaire Boys Club, My High-Stakes Adventure in the World of Underground Poker by Molly Bloom, the film explores an all-American tale of greed and hubris which has a stylistic and thematic kinship with Adam McKay's The Big Short. Both are brash, factual assaults, not above tipping the audience a knowing wink and using graphics and voice-over to elucidate the impenetrable inner workings of a complicated business – in this case the high-stakes unlicensed poker games that Molly runs, first in LA and later in New York.
A former Olympic-level skier whose career was halted by a freak accident, Molly is a high achiever who puts her law aspirations on hold to 'be young for a while in warm weather'. In LA, she finds herself running card games for her obnoxious boss but canny enough to carve herself her own niche in the business.
Molly's rise and fall is told in a series of flashbacks drenched in a saturated cocktail bar colour scheme. She is recounting the story to her lawyer, Charles Jaffey (a barnstorming performance from Idris Elba), who defends her as the FBI eyes her computer hard drives hungrily. The scenes that Chastain and Elba share are enormously enjoyable. There's a crackling, almost screwball quality to their rapid-fire banter. You rather wish they had more screen time together. But there's a lot of backstory to explore and many fools to be parted from their money.
The punters in Molly's games include movie stars (Michael Cera is convincingly unpleasant), rock stars, investment bankers, Russian mobsters and an Irish alcoholic (Chris O'Dowd) who likes to chat, but unfortunately does so to the FBI.
Perhaps not surprisingly, this is a film which feels in service to its script. An understated score comes a distant second place to the words that the characters wield; the editing demonstrates the same finely honed instinct for timing that is evident in the best of Sorkin's writing. It doesn't all work – there are some laboured lines ("I felt like I was in a hole so deep I could go fracking") and a few segues into obscure sports history which are surplus to requirements. But for the most part, Sorkin has a winning hand here.
Production company: Mark Gordon Company
International Sales: Sierra/Affinity info@sierra-affinity.com
Producers: Mark Gordon, Amy Pascal, Matt Jackson
Executive producers: Leopoldo Gout, Stuart Besser
Screenplay: Aaron Sorkin
Cinematographer: Charlotte Bruus Christensen
Editors: Alan Baumgarten, Elliot Graham, Josh Schaeffer
Production design: David Wasco
Music: Daniel Pemberton
Starring: Jessica Chastain, Idris Elba, Michael Cera, Kevin Costner