A troubled father and daughter reuinte in even more strained circumstances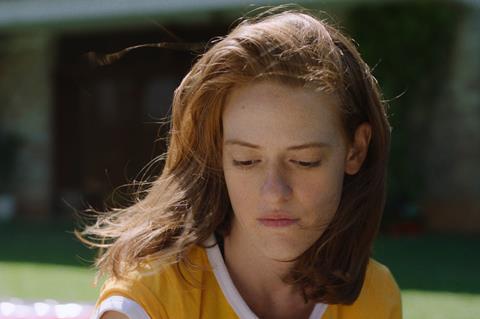 Dir-scr: Jacqueline Lentzou. Greece, France. 2021. 108 mins
After her father suffers a sudden and debilitating illness, Artemis (Sofia Kokkali) decides to return home to Greece after a long period of absence. The wider assumption is that, as the only child of divorced parents, she will shoulder the responsibility of his daily care. But neither Artemis, nor Paris (Lazaros Georgakopoulos), her stonily uncommunicative father, fit comfortably into the proscribed familial roles. They are too angular and unpredictable as personalities; for as long as Artemis can remember, they have been tacitly at odds with each other. Jacqueline Lentzou's intriguing, unconventional feature debut eschews anything as trite as a big emotional rapprochement, but it does ultimately carve out a shared emotional space for the pair.
Jacqueline Lentzou consolidates her position as a talent to watch
This is a highly anticipated debut from Lentzou, the director of a number of acclaimed short films which have screened at festivals including Cannes, Berlin, Toronto and Locarno; winning prizes such as the Cannes Semaine de La Critique Leica Cine Discovery Award (for Hector Malot: The Last Day of the Year). Playful and idiosyncratic in approach, it's a neat fit for Berlin's Encounters competition, and should find a warm reception on the festival circuit going forwards. It's a title which will likely be on the radar of arthouse distributors, both for its engaging freshness and for the opportunity to cultivate a relationship with Lentzou, who consolidates her position as a talent to watch.
The title, and chapter headings, reference a deck of Tarot cards, with the first one showing a blindfolded woman – a woman like Artemis, who at the film's opening can see no way forward in the relationship with Paris. Artemis and her father, she explains in a conversation with an unseen stranger, have "a communication problem". And the picture, which styles itself as "a film about love, movement, flow, and the lack of them", finds inventive ways to incorporate the voices of both characters, while also negotiating the stubborn block of silence between them. The film employs scrapbook cuttings of Paris's camcorder footage, grainy and smeared, which feels like a glimpse of the past viewed through a dirty window. The more we – and Artemis – learn about Paris's life however, the greater the unexpected resonance that these clips take on. Elsewhere, excerpts from Artemis's diary are ribboned through the film.
Perhaps more revealing still are the moments in which she revives her father's voice as she remembers it, replaying both sides of a teenage argument about a sleepover which, even now, leaves her with her face buried in a pillow, crying hopeless, angry tears. Alone in his home, she explores his space, drinks his booze, listens to his music. Her motives seem mixed. Is she trying to know him better through inhabiting his world, or is she claiming it for herself, in a belated act of adolescent rebellion? In the central role, Kokkali is a mercurial and fascinating presence, the odd angles of her face seem to constantly reshape themselves – one moment we see the child adrift from her father and struggling to bridge the gap, at another, she's a woman burdened by an unwieldy mix of duty, worry and crushing boredom. The camera frequently lingers on her face, as whole conversations unfold just outside of the tight frame.
Equally articulate is the way the lens explores the charged space between father and daughter. The indignities of his condition force a physical intimacy which only serves to accentuate the emotional distance between them. Reliant on her for his mobility, Paris grips his daughter's arm with his weakened fingers, but avoids her eyes. When the shutters between them finally begin to lift, thanks to a combination of her ice-cream habit and his long hidden secret, it feels like light flooding into a darkened room.
Production Companies: Blonde SA
International Sales: Luxbox info@luxboxfilms.com
Producer: Fenia Cossovitsa
Editing: Smaro Papaevangelou
Cinematography: Konstantinos Koukoulios
Production Design: Stavros Liokalos
Music: Delphine Malaussena
Main cast: Sofia Kokkali, Lazaros Georgakopoulos, Maria Zorba, Nikitas Tsakiroglou, Isavella Boulai, Elena Topalidou, Kaiti Imrochori, Nikolas Hanakoulas