Dir. Philip John. UK/Ireland. 2016. 90 mins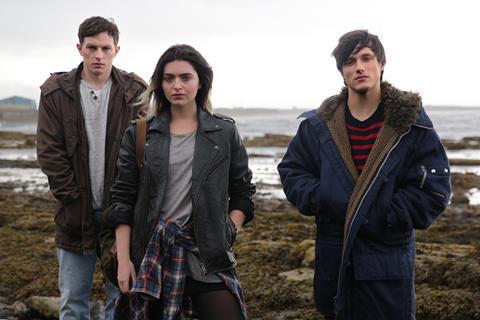 Familiar-sounding ingredients come to together in a surprisingly delightful manner in Moon Dogs, a deft blend of mismatched-buddy road movie, coming-of-age comedy and youthful love triangle. This debut big-screen feature of established TV director Philip John (Being Human, Downton Abbey, Outlander) is also the third and best produced screenplay from writing duo Derek Boyle and Raymond Friel, rather belatedly following their 2004 Orlando Bloom starrer The Calcium Kid and 2007's Botched.
All three lead actors offer performances which make flawed characters feel both vividly real and – crucially – endearing
Savvy distribution will be needed to convert a potential negative – the absence of marketable names – into a positive, spotlighting three young acting talents who all make impressive breakthroughs. The score by Brian Jonestown Massacre's Anton Newcombe does provide a handy hook for the film as it ventures to market following a crowdpleasing Edinburgh launch.
Step brothers Michael (Jack Parry Jones) and Thor (Christy O'Donnell) speak with different accents, but they might as well have come from different planets. Relatively conventional Michael grew up in Wales with his mother Anne (Claire Cage). Now he's living in the Scottish isle of Shetland with Anne's new partner Maurice (Jamie Sives). Maurice's son Thor also comes as part of the package – an unguessable space cadet who noodles in his bedroom with his experimental indie folk music. Father and son have become distant, and Maurice is particularly despondent over Thor's unwillingness to celebrate their Viking heritage, or participate in the upcoming Up Helly Aa Viking festivities on Shetland.
The storyline contrives to give both step-brothers a reason to hit the road together to Glasgow. Michael, who flunked his A-levels (Thor's fault), is tracking down his hometown girlfriend Suzy (Kate Bracken) to a university life that has very evidently expanded her dating horizons. Thor wants to meet the mother (Shauna Macdonald) who walked out on him when he was a baby.
The unlikely duo becomes a trio when the boys gatecrash a wedding in Orkney, exiting with Irish waitress Caitlin (Tara Lee), who comes along for the ride. Smart, capable, impulsive, sexually curious, she has just the right energy to bring both brothers out of their shells. Seductions follow, in funny scenes that encompass simultaneous groping of both boys, recycled bath water and – a moderate discourtesy to the trucker who is giving Michael and Caitlin a lift – sex in the sleeping area tucked right behind the driver.
The nations-colliding casting of the three leads may have been encouraged by the film's finance plan, which makes a clean sweep of Celtic film bodies Creative Scotland, Ffilm Cymru and the Irish Film Board. (Incidentally, both Philip John and Clydebank-based producer Kathy Speirs are Welsh, and the crew includes several Irish department heads.) But whatever factors weighed into the castings, the outcome is highly felicitous. Bringing contrasting energies, all three lead actors offer performances that make flawed characters feel both vividly real and – crucially – endearing, ensuring this mishap-strewn road trip is an enjoyable one for audiences.
Majestic Scottish island scenery is amply exploited by DoP Alasdair Walker (The Acid House), while a real Up Helly Aa Viking celebration for the story's coda – costumed torch-bearer procession, burning longboat and all – offers bonus production value.
Production companies: Ripple World, Up Helly Aa
International sales: kathy@upha.co.uk
Producer: Kathy Speirs
Screenplay: Derek Boyle, Raymond Friel
Cinematography: Alasdair Walker
Editor: Tony Kearns
Production Design: Jason Carlin
Music: Anton Newcombe
Main cast: Jack Parry Jones, Christy O'Donnell, Tara Lee, Jamie Sives, Claire Cage, Kate Bracken, Tam Dean Burn, Dennis Lawson, Shauna Macdonald, Niall Greg Fulton