Dir: Barry Jenkins. US. 2016. 111mins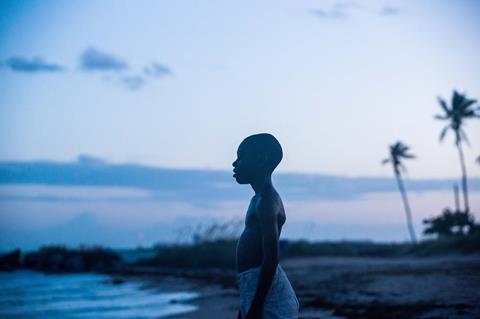 An indelible portrait of an imperilled life, Moonlight is quietly devastating in its depiction of masculinity, race, poverty and identity. Writer-director Barry Jenkins builds on the promise of his intimate 2008 romantic drama Medicine For Melancholy to examine a young African-American in danger of being dragged down by the destructive forces around him — and how, by embracing his true self, he may discover contentment. Ambitious in scope but precise in its execution, this deceptively small-scale character piece reverberates with compassion and insight.
Part of Moonlight's suspense comes from its fast-forwarding from one time period to the next
Strong reviews should propel this A24 release, which is currently slated to open in the US on October 21 towards art-house viewers, though the film's lack of marquee names may limit crossover potential.
Based on a story by playwright Tarell Alvin McCraney, Moonlight consists of three segments, all of them focusing on a black man named Chiron. A different actor portrays Chiron in each chapter, observing him as a youngster, in high school and then in his 20s. From the outset, we sense life is difficult for Chiron (Alex Hibbert), growing up a poor, crime-infested section of Miami in the 1980s with a drug-addicted single mother (Naomie Harris).
But there's another pressure on him: the boy is teased at school by bullies who assume he is gay, even though he is unsure of his sexuality. Befriending Kevin (Jaden Piner), a kindly classmate, Chiron starts developing feelings for him, a tension that plays out over the next two sections.
With Medicine For Melancholy, Jenkins used the premise of a simple one-night-stand to examine the alienation felt by his two African-American characters in a largely white society. He pulls off a similar feat with Moonlight, except on a much bolder canvas. Here, he's looking at how people change (either positively or negatively) in response to external stimuli, and he is especially interested in how someone like Chiron, who doesn't fit in, can lose his way due to cultural pressures. Part of Moonlight's suspense comes from its fast-forwarding from one time period to the next as we watch how an older Chiron has absorbed the experiences from earlier in his life.
Working with cinematographer James Laxton and composer Nicholas Britell, Jenkins occasionally drapes the proceedings in an almost operatic significance. Sometimes, the affectation can be jarring — swirling cameras and soaring music artificially amplifying the stakes — but Moonlight earns its heightened drama because of Jenkins' clear affection and concern for this young man's plight.
Throughout the film, we see how Chiron is metaphorically assaulted on all sides — by a mother who cares more about scoring drugs than her son, and by a black community that values a rigidly macho sense of "hardness" — and all three actors convey the character's fragile self-esteem. Newcomer Hibbert shows Chiron's budding intelligence, while Ashton Sanders gives us a timid teenage Chiron who is unable to defend himself against his classroom tormenters. When Moonlight jumps to Chiron in his twenties, Trevante Rhodes presents a man whom we almost don't recognise, and yet the actor quickly illustrates how this surprising transformation has occurred — the sensitive boy adopting a rugged exterior to shield himself from painful childhood memories.
The entire cast shines, particularly Mahershala Ali as a drug dealer who takes Chiron under his wing in the first segment. Harris is heart-breaking as the boy's mother, her life taking its own journey during the course of the film. As for the three actors who play Chiron's unrequited love, the best is André Holland, who radiates regret and sweetness as the adult Kevin.
Production companies: A24, Plan B Entertainment, Pastel
International sales: A24, info@a24films.com and infoLA@a24films.com
US distributor: A24, www.a24films.com
Producers: Adele Romanski, Dede Gardner, Jeremy Kleiner
Executive producers: Brad Pitt, Sarah Esberg, Tarell Alvin McCraney
Screenplay: Barry Jenkins, story by Tarell Alvin McCraney
Cinematography: James Laxton
Production design: Hannah Beachler
Editors: Nat Sanders, Joi McMillon
Music: Nicholas Britell
Website: www.moonlight-movie.com
Main Cast: Trevante Rhodes, André Holland, Janelle Monáe, Ashton Sanders, Jharrel Jerome, Naomie Harris, Mahershala Ali