Jared Leto stars in Daniel Espinosa's stylish horror-action franchise start-up about a scientist with a rare blood disease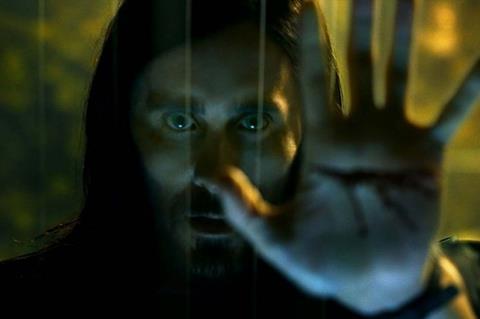 Dir: Daniel Espinosa. US. 2022. 108 mins.
A monster movie with a little bite, Morbius is elevated by some spirited performances and director Daniel Espinosa's sure hand with familiar comic-book material. Sony's latest instalment in its expanded Spider-Man universe introduces us to the titular sickly scientist whose cure for his rare blood disease ends up transforming him into a ravenous vampire, played by Jared Leto with haunted gusto. This horror-action picture offers modest genre pleasures and a consistently spooky vibe, resulting in a film that has been designed chiefly to ensure future sequels, although the story includes enough emotional shading and robust set pieces to be an engaging standalone feature.
This consistently enjoyable franchise start-up manages to find enough new ways to tinker with the formula.
Opening March 31 in the UK and the following day in the US, Morbius will hope to replicate the commercial fortunes of Venom, also based on a Spider-Man villain. Leto is an Oscar-winner who has dabbled in superhero cinema before, portraying the Joker in 2016's Suicide Squad, and he is joined by Matt Smith, whose witty menace lends an extra spark to the proceedings. With The Batman's stranglehold on multiplexes starting to diminish, Morbius seems well-positioned to take its place atop the box office — even if many viewers won't have much prior association with the character.
Leto plays the brilliant, caustic Dr. Michael Morbius, who since childhood has suffered from a fatal blood disorder that ravages his body, forcing him to use crutches to get around. Dedicated to finding a remedy for his illness — the same disease that affects his long-time friend Milo (Smith) — Michael boldly combines his own DNA with that of a vampire bat, and although the procedure gives him incredible strength and speed, it also leaves him with an insatiable taste for blood — in particular, human blood. After accidentally killing a few security guards in his heightened state, Michael is chased by the cops and must figure out a way to stabilise his terrifying new condition.
As with his 2017 sci-fi/horror film Life, which liberally borrowed from Alien, Espinosa shows an ability to fuse different genres in Morbius, delivering a derivative but stylish entertainment. It helps that the effects work is compelling, accentuating Leto's performance as the driven Michael who unleashes the beast within once he takes this volatile serum. Jon Ekstrand's mournful score and Stefania Cella's dank production design only further emphasise the film's funhouse quality: once Michael becomes a vampire — and then, later, Milo — Morbius revels in its scary, suspenseful atmosphere.
In recent pictures such as Suicide Squad and House Of Gucci, Leto has demonstrated a tendency to go broad, to varying degrees of success, and so, by his quirky standards, Morbius represents a relatively restrained turn. That said, the actor clearly savours Michael's eccentric sense of humour and gloomy temperament, suggesting a character straight out of a Gothic horror story. But when Michael begins to wrestle with the repercussions of his experiment, Leto is largely reigned in, despite the scientist's penchant for guzzling blood packs to quell his cravings.
Smith is on the same tonal wavelength as his co-star, eagerly depicting Milo's joy after secretly taking the serum, abandoning his cane and going out on the town with a cocky strut. Matt Sazama and Burk Sharpless' screenplay positions the two men as childhood chums who will be torn apart by their different attitudes toward their transformation — Michael fearful of what he has become, Milo drunk on his newfound vitality — but while the characters are not well-developed, Leto and Smith bring enough emotion to make their feud adequately poignant.
At a time when too many superhero films extend far beyond the two-hour mark, Morbius is admirably succinct, producing some muscular action sequences alongside only a few egregious plot holes. (One kill sequence involving motion-detecting lights is especially effective.) Espinosa even finds enough room for a passable love story between Michael and his colleague Martine (Adria Arjona), who supports his research but worries that he is messing with primal forces he doesn't understand.
Hers is a reasonable, albeit predictable concern — after all, horror fiction has long been populated by scientists who foolishly dare to play god — but this consistently enjoyable franchise start-up manages to find enough new ways to tinker with the formula. Of course, the end credits contain a few bonus scenes meant to tantalise us with the possibility of where this series could go next. Such obligatory, unwelcome teasers risk sucking the fun out of what came before.
Production companies: Arad Productions, Matt Tolmach Productions
International distribution: Sony Pictures Entertainment
Producers: Avi Arad, Matt Tolmach, Lucas Foster
Screenplay: Matt Sazama & Burk Sharpless, based on the Marvel comics
Cinematography: Oliver Wood
Editing: Pietro Scalia
Production design: Stefania Cella
Music: Jon Ekstrand
Main cast: Jared Leto, Matt Smith, Adria Arjona, Jared Harris, Al Madrigal, Tyrese Gibson