Vicky Krieps and Gaspard Ulliel are superb in this sensitive romantic drama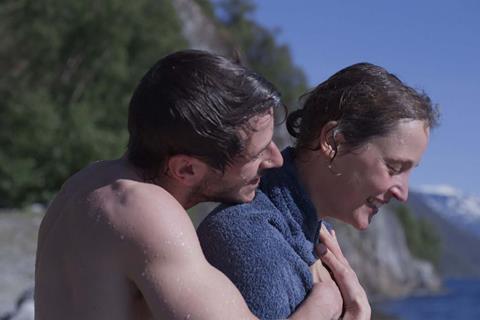 Dir: Emily Atef. France/Germany/Luxembourg/Norway. 2022. 122mins
A terminally ill woman determines to take ownership of her death in this frank, sensitive drama from award-winning French-Iranian director/co-writer Emily Atef (Kill Me and 3 Days In Quiberon), which is inspired by her late mother's battle with cancer. Featuring superb turns from Vicky Krieps and the late Gaspard Ulliel – in his final role – as a couple facing the most difficult of choices, More Than Ever persuades, rather than forces, its audience to stare death in the face, and proves surprisingly life affirming in the process.
More Than Ever eschews traditional soft focus melodramatic end-of-life drama trappings to instead focus on more gritty, potentially uncomfortable questions.
Premiering in Un Certain Regard — where Krieps also impresses as Empress Elisabeth of Austria in Marie Kreutzer's Corsage — More Than Ever should capture attention for its high level of craft on both sides of the camera. Both its performances and stunning vistas deserve the big screen treatment already planned in territories including co-pro territories France and Norway, and it should very likely find theatrical play further afield.
From the moment we meet 33-year-old Hélène (Krieps) she is a stranger in her own skin. Dressing for a dinner party, she becomes frustrated when none of her clothes fit; whilst there, and despite being amongst friends, she behaves like a fish out of water. (Water, whether it be the calm serenity of a placid fjord or tumultuous crashing waves, is one of the film's key motifs). Through the stilted conversation, and Hélèn's eventual outburst, it becomes clear that nobody knows how to cope with the fact that Hélène has a lung disease which will kill her unless a donor can be found for a transplant; something Hélène is not sure she even wants.
Working out her needs proves difficult for Hélène, as everyone else seems to have an opinion; Mathieu (Ulliel), her beloved husband, wants her to survive whatever the physical cost. Searching online for answers — 'what to do when you are dying', she types — Hélène comes across the blog of Norwegian cancer patient known as 'Mister' and is immediately struck by both his no-nonsense attitude and the stunning scenery of his fjord-side home.
After striking up an online friendship with Mister, the only person who seems to be on her wavelength, she tells an unhappy Mathieu that she will be travelling to Norway alone to reconnect with herself; she craves silence, she says, and light. So it comes as something as a shock when she arrives in Norway to find that Mister, real name Bent (veteran Norwegian actor Bjorn Floberg) is not quite what she expected, that the mountain silence deafens her and that the endless light stops her from sleeping. Romantic notions can be easily quashed, the film tells us, even when you're dying.
That messy realism is at the heart of More Than Ever, which eschews traditional soft focus melodramatic end-of-life drama trappings to instead focus on more gritty, potentially uncomfortable questions. Can you still enjoy life's pleasures — music, smoking, sex, wine — even when you are facing the end? Should anyone else have a say in how you behave? And, fundamentally, is it ok to be selfish when you are dying?
The first half of the film takes place in Hélène and Mathieu's small urban apartment in Bordeaux; a suitably claustrophobic — if domestically cosy — setting for Hélène's struggles to reconcile her feelings with those of others — particularly Mathieu, with whom she shares a deep connection. (The chemistry between Krieps and Ulliel is palpable). During these scenes, the colour palette is muted, the action restricted to the couple's home, the sombre setting of the hospital where she is told her options are limited.
Yet, even on this reduced scale we see that Hélène is not — refuses to be — defined by her illness. She snaps at empty platitudes, rails against those who would call her brave, hates that Matthieu is already grieving her. Key sequences speak to her stubborn vibrancy, her anger that disease is stripping away what once she took for granted. An attempt at sex with Matthieu ends with her breathless in the wrong kind of way, frustrated in every sense. "It doesn't matter," he says, but she is distraught. Later, they attend a concert, sway together, her oxygen mask glowing under the neon lights.
When Hélène sets out for Norway, Jon Balke's score swells, the industrial landscape gives way to big skies and snow-capped mountains, captured in all their soul-stirring glory by cinematographer Yves Cape. As Hélène grows accustomed to her new surroundings and develops a friendship with Bent, she begins to move in sync with the simple rhythms of nature. These are captured in detail by sound designer Nicolas Cantin, who also puts the scale of human breath — ragged, shallow, deep, passionate — at the centre of the film's evocative soundscape.
Alone in Norway, Hélène can simply be in the moment, stripped of any wider responsibility, any painful thoughts of the future. But when Mathieu arrives, desperate to convince his wife to return for treatment, it becomes clear that one of them must make a sacrifice for the other.
Production company: Eaux Vives Productions SARL
International sales: The Match Factory, info@matchfactory.de
Producer: Xenia Maingot
Screenplay: Emily Atef, Lars Hubrich
Cinematography: Yves Cape
Production design: Silke Fisher
Editing: Sandie Bompar, Hansjorg Weissbrich
Music: Jon Balke
Main cast: Vicky Krieps, Gasper Ulliel, Bjorn Floberg