An older Australian housewife throws off her domestic shackles - for restraint of another kind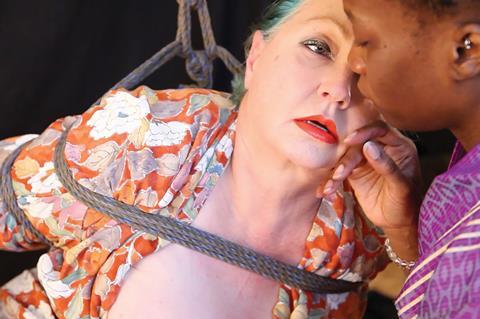 Dir/scr. Josie Hess, Isabel Peppard. Australia. 2019. 71 mins.
A former homemaker-turned-feminist and age-positive pornography pioneer, Morgana Muses' story is unique. In her forties, she was unhappily married in a regional town in Australia and actively planning to kill herself. A decade later, she is an award-winning international erotic art star who shook off the shackles of domesticity and took her destiny (and much more besides) into her own hands. The celebratory and thoughtful Australian documentary that bears her name is unsurprisingly frank, bold and thoroughly fascinating.
Morgana opens with its subject willingly posing in a grave, from which she arises physically and emotionally.
Appearing at Fantasia after its tour of the Australian festival circuit, Morgana is a fast-moving, well structured documentary that engagingly unpacks Muses' later-in-life career, success and impact, plus the reasons behind its the drastic change. It should continue to attract attention going forward, with remake potential as a biopic.
It is hard to pick exactly what debut directors Hess and Peppard benefit from most: Morgana's overall journey, her honesty about her past and current path, or the fact that, even as she has become a porn sensation, all of her sorrows have not vanished, fairytale-style. Also an immense help is Hess' prior relationship with Morgana, with the feature's co-director having worked a cinematographer and editor on a number of her erotic short films. Given the subject, this was always going to be an intimate movie; however it has the look, pace and perspective of a documentary made with genuine care for its central figure.
Morgana herself talks the viewer through her childhood, her strained and sexless marriage, and the suicide plan she abandoned after a night with an escort. Adoration and assurance were rarely forthcoming during her outback upbringing, nor in her tenure as a dutiful wife. Muses didn't even masturbate until her forties, she notes; as no one else seemed to care about what she wanted, she learned to suppress her own desires, too.
An ode to Morgana's efforts to overcome such subjugation and shirk what she perceptively dubs 'facade living', this documentary is mostly devoted to her own recollections, as well as recent footage covering Berlin's BDSM scene. Dwindling divorce settlement funds lead to her return home and the film documents the resurgent self-doubt that follows. Overflowing with detail even at 71 minutes, the film is at its most touching when it recognises the ongoing nature of its subject's internal struggles. Morgana Muses has long sought the space to simply be herself. Clearly, that is an ongoing quest.
Also acting as the film's cinematographers, Hess and Peppard add some talking-head interviews with experts, academics and porn industry figures, such as the German filmmaker, Petra Joy, who Morgana credits as her inspiration. These chats impart context and praise, but they aren't strictly necessary given Morgana's candid and revealing presence. Indeed, even without such approving words, viewers can't miss the power of her story — Morgana opens with its subject willingly posing in a grave, after all, from which she arises physically and emotionally.
Production company/international sales: House of Gary, karina@houseofgary.com
Producer: Karina Astrup
Editing: Julie-Anne De Ruvo
Cinematography: Josie Hess, Isabel Peppard
Music: Jordan Gilmour