A pregnant Chinese schoolgirl finds herself under intense scrutiny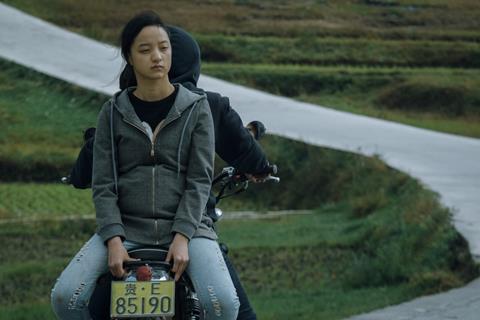 Dir/scr: Zhai Yixiang. China. 2019, 107mins
Half-way through Mosaic Portrait a police officer tells a journalist: "It's not just about catching bad guys. You have to be careful what you say." It's a striking meta-textual note to the film itself, which doesn't merely follow an investigation into the rape of a 14-year-old girl but offers a bold, though subtle, reflection on women's experience in contemporary Chinese society.
The impressive Zhang Tongxi offers suggestions of an independent, defiant young person
The result is a masterfully constructed, mesmerisingly mysterious drama, which packs a hefty emotional punch through its teenage protagonist. Young writer/director Zhai Yixiang's second film, after This Wonderful Life (2014), confirms a new Chinese talent likely to make a mark on the international stage.
When the schoolgirl Ying (Zhang Tongxi) is discovered to be pregnant, she names her teacher, Mr Zhang, as the man responsible. Her father, migrant worker Xu (Wang Yanhui), returns to their rural village to find that the school authorities have rushed to the teacher's defence; Xu's demands for speedy justice are drowned in "protocol'. As the police open an investigation, with no-one in a hurry to believe the girl, city journalist Jia (Wang Chuanjun) arrives in the village and starts to make his own inquiries.
In keeping with the film's title, Zhai approaches both the girl's personality and the truth of what happened to her by increments, while teasingly offering pieces that never quite fit. It's hinted, for example, that one of the young boys she regularly spends time with could be responsible for the pregnancy – an idea that merely hangs in the air, along with much else. It's no accident that the village (shot in the Guizhou province of Southwest China) is a wet and misty place, where a local speciality is "fog tea", or that Ying has particularly bad myopia.
Wang Weihua's exquisite widescreen images constantly fuel that sense of elusiveness, whether it's Jia interviewing Ying through frosted glass, the girl's face becoming pixelated and otherworldly, or teenagers motorcycling alongside a waterway at dusk, their figures disappearing into the fading light. The numerous close-ups of the sullen-eyed, bruised-lipped girl suggest a person desperately battling to remain hidden, unscrutinised.
All the while, Zhai underlines the depressing reality that Ying is battling the image that men want for her. As protective as Xu first seems, his daughter reminds him how he savagely beat her mother when she gave birth to a girl, not a boy. A woman will later tell her that "the eyes of others are our prisons." As the investigation into her assault stumbles forwards, the girl herself becomes a sidebar, a mere object in the conversation.
Reflecting this, Zhai's script starts primarily with male perspectives, that of Xu and Jia, before the final reel gives Ying full expression in her own right. Along the way, though, the impressive Zhang Tongxi offers suggestions of an independent, defiant young person, forced by circumstance to appear older than her years. A terrific sequence in which Ying allows the journalist to follow her on a day out culminates Jia questioning her choice of hairstyle. Her reply – "My hair is mine. My body is mine too" – could be a rebuff to men the world over.
With his final reel, Zhai considers Ying's fortunes in the wider context of the problematic migration within China from the countryside to the cities, where young women are not the only ones feeling alienated. With his young actress performing more miracles in close-up, the denouement manages to be both heartrending and hopeful in the same instant.
Production company: Blackfin Production
International sales: Rediance, meng@rediancefilms.com
Producers: Wang Zijian, Cheng Rui
Production design: Peng Shaoying
Editing: Matthieu Laclau, Yanshan Tsai
Cinematography: Wang Weihua
Main cast: Wang Yanhui, Wang Chuanjun, Zhang Tongxi