The true story of an Iraqi SWAT team waging war against ISIS in Mosul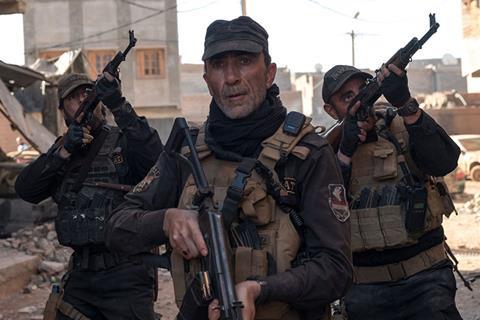 Dir/scr: Matthew Michael Carnahan. USA. 2019. 101mins
A New Yorker feature about a SWAT team embedded in Mosul during the battle with ISIS that raged in the devastated Iraqi city in 2016 and 2017 becomes a tense, band-of-brothers action drama in this Russo brothers production from first-time director Matthew Michael Carnahan. This is war as messy, whatever-works guerilla fighting, and it's as relentless as a pneumatic drill. Playing out almost in real time over what feels like three or four hours, Mosul presents this feral battle as a chaotic middle that has no beginning or end. It's an approach that leaves little space for emotional arcs, but there's just enough character interest to keep us engaged. The chief focus is on the toll of fighting in your own city, unsure whether family and friends are safe – or even which side of the shifting battle line they are on.
Though some of its action sequences seem influenced by shoot-em-up video games, Mosul also has a social conscience
Though it looked pretty normal from the perspective of Venice, where the film premiered in an out of competition slot, and will also seem par for the course when it plays Toronto soon after, the entirely correct decision to make the film with Arabic dialogue will provide an interesting test case when Mosul finally emerges theatrically in the States. "From the producers who brought you Avengers: Endgame" may not be enough of a hook to get many potential viewers past the hurdle of, gulp, subtitles but, that said, you could watch this film without those words or audio and it would still make a lot of sense.
In one way, Mosul is a reparatory war film, correcting the 'our guys' perspective of the vast majority of Middle East conflict movies that have emerged in the States in recent years, from The Hurt Locker to Black Hawk Down. It's telling in this respect that Suhail Dabbach, who makes the most of a tasty role here as the SWAT team's commander Major Jaseem, has previously been seen by Western audiences in such roles as the father of the rape victim in Redacted or the Iraqi civilian who gets blown up at the end of The Hurt Locker. Finally, he gets to be an Arab hero rather than an Arab victim.
If Jaseem is the demanding, unpredictable, world-weary yet also fiercely protective father of the Nineveh SWAT team, Kawa – played by Tunisian actor Bilal Adam Bessa – is its youngest son. Opening as it means to go on with a hail of bullets and firecracker burst of explosions, Mosul sees rookie local police officer Kawa and a colleague holed up in a café being besieged by ISIS fighters, when in the nick of time Jaseem and his men storm in to relieve them.
The Nineveh team, which is operating as a rogue unit since refusing to be deployed elsewhere, is painted as something of a legend in the war-torn city, and the Kurdish Kawa is flattered to be asked to join them. In the course of the next few hours he learns on the job as the highly drilled team scour the city for ISIS fighters, who are on the back foot but still armed and dangerous. It's Kawa's point of view and character arc that underpins the film as we see him grow – perhaps implausibly, given the timescale, but still effectively – from untrained rookie to confident leader of men, overcoming along the way the suspicions of his fellow fighters in a city where few can be trusted and loyalties are constantly shifting.
Shot on location in Morocco by Avatar DoP Mauro Fiore, Mosul mixes urgent handheld camerawork and calmer fixed shots that mirror the script's shuttle between action and lull (such as the sequence where, in an abandoned apartment, the team all watch and comment on a Kuwaiti soap opera). Sweaty skin, metal and dust are the dominant textures in an intense, breathless film that does a good job of rendering the chaos of a war-torn city, but also the little gestures that keep us human – like Jaseem's habit of picking up the team's rubbish at every stop, even in rubble-strewn hideouts.
Though some of its action sequences seem influenced by shoot-em-up video games, Mosul also has a social conscience and a remit to sketch in at least some of the complex cultural forces that exist in what is, or was, Iraq's most ethnically diverse city. But perhaps its most original contribution to the battle genre is the way it turns an urban war into a kind of fever dream where there is no such thing as a frontline, only endless doors, corridors, courtyards and stairs. It's war as drawn by Escher.
Production companies: AGBO, Condé Nast Entertainment
International sales: Endeavor Content, info@endeavorcontent.com
Producers: Anthony Russo & Joe Russo, Mike Larocca, Jeremy Steckler & Dawn Ostroff
Production design: Philip Ivey
Editing: Alex Rodriguez
Cinematography: Mauro Fiore
Main cast: Suhail Dabbach, Bilal Adam Bessa, Is'Haq Elias, Qutaiba Abdelhaq, Ahmad Ghanem, Hicham Ouaraqa, Mohimen Mahuba, Thaer Al-Shayei, Abdellah Bensaid, Faycal Attougui, Waleed Elgadi, Hayat Kamille