Dir. Paul Duddridge. US. 2016. 90 mins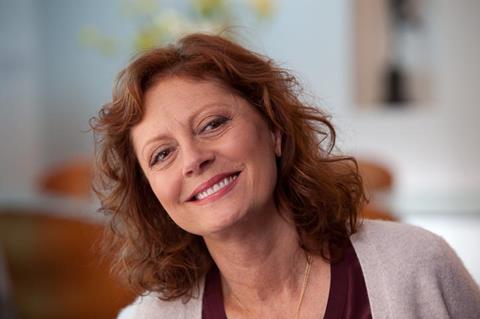 "Really?" shrieks Cristina Ricci's incredulous Becca on receiving the latest bombshell about her complicated lineage. Mothers And Daughters is the kind of film where characters are constantly aghast at risible revelations that the audience can second guess with ease.
The male characters in Mothers And Daughters make little impression and are largely confined to stalwart supporters, spineless weaklings or mere eye candy
This tearjerking ensemble is jam-packed with unwanted pregnancies, an unexpected multi-million dollar legacy and enough random encounters to sustain the most melodramatic of daytime soap-operas. The whole, unconvincing enterprise seems much more suited to a rainy afternoon small screen matinee where the veteran cast (Sharon Stone, Mira Sorvino, Courteney Cox etc ) may hold more of an allure than in the theatrical arena. The all-American sentimentality on display will restrict international interest.
Photographer Rigby Gray (Selma Blair) is the first character we encounter in a random collection of (exclusively) white women struggling with big emotional issues. Haute couture bra designer Georgina (Mira Sorvino) has long buried skeletons that are about to start rattling around in her closet. Becca (Ricci) refuses to speak to her mother Beth (Courteney Cox) after the death of her grandmother. Layla (Alexandra Daniels) is at loggerheads with her wealthy, ambitious mother Nina, played by Sharon Stone in the imperious manner of a late career Joan Crawford. Gayle (Eva Amurri Martino) hasn't spoken to her mother Millie (Susan Sarandon) in two years but is now desperately seeking family money to finance her boyfriend's cake business.
The clash between parental expectations and individual aspirations lies at the heart of many of the individual stories. The problems of honest communication between daughters and mothers is a constant theme which means that a good deal of the film unfolds in visually unappealing Skype conversations, tearful phonecalls and old-fashioned letters being read aloud by a third party.
The fractured nature of this multi-story ensemble means there is little chance of becoming completely engaged with any particular mother and daughter couple. Director Paul Duddridge and co-director Nigel Levy glide between characters without building much emotional connection to their travails. The film feels like a long succession of incidents that tend to climax in familiar platitudes or weary declarations of the "I can't handle this!" variety. The initial use of Rigby Gray's self-pitying voice-over and her black-and-white photographs suggest that she will be the connecting thread through these disparate lives, but her presence fades in and out of focus to become just one more in the crowd.
Mostly unfolding in brightly lit interiors, Mothers And Daughters feels cramped and unadventurous in its visual look and the script is peppered with priceless howlers. " I hardly think a few hundred dollars of truffle oil is going to put us over the edge," claims Gayle's huffy boyfriend when confronted by his devil-me-care extravagance.
The male characters in Mothers And Daughters make little impression and are largely confined to stalwart supporters, spineless weaklings or mere eye candy. The female performances tend towards hand-wringing sincerity with the most touching moments in the film coming from real-life mother and daughter Susan Sarandon and Eva Amurri Martino as Gayle and Millie renew their relationship over a tear-stained Skype call.
Originally entitled Mothers Day, Mothers And Daughters has been retitled to avoid any confusion with Garry Marshall's equally starry ensemble Mother's Day which should easily win any box-office tussle.
Co-Director Nigel Levy
Production Companies: Siempre Viva Productions, TV4 Entertainment, Aloe Entertainment, Mass Hysteria Entertainment
International Sales: Lotus Entertainment, http://lotusentertainment.com/
Producers: Amy Williams, Danielle James
Executive producers: Mary Aloe, Daniel Grodnik, Michael Torchia, Terry Chase Chenowith, Sean Glover, Shanti, Eric Gustavson, Tammy Gustavson
Screenplay: Paige Cameron, based on a concept by Paul Duddridge
Cinematography: Mikael Levin
Editors: Vince Filippone, Michael Jablow
Production designer: Shawn Graves
Music: David Hlebo
Main cast: Selma Blair, Susan Sarandon, Sharon Stone, Mira Sorvino, Courteney Cox, Cristina Ricci.