James Norton is real-life Welsh journalist Gareth Jones, whose 1930s visit to the Ukraine inspired George Orwell's Animal Farm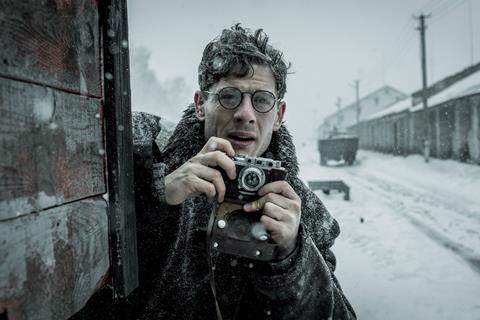 Dir. Agnieszka Holland. Poland/Ukraine/UK. 2019. 141mins
George Orwell's Animal Farm is so familiar as an allegory of 20th century history that it's a very healthy thing to be reminded of its sources; even if there's a bit more Mr Orwell here than is really necessary. Agnieszka Holland's drama Mr Jones tells the story of Gareth Jones, the Welsh reporter whose investigative visit to the USSR, and especially the Ukraine, in the early 1930s provided the hard facts that inspired Orwell's story. With a cast impressively headed by James Norton, and cinematography that captures the bleakness of winter and deprivation to grimly palatable effect, Holland's drama comes across in part as a meticulously mounted, sometimes solemn history lesson.
Norton plays Jones as a determined investigator and observer, but damps down any excessive notes of intrepid heroism
Mr Jones flourishes in a middle section detailing Jones's journey to report on the Ukrainian famine – the 'Holodomor' – that was one of the most notorious horrors of the last century. Academically staid as the film sometimes feels, the central story packs enough weight, both narratively and emotionally, to make this essential for outlets on the cusp of art-house and quality mainstream.
We meet Jones in 1933, working as foreign advisor to British Prime Minister Lloyd George after making his name by scooping an interview with Hitler. Returning to work as a freelance journalist, Jones is determined to go to the USSR and land an interview with Stalin, then much admired for boosting Russian productivity despite the world's economic depression.
Arriving in Moscow, Jones is welcomed by New York Times Moscow bureau head Walter Duranty (Peter Sarsgard), who is a firm believer in the new Russian order, but also a host of luxurious parties awash with drugs, jazz and nudity. Getting some inside information on the way that things are really done in the USSR, thanks to journalist Ada Brooks (Vanessa Kirby), Jones decides to visit Ukraine, where industrial miracles are allegedly happening, but leaves his train en route to go it alone.
It's at this point that the film really takes off, shifting from a meticulous but somewhat plodding period recreation to a voyage drama that's executed much more impressionistically. With a muted palette approaches black and white, and a tonal starkness that echoes Bela Tarr and some of the fiction films of Sergei Loznitsa, Jones heads off across a bleak snowbound expanse ruled by horrific starvation, with corpses routinely strewn on the ground. There's one moment that verges on folkloric kitsch as a group of children sing a song about death and hunger, but the episode is soon given a starkly horrifying twist when Jones takes shelter with an orphaned family and finds out exactly how they've survived.
The film's final third sees Jones back in the UK, struggling to make his story public and have it believed. It's at this point that he's introduced to Eric Blair (Joseph Mawle), beginning to make his name as a writer under the name 'George Orwell'. In fact, we've already met Orwell at the start, and it's one of the film's weaker ideas to have him intermittently reading choice excerpts from Animal Farm throughout, as if Jones's story weren't extraordinary enough to stand on its own. It's one of few false steps in the film, another being the incongruous montaged use of black-and-white Soviet-era film clips to jazz up Jones's lengthy train journeys.
Otherwise, Polish veteran Holland (2017's Spoor, US TV work including Treme and House of Cards) is on authoritative, if not always economical form. The casting is strong, with Norton – a versatile British TV fixture in Happy Valley, Grantchester and McMafia – playing Jones as a determined investigator and observer, but damping down any excessive notes of intrepid heroism.
Sarsgard gives one of the choicest examples to date of the 'unctuous creep' mode that is his forte, and Brit doyen Kenneth Cranham offers a bluff but devious Lloyd George. Vanessa Kirby is also good as an expat USSR believer with qualms, although neither her manner nor her appearance seem remotely of the 1930s.
Antoni Komasa-Łazarkiewicz provides music alternately moody and propulsive in a vaguely Glass-ian mode, while the austere cinematography and imposing, sometimes monumental design make the most of Ukrainian and Scottish locations.
Production companies: Film Produkcja, Parkhurst, Kinorob, Jones Boy Film
International sales: West End Films: lucieb@westendfilms.com
Producers: Klaudia Śmieja-Rostworowska, Stanisław Dziedzic, Andrea Chalupa
Screenplay: Andrea Chalupa
Cinematography: Tomasz Naumiuk
Editor: Michał Czarnecki
Production design: Grzegorz Piątkowski
Music: Antoni Komasa-Łazarkiewicz
Main cast: James Norton, Vanessa Kirby, Peter Sarsgaard, Joseph Mawle, Kenneth Cranham