Long delayed, much anticipated, Disney's live-action epic is now going directly into homes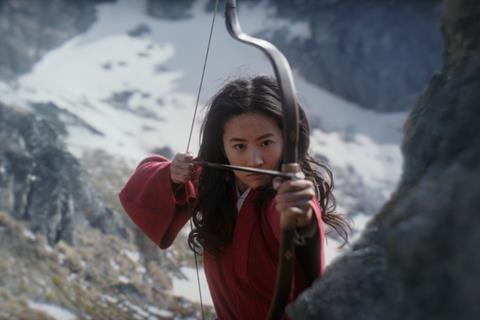 Dir: Niki Caro. US. 2020. 114mins
A young woman finds her voice while fighting to defend her kingdom in Mulan, a live-action remake of the 1998 Disney animated film that has enough lump-in-the-throat moments to overcome a sometimes unspectacular execution. Abandoning the original's musical elements and comic-relief supporting characters, this film is refreshingly sombre in comparison to the studio's recent Aladdin and Beauty And The Beast, telling a story of female empowerment with sensitivity and nuance. This Mulan suffers from some of the same weaknesses as the 1998 picture — its message is more stirring than its plot — but Whale Rider director Niki Caro has fashioned an engaging action-drama which is often sumptuous to look at and easy to root for.
When Mulan examines the gender inequalities at the story's core, it can be quite moving and wise.
The original Mulan wasn't a box-office colossus in a similar vein to other films of the Disney renaissance between the late '80s and early '90s, but that's less relevant now it's switching to Disney+ - where demand for fresh family entertainment in the midst of the pandemic is unprecedented. Releasing September 4 in the UK and US (the film will be opening in Chinese theatres at an unspecified future date), Mulan is more of an action-drama and less of a comedy-musical, which means that it may not appeal as much to younger viewers as the live-action remakes of The Lion King and Aladdin. (Also, unlike those recent remakes, Mulan doesn't simply duplicate the original's storyline.) But the studio will surely capitalise on its captive audience.
Yifei Liu plays Mulan, the daughter of a proud former warrior (Tzi Ma) who is now too weak to fight. When Bori Khan (Jason Scott Lee), a fearsome Hun, leads his troops to sack the kingdom, Mulan must disguise herself as a man in order to join the Chinese army. As in the animated film, Mulan knows that her deception could bring shame to her family — and possibly a death sentence for herself if she's caught — but she'd rather risk those consequences than put her father in harm's way.
Caro and her four credited screenwriters follow the general outline of the 1998 film, chronicling Mulan's struggles to keep her identity secret while she proves her worth as a soldier. But those who enjoyed Eddie Murphy's wisecracking dragon from the original will quickly discover that this Mulan aims for a less-jokey, more realistic take on the story — albeit one that still has witches and wu xia-style acrobatic fight scenes.
Liu is impressively stoic as Mulan, suggesting the steely resolve of a woman who, even before she pretended to be a man, was concealing part of herself lest she be criticised in this sexist society. The film is at its best once the character sheds those shackles, emerging as a mighty warrior who finally becomes the hero she was always destined to be.
The action sequences are solid without being particularly memorable, and likewise Lee proves to be an adequate bad guy, although he's outclassed by Gong Li as Xian Lang, his evil witch henchwoman. Xian sees in Mulan a fellow pariah — both of them have incredible talents that leave them ostracised — and their showdown scenes hint at the ways that ambitious women are seen as being threatening in patriarchal cultures.
When Mulan examines the gender inequalities at the story's core, the film can be quite moving and wise. And it often looks fantastic: the Chinese and New Zealand locations give the proceedings a mythic, fairy-tale quality. But perhaps because Caro, a New Zealander, wants to take care to show the proper reverence to Chinese culture, Mulan can sometimes be a little stolid, its examination of family, honour and duty crafted with nobility but also a lack of electricity. In one of the remake's strongest scenes, Mulan (still in disguise) accidentally takes a bath in the river at the same time as Chen Honghui (Yoson An), a handsome soldier whom she has a crush on, and the modest sexual tension between the two actors creates a spark that one wishes the film as a whole possessed.
Still, if this Mulan can be faulted for excessive earnestness, the movie's sweeping visuals and inspirational tone are hard to resist. Free of her disguise and flying through the air, sword in her hand and untamed hair like a flowing mane around her head, Mulan is never more alive than when she's finally embracing her true self. Liu makes that transformation rousing, and neither her enemies nor the script's subpar moments can stop her.
Production companies: Jason T. Reed Productions, Good Fear
Worldwide distribution: Walt Disney
Producers: Chris Bender, Jake Weiner, Jason T. Reed
Screenplay: Rick Jaffa & Amanda Silver and Lauren Hynek & Elizabeth Martin
Production design: Grant Major
Editing: David Coulson
Cinematography: Mandy Walker
Music: Harry Gregson-Williams
Main cast: Yifei Liu, Donnie Yen, Tzi Ma, Jason Scott Lee, Yoson An, Ron Yuan, Gong Li, Jet Li