Sia directs, Kate Hudson and Maddie Ziegler star in the musician's story about the power of song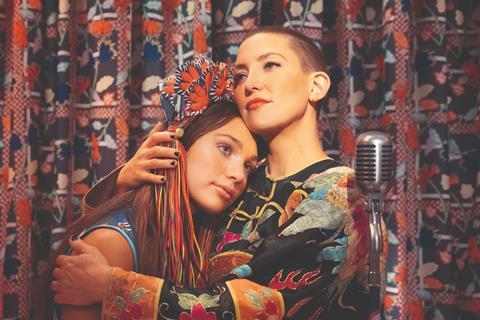 Dir: Sia. US. 2020. 107mins.
Attempting to celebrate the power of community and new beginnings, Sia's directorial debut mostly serves as an unintended cautionary tale about chronic whimsy and outdated ideas. Music chronicles a recovering addict and her autistic younger half-sister who will help her become a better person, and while the filmmaker's reputation for catchy pop songs remains sterling, this musical-drama is undone by the disastrous decision to cast a neurotypical actress in the role. Frequent Sia collaborator Maddie Ziegler has been put in an unenviable position, but the real issue is how Music cheapens the condition, turning it into a plot obstacle so that the abled hero can find redemption.
Hudson does solid work with her cliched character, bringing some pathos to an addict who is her own worst enemy
The film, which has already been released in Sia's home country of Australia, will be arriving on-demand in the US on February 12, with a UK digital release scheduled three days later. The Grammy-nominated superstar has a huge fan base familiar with her imaginative videos, and the ensemble features Kate Hudson and Leslie Odom Jr. But the controversy surrounding Ziegler's casting and poor word-of-mouth may deter some from turning Music on.
Ziegler, known for her dancing and performances in Sia's videos, particularly 'Chandelier', plays Music, an autistic Los Angeles teenager who lives with her grandmother and caregiver Millie (Mary Kay Place). But when Millie dies suddenly, the only family Music has left is her distant half-sister Zu (Hudson), who sells drugs and is a former addict. Zu is too immature to handle this responsibility — more importantly, she doesn't want to be anyone's babysitter — but with the help of Music's kindly neighbour Ebo (Odom), this wayward soul may finally grow up.
Sia, who has co-directed several of her videos, moves between the real world and a fantasy realm in which the characters sing and dance to tracks co-written by the filmmaker. As with a typical musical, Music is structured so that its music-video sequences serve as an interlude from the main story, but Sia gives these set pieces the fractured logic of half-remembered dreams. Music, Zu and Ebo dress in outlandish, colourful outfits, expressing their inner feelings through song while residing in a dollhouse-like space. These interludes have a bright, childlike ebullience that's very much in keeping with Sia's vibrant past work, occasionally recalling the similarly surreal approach of Michel Gondry. The problem is the narrative she tells in between those moments.
It has been more than 30 years since Dustin Hoffman won an Oscar for his portrayal of autism in Rain Man, a depiction praised for how well it captured the condition. But as society gains a greater awareness of the effects of ableism — and acclaimed documentaries such as The Reason I Jump present actual autistic individuals with touching nuance — such performances no longer seem fearless as much as insensitive.
There is no question that Sia and Ziegler approach Music with compassion, but that's no mitigation for the end result. Because Music has trouble communicating with those around her — she can only repeat certain phrases, mostly responding in shrieks and wails and occasional violent shaking — Ziegler has no choice but to pantomime what autism looks like from the outside, and neither the actress nor the film has enough insight to express the condition in a meaningful way. Instead, Music is merely a nuisance for the self-absorbed Zu, although, predictably, she will eventually come to realise how special her bighearted sister is. The script requires Music to cause problems — she has an allergic reaction to a bee sting at a critical moment — or to be a hardship that assists Zu with her own growth. But she's never an actual person.
Hudson does solid work with her cliched character, bringing some pathos to an addict who is her own worst enemy. And she has chemistry with Odom, who portrays the stereotypical nice guy hiding a painful secret. Like Music, Ebo is mostly a vehicle for Zu to change — he's a soft-spoken African immigrant who teaches Zu about empathy — and Odom leans on his natural charisma to make the relationship moderately believable.
As its title suggests, Music is meant to be a paean to the potential of music (and Music) to bring people together. Although Zu is on parole and in trouble with a drug dealer to whom she owes money, the picture is so resolutely sunny that there never seem to be any appreciable stakes. One suspects that Sia is merely trying to inject some breezy optimism into the world, arguing that a little love and a hummable song is all we need to cure society's ills. That's a comforting thought, but the filmmaker's glib, patronising positivity simply comes across as naive.
Production companies: Pineapple Lasagne, Landay Entertainment
International sales: HanWay Films, info@hanwayfilms.com
Producers: Vincent Landay, Sia
Screenplay: Sia & Dallas Clayton, story by Sia
Production design: Tracy Dishman
Editing: Matt Chesse, Curtiss Clayton, Dana Congdon
Cinematography: Sebastian Wintero
Music: Craig DeLeon
Main cast: Kate Hudson, Leslie Odom Jr., Maddie Ziegler, Mary Kay Place, Hector Elizondo