In Nazareth, the director's formidable grandmother slowly teases out a life of hardship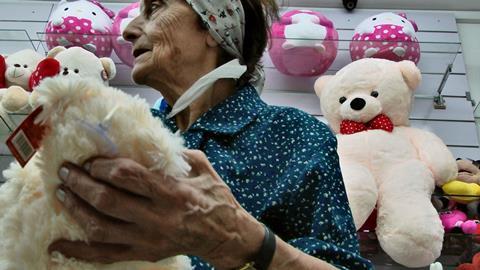 Dir Juna Suleiman. Israel/Palestine. 2018. 70 mins
The famous Bette Davis maxim that "old age ain't no place for sissies" is borne out by Mussolini's Sister. Juna Suleiman's portrait of her strong-willed, formidable Palestinian grandmother Hiam captures the life of a lonely, embittered old woman watching her world diminish and her physical health decline. Hiam is not the most sympathetic of figures, but Suleiman allows the jagged edges of her personality to soften as we learn more of her past.
Juna Suleiman offers us a warts-and-all portrait of her grandmother Hiam that doesn't pull its punches
The result is a well-observed, intensely personal documentary that eventually achieves a sense of poignancy. Further festival invitations should follow the world premiere at IDFA, although commercially it represents a very tough sell. Described as a "documentary with a dash of fiction", Mussolini's Sister appears to have been filmed over a number of years. We see Hiam watching television coverage of Queen Elizabeth II's Jubilee celebrations in 2012 and voicing her dislike of President Obama.
The initial focus is very much on Hiam's daily existence in Nazareth as she whiles away the hours confined to the few rooms of her home. There is an occasional visit to the hairdresser but mostly it is Hiam watching television, listening to the radio, preparing meals for her visiting son and talking on the telephone. The scenes unfold to monologues of Hiam's caustic commentary on her existence, mostly consisting of her belief that men are unreliable, families let you down and life is miserable where once it was so beautiful.
Mussolini's Sister is less austere than Chantal Akerman's final feature No Home Movie (2015) but does share some of the same oppressive qualities. Just when there seems insufficient substance to justify a feature-length running time, Suleiman allows us a glimpse into a little more of Hiam's past. Footage of a family wedding prompts her to affectionately recall her brother Mussolini (also known as Maurice), a man she describes as "so compassionate and selfless". We are told that she had another brother called Hitler who died in infancy. Albums of family photos tease out memories of a difficult marriage, a lost love and the assertion that "I've endured so much".
We don't learn a huge amount about Hiam but enough to make her seems less of a grumpy misanthrope and more human. Later, her imperious manner is more to the fore as she dismisses successive carers who are never good enough to meet her exacting standards. Her racist comments further serve to mould a sense of who she is.
The film is very much focused on the individual but there are enough background television news reports to create an impression of the world around her and the wider conflicts in the Middle East that have shaped her.
Suleiman offers us a warts-and-all portrait of Hiam that doesn't pull its punches. She has an eye for the little details that confirms Hiam's frailty or vulnerability; a close-up on a squealing hearing-aid, a shot of her false teeth placed next to a magazine, long shots of Hiam shuffling around a home that becomes a mixture of sanctuary and prison.
Suleiman's commendable attempts to eschew sentimentality are slightly undone by a soundtrack that ranges from the James Last Orchestra's rendition of Charles Trenet's La Mer to Maria Callas singing Norma.
Production companies: Majdal Films, Qumra House
International sales: Majdal Films laurahawa@gmail.com
Producers: Juna Suleiman, Laura Samara Hawa
Screenplay: Juna Suleiman, Alex Bakri
Editing: Alex Bakri, Juna Suleiman
Cinematography: Juna Suleiman