Claustrophobic horror-drama which is gaining a bloody momentum on the festival circuit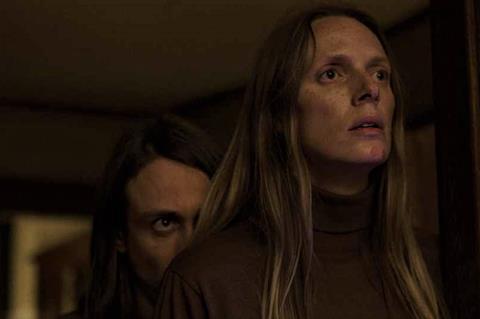 Director: Jonathan Cuartas. US. 2020. 88 minutes
Colombian-American writer-director Jonathan Cuartas crafts an grimly effective little calling-card with My Heart Can't Beat Unless You Tell It To, a relentlessly downbeat horror drama which bowed at Tribeca in April and has since attracted warm reactions around the international festival circuit. Cuartas' first feature-length outing is a tale of three siblings on both sides of the camera: his brothers Michael and Rodrigo handle cinematography and production design respectively; his screenplay, an expansion of his 2016 film-school graduation short Kuru, focuses on a trio connected by blood in more ways than one.
A quietly absorbing, small-scale enterprise with some moments of genuine tension
Cuartas nabbed the grandiose-sounding "Citizen Kane Award For Best Directorial Revelation" at Sitges in October, an honour which in the past decade has notably gone to debut efforts from Brandon Cronenberg (Antiviral), Julia Ducornau (Raw) and Ana Lily Amanpour (A Girl Walks Home Alone At Night). The word "vampire" is never actually mentioned in his script, which is laconic and withholding to the point of obtuseness, and—following in the well-trodden footsteps of George Romero's similarly ambiguous Martin (1978) —Cuartas is careful to leave open the possibility that there is in fact nothing supernatural going on here.
But, despite the absence of fangs or other concomitants of the sub-genre, on-screen evidence strongly points to waif-life twentyish Thomas (Owen Campbell) being a modern-day bloodsucker. Whether his "condition" is a biological necessity or psychosomatic delusion, neither Thomas's reliance on blood for nutrition nor his extreme aversion to daylight are shared by his older house-mates Jessie (Ingrid Sophie Schram) and Dwight (Patrick Fugit).
In the (never-explained) absence of their parents, the duo care for their pathetically fragile brother's every need, keeping him safely behind closed doors in their humdrum suburban residence. The screenplay is a little shaky on this particularl detail, but it seems Thomas apparently requires regular helpings of fresh human blood from sources outside the family. With the steely Jessie performing breadwinning duties as a (decidedly glum-faced) diner waitress, Dwight is the main "hunter-gatherer," picking up hobos and hitchhikers who quickly meet with a grisly end.
The main narrative arc concerns Dwight's mounting disgust with such shenanigans, torn as he is between the exigent demands of his family and the pangs of his conscience. It's testament to both Cuartas's screenplay and Fugit's strong, underplayed performance that we remain engaged with and relatively sympathetic to an invididual who is, by any objective standard, a serial killer.
Occasional credibility-gaps betray the writer-director's inexperience, but overall this is a quietly absorbing, small-scale enterprise with some moments of genuine tension, augmented by the doomy throbs of Andrew Rease Shaw's score. It bodes well for director Cuartas' future endeavours (whether destined for theatrical or TV/streaming) and those of his siblings — cinematographer Cuartas' unfussy academy-ratio work earned him a special mention from the Tribeca jury.
Filmed among anywheresville locations in and around producer-star Fugit's native Salt Lake City, this is largely an affair of oppressively confining, dunnish-hued interiors. The resulting claustrophobia makes the impact of the very final shot, a superbly-composed image with a rugged backdrop of clouds, mountain and water—the camera barely-perceptibly dollying forward—all the more striking.
The Cuartas clan hails from from the sultry climes of Miami. The city's soul scene makes a small but telling contribution via 1967 song 'I Am Controlled By Your Love' —penned by Clarence "Blowfly" Reid and Willie Clarke, and performed by Helene Smith. Previously featured on the soundtrack of Ryohei Kitamura's gore-splattered cult favourite Midnight Meat Train (2008), the romantic smoocher is deployed to similarly incongruous effect here on two occasions, a line from its lyrics providing the somewhat cumbersome title.
Production company: Dualist
International sales: Visit Films, info@visitfilms.com
Producers: Kenny Oiwa Riches, Anthony Pedone, Jesse Brown, Ian Peterson, Patrick Fugit
Screenplay: Jonathan Cuartas
Production design: Rodrigo Cuartas
Editing: JT Nelson
Cinematography: Michael Cuartas
Music: Andrew Rease Shaw
Main cast: Patrick Fugit, Ingrid Sophie Schram, Owen Campbell, Moises Tovar