Signe Baumane's entertaining second feature is a loosely autobiographical tale of a woman's history of failed relationships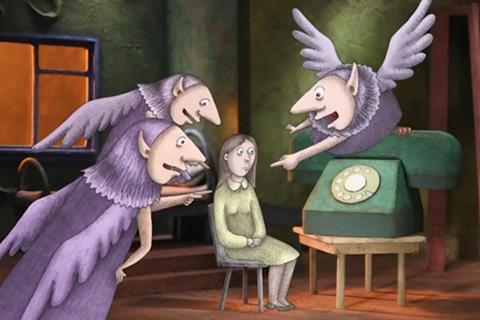 Dir/scr: Signe Baumane. Latvia/US/Luxembourg. 2022. 118 mins.
A woman's history of failed relationships is explained, with the help of a Greek chorus of Latvian peasants and a sentient neuron, through the quirks of her endocrine system and brain physiology, in the Latvian-American animator Signe Baumane's playful, occasionally musical follow-up to her first feature, Rocks In My Pockets. Baumane's alter ego in this loosely autobiographical tale is Zelma, whom we follow from her childhood in Soviet Latvia into adulthood, witnessing a series of encounters with the opposite sex that her early indoctrination failed to prepare her for. ("Marriage is your destiny, you should patiently wait," sings the chorus of winged village women. "You're not a complete person without your soulmate.") The entertaining blend of quirky absurdism and behavioural neuroscience echoes Baumane's approach to her family's history of depression in her previous film. It's a successful and distinctive formula, albeit one which falters slightly at the film's uncertain conclusion.
The screenplay is smart, and genuinely informative
My Love Affair With Marriage screens in competition in Annecy immediately following its world premiere in Tribeca. And like Baumane's well-received feature debut (with which it shares a pleasingly eclectic animation style which blends stop-motion with 2D drawing), it should enjoy a healthy festival run. Theatrical prospects might be most promising in Baltic territories, but the film could connect with wider audiences through a streaming platform release. The presence of Succession star Dagmara Dominczyk in the voice cast could serve as an additional marketing angle for the picture.
Narrated by a benevolent brain cell (voiced by Michele Pawk), Zelma's story is one of environmental pressures and adaptation in order to fit into each new situation. It starts, in 1970, on Sakhalin Island, at the far Eastern edge of what was then the Soviet Union. Zelma's first seven years are spent in a village where kids and pigs romp together in the mud; her closest friends are the cats she feeds. A brief window into reproductive science details the process of selection by which Zelma's genetic make-up came about — as well as the forces which shaped her, in utero, into the child she became.
But the influence of nature soon gives way to that of nurture, with a rigorous program of gender expectations drummed into Zelma, first from her family and then, having moved to Riga in Latvia, from her disparaging schoolmates. She is not a girl, the other children inform her, because girls don't fight. In what will become a pattern in Zelma's life, she is motivated to change herself for the approval — or lack thereof — of a member of the opposite sex, in this case an entirely oblivious boy with green eyes.
The screenplay is smart, and genuinely informative, when it comes to laying the psychological and biological framework which might make a young woman (now voiced by Dominczyk) particularly vulnerable to an emotionally abusive relationship — Zelma's first husband, Sergei (Cameron Monaghan), is a manipulator whose emotional violence inevitably graduates to physical abuse. Her second marriage, to a sensitive Swede called Bo (Matthew Modine) is another failure which, in its own way, is as much rooted in issues to do with performative gender roles as the first.
What sits a little awkwardly is the fact that it is Bo's breakthrough — in accepting his need to cross-dress — rather than Zelma's which gives My Love Affair With Marriage its final chapter. While this ties in with themes which are threaded throughout the picture, it does rather feel as though Zelma is cheated out of ownership of her own denouement.
Production companies: Locomotive Productions, The Marriage Project, LLC,, Antevita Films
International sales: New Europe Film Sales, ewa@neweuropefilmsales.com
Producers: Roberts Vinovskis, Signe Baumane, Sturgis Warner, Raoul Nadalet
Editing: Signe Baumane, Sturgis Warner
Music: Kristian Sensini
Main voice cast: Dagmara Dominczyk, Michele Pawk, Trio Limonāde, Cameron Monaghan, Matthew Modine, Stephen Lang, Storm Large, Erica Schroeder, Emma Kenney, Anna O'Donoghue, Clyde Baldo, Najla Said, Florencia Lozano, Dan Domingues, Keith Randolph Smith, Ruby Modine, Carolyn Baeumler, Christina Pumariega, Cindy Cheung, Dale Soules