Udo Kier steals the show in this bittersweet comedy about a Holocaust survivor and his enigmatic new neighbour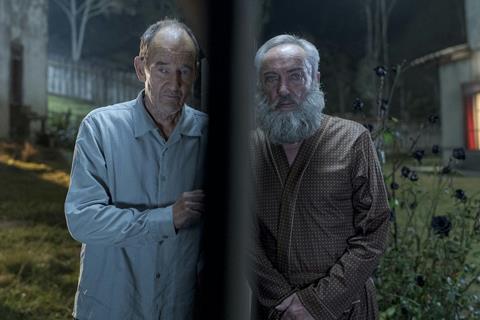 Dir: Leon Prudovsky. Israel/Poland/Colombia. 2022. 96 mins.
The old-fashioned star power of septuagenarian German cult-actor Udo Kier elevates and ultimately salvages My Neighbor Adolf, an otherwise innocuous bittersweet comedy about an elderly Holocaust survivor who suspects he may be living mere yards from one of history's most notorious villains. This mildly amusing second feature-length offering from Israeli director/co-writer Leon Prudovsky (13 years after little-seen rom-com Five Hours From Paris) premiered in the audience-oriented Piazza Grande section of Locarno and looks primarily destined for small-screen exposure after a modest festival run.
Struggles awkwardly to find an appropriate tone for its offbeat subject matter.
The Locarno selection generated headlines regarding the Israeli-Polish-Colombian co-production's financing arrangement in Israel, with some Israeli artists protesting the film's connection to the Rabinovich Foundation, alleging that the funder attaches political stipulations to any project it backs. That said, the picture itself — despite subject matter which some may deem tasteless — is hardly the stuff to stoke controversy.
Veteran British character actor David Hayman enjoys a rare leading role as Polsky, a seventy-ish gentleman living quietly in an unidentified South American country in 1960. A prologue set in 1934 Eastern Europe sketches in Polsky's extended family, all of whom were apparently to perish in the Shoah. The aged Polsky now mainly busies himself by caring for the black roses which he transplanted from his homeland, interacting only with his chatty postman.
His existence in this sleepy rural backwater is severely troubled by the arrival next door of one "Mr Herzog" (Kier), a German of enigmatic background whom Polsky gradually deduces to be none other than the Fuhrer himself. Polsky's attempts to establish proof of this unlikely conclusion are mainly handled in clunkily farcical style, the audience kept guessing about Herzog's true identity until the final quarter-hour.
While My Neighbor Adolf unfolds purely from Polsky's perspective, Hayman's performance is hampered by his wobbly accent — most of the dialogue is in English — through which his native Scots brogue occasionally pokes. Stealing the show in his second-banana role (in what is largely a two-hander), Kier makes every second of his screen time count as the mysterious Herzog: at times a bullying hothead, at other times a vulnerably ageing individual keen to forget a turbulent and traumatic past.
A prolific performer who has accumulated a dizzyingly diverse array of credits over the past five decades, including working with many prominent auteurs, Kier has been enjoying a rich late-career renaissance since Alexander Payne cast him in a spicy minor role in Downsizing (2015). Building on his acclaimed turns in Bacurau (2019) and Swan Song (2021), he deploys his distinctive ice-blue eyes and richly sonorous voice to entertaining and touching effect here, mitigating the heavy-handedness of the direction and screenplay (co-written with Dmitry Malinsky).
Blandly shot in arbitrary widescreen by Radek Ladczuk and saddled with an over-loud, over-busy score by Lukasz Targosz which counterproductively underlines every comedic or melancholic beat, My Neighbor Adolf struggles awkwardly to find an appropriate tone for its offbeat subject matter. Prudovsky and company might have been better advised to opt for a more outrageous and kitsch-y approach — in the style of John Waters, Pedro Almodovar or Mel Brooks' The Producers — rather than their chosen mode of darkly whimsical MOR sitcom.
Production company: 2-Team Productions, Film Produkcja

International sales: Beta Cinema, beta@betacinema.com 

Producers: Estee Yacov-Mecklberg, Stanislaw Dziedzic, Klaudia Smieja-Rostworowska, Haim Mecklberg

Screenplay: Leon Prudovsky, Dmitry Malinsky

Cinematography: Radek Ladczuk

Production design: Camila Agudelo

Editing: Herve Schneid

Music: Lukasz Targosz

Main cast: David Hayman, Udo Kier, Olivia Silhavy, Kineret Peled